Standin' on a Corner in Winslow Arizona
November 6-10, 2007
Click on a thumbnail pic at left to view the image here.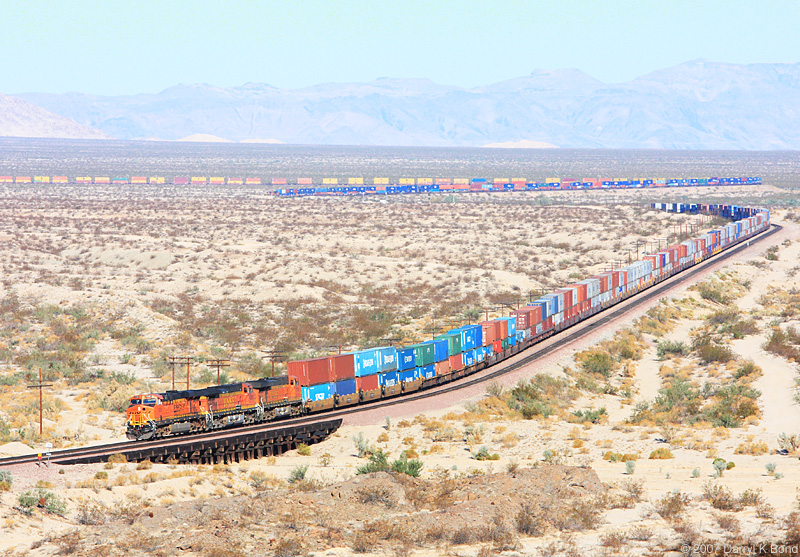 In early November 2007, I decided to leave the company that has been not just a job, but my life for the past thirteen and a half years to do some traveling and relaxing. Its what you do when you feel like having a midlife crisis but you don't like Porsches. First stop was Arizona, a place that I've really enjoyed visiting this year.
Upon arrival in Vegas, the rental car folks were all out of manly 4wd F150s, so I took a Nissan Murano AWD instead. Despite its girly roadside presence, it wasn't a bad wee thing really. It was comfortable, drove well, and - flying in the face of current automotive styling trends - an interior that wasn't completely cheesy. It's off-road performance was equally impressive. I noticed wording on the rental agreement that said 'contract not valid if vehicle taken off road' and wondered if that appears on everyone's contract. I expect the rental car company has started to notice that every time I return a car it has dents and twigs in the undercarriage, reddy-brown dust inside and out and fine scratches in the dust all down the sides. As Jerry Seinfeld would say: "I wouldn't do that in my car". The only flaw the Murano had was its incredibly bright green cruise control light, which was immune to the dashboard lighting dimmer knob. Such a distraction in fact that I had to cover it up with a piece of paper fastened with spittle. God I just love modifying cars.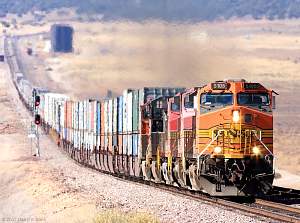 On previous trips I've headed straight to Kingman via the Hoover dam, but this time Needles was calling, so a southward course was set with the only stop being at Terrible's Casino/Bar/Gas station in Searchlight to mingle with the scary locals while eating chicken wings (which lived up to the establishment's name) and wasting $10 on the blackjack machine while I was waiting for them.
While the trains and weather were well behaved for the most part, this is the first trainspotting trip I've done where a number of side trips were as much fun as sitting on hillsides waiting for trains.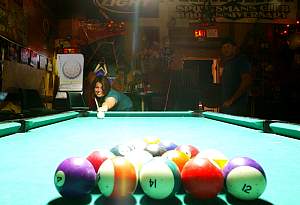 On the first evening, at the recommendation of the nice people at the Cellular One store, I dropped in on a pool competition at the Sportsman's bar across from the Kingman railroad depot. Plenty of pool, plenty (oh, yes) of drinking, free popcorn, nice people, and every ten minutes when you feel the earth tremble in the distance, you can bowl out the front door to salute the BNSF trains charging past, literally across the street. If there is a better bar in the world, I've yet to find it. And I have been trying. I stayed next door at the neat old Brunswick Hotel, which was another good move, as it was well within staggering distance.
The next day I took the detour to Oatman on an old Route 66 alignment between Topock and Kingman. What a great drive. Although the town itself is a little touristy for my liking, with its tame 'wild' burros crapping all over the main street and its ye olde T-Shirts and junky souvenir shops, the hotel was worth a drink or two, with every square inch of the walls and roof being covered in signed one dollar bills. If the hotel business ever craps out, the owners will still be sitting pretty by simply cashing out their wallpaper. And the drive back over the steep and winding Sitgreaves Pass at dusk was just fantastic. Go there.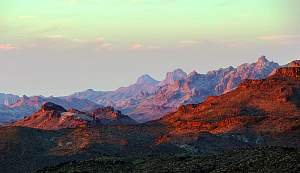 On what was supposed to be my last day, the weather was overcast, which was a huge disappointment, as I'd hoped to go back to Crozier Canyon. Instead, I chased a small patch of blue sky west for two hours before stumbling upon the impressive Canyon Diablo, and its equally impressive bridge.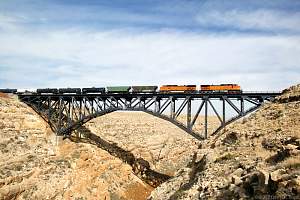 After that I visited the town of Meteor Crater, where, and you're not going to believe this, there is a meteor crater. This was well worth a visit actually, not just for the big hole in the ground, but also the story of the people who spent lives and fortunes trying to find and then mine what they had expected to be a big lump of iron underneath the crater. Turns out the whole thing exploded upon impact and scattered itself over a wide area. In the picture below it looks like I have just broken wind in a tremendous manner.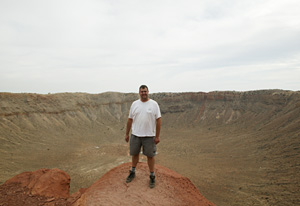 Of course, while I was nearby it seemed a shame not to stop in to stand on a corner in Winslow Arizona. Such a fine sight to see. Its a girl my Lord in a flatbed Ford, slowin' down to take a look at me. Etc. For such a well known place, it was quite underwhelming. The corner had a museum, but that had caught fire so they knocked it down. Don't worry, it will be replaced by a soulless garden and walk. Cripes. That will fit in well with the empty shops, run down motels, and huge population. Not in number but certainly in size. C'mon Winslow, pull yer finger out and make a go of it. You couldn't ask for a more recognizable name, would it hurt to have one nice block of hot rods, malt shops and sixties diners?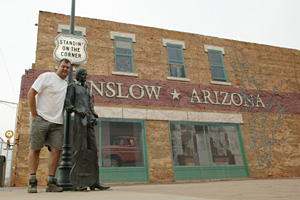 With the day being a washout for trains except for Canyon Diablo, I decided to believe the weather forecast and stay another day, which dawned clear and blue, just ideal for the long hike into Crozier Canyon. Trying to catch some fall color in Crozier was one of the main reasons for the trip, and John Benner, one of the few people who has a great collection of shots from the place online, suggested that this might be a good time of year.
The road in was much sandier and rockier than in previous visits, so I waked a couple of miles in, and somewhat to my surprise, there was a truck in there. Strange, because in my previous visits I've never seen anyone in Crozier. After an hour or two I found a guy near the end of the canyon and although I was perhaps 20 feet above him, I noticed that he had Canon gear as well. "Hi." "Hi." "I don't suppose you're John?" "Errrr, yes, my name is John..." "John Benner?" "...Yes..." Small world eh?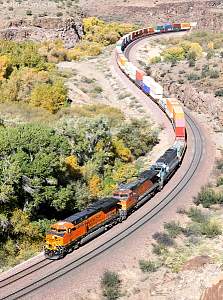 Check out some great pictures, and the inspiration for my Arizona visits this year, at his Chiefway site.
Finally, and possibly the highlight of the trip: I found out where Devil Dogs come from.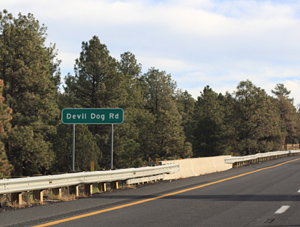 Click on a thumbnail pic at left to view the image here. All digital images by Darryl K Bond. Feel free to use for non-profit purposes provided you credit the photographer, provide a link to here and let me know! All are approx 300-600 kb jpeg files.