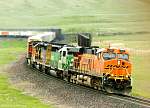 8 June: After a night at a generic hotel in Kalispell, I picked up my rental car from the airport and headed east, eventually going all the way east to Browning while concurrently marveling at the scenery and looking for a train. Did I mention I forgot to bring a scanner? And a cellphone? Anyway, this thing showed up in the distance so I thought I'd chase it back to Essex.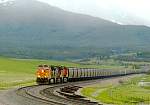 At Grizzley, and that's a super cool name for a loop, it crossed this eastbound grain empty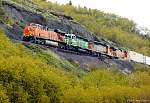 Trees were springy and yellow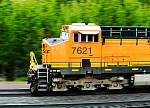 And weather was approximately as crappy as had been forecast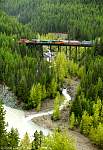 How's this for an awesome location. And you could almost take this out your car window. And to top it off, it's even got a better animal name than the Grizzley siding : this is the Sheep Creek Trestle as seen from the Goat Lick Bridge. I'm not kidding.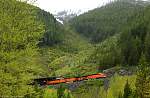 The tracks were formerly BN and before that Great Northern, and this part of the line is famous for its snowsheds which protect the mainly double tracked line through the pass from avalanches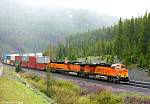 Nearing the summit as the rain pounds down. Why did I come all this way again?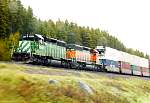 The other neat thing about the line is that helpers based at Essex are attached to many of the heavier eastbound trains. Here 6816 and 6819 are seen through a rainy windscreen as they push hard on the back of a stacker. Kids, don't try this at home.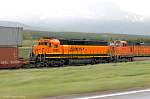 Third loco is this former Santa Fe SD45-2 which has been rebuilt as a 40-2 with a 16 cyl engine replacing the 20. Apparently.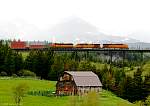 Two Medicine Bridge. I'm not making these names up.
---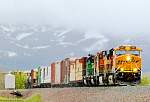 9 June: Bison catches a sliver of sun, with the Rockies almost visible in the background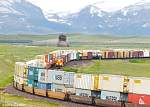 Back at the east end of Browning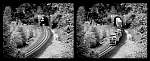 Ah, the rumble, the headlights, the anticipation.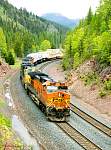 Somewhere near Red Eagle. Maybe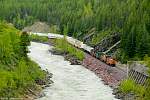 Approaching the tunnels beside the middle fork of the Flathead River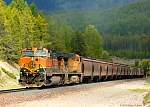 A loaded grain train gets away from Belton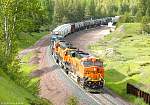 Near Lake Five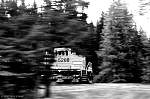 The thrill of the chase- Paola, Mt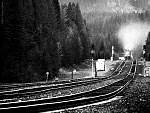 I like to watch. Essex, Mt
---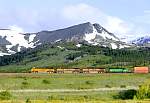 June 10: Sun!!! Make the most of it my friends. This westbound is snagged near Bison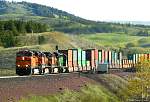 And at Bison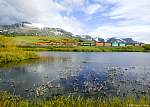 And just past Bison. Driver, follow that sun.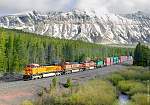 Summit, with the Rocky Mountains providing an appropriately spectacular backdrop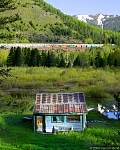 The same train descending on a ledge between Java and Blacktail and passing the remains of a former snowshed, with the remains of a former snowshed for people in the foreground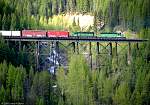 Helpers 6818 + 7147 push hard on the back of an eastbound that was waiting on the Sheep licking Goat Truss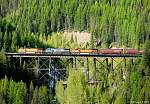 Followed by this grain train which was backed up at Essex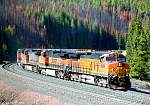 Fire damage near the Summit
The bankers again. These guys uncoupled while on the move up at the curve in the distance using a Pulse Helperlink remote uncoupler. So they say.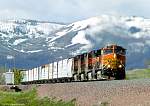 Bison again heading downhill
More Medicine. Whatever happened to Bon Jovi anyway?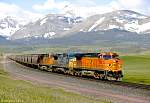 Grizzley Bears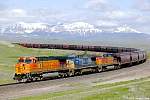 The grain train approaching Browning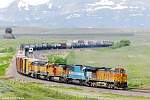 The neat East Browning foldover shot almost in the sun. An inspection vehicle is in the loop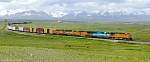 The same location shot for full frame 24mm fanciers. How lazy is that...?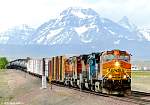 East of Browning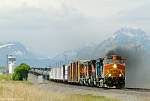 Ooooooh, a grain elevator. I'm having fun this trip. Smoking it up out of Meriwether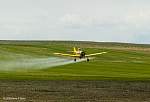 Buzzzz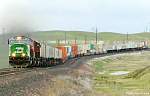 A green SD60M heads west past Camp Disappointment. A few miles north of here was the furthest north Lewis and Clark got on their journey to find a northern passage west and to scope out the size of the Louisiana Purchase, in which a fair chunk of the current US, six boxes of Beaujolais and a year's supply of baguettes was bought from the French in return for a container of deodorant and Ladyshaves.

From the National Parks Service website: President Jefferson desired proof of a tributary of the Missouri River that extended to 50°-north latitude, giving the United States a claim to a more northern boundary. Had this been the case, the natural boundaries of the Louisiana Purchase would have been extended.
What ever did we do before the internet?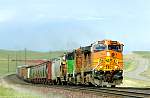 Camp Disappointment again in less disappointing light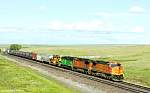 Approaching Browning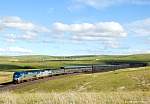 Amtrak's Empire Builder passes the West Browning fences which I'm told are to stop wind gusts, rather than snow, causing havoc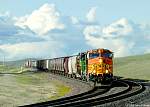 Grizzley. Still no bears.
---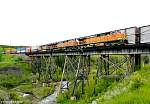 Jan 11: Midvale Creek Trestle at East Glacier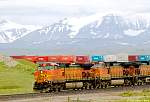 Back at Browning again.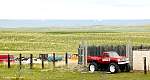 Go Binger!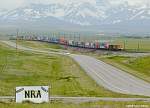 Riders who get thrown get shot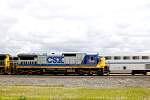 The eastbound Empire Builder passes a pair of CSX locos on a baretable train at Piegan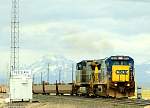 Departing Piegan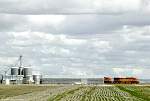 Passing the grain silos in the heat haze. The clouds were coming and going about every 30 seconds here and I was lucky to catch this in light after the previous one was clouded in at the last second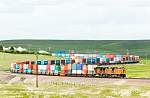 Lazy Shots #27 in a series. This was taken from the Pizza Hut carpark at Cut Bank. Again the clouds managed to hold off.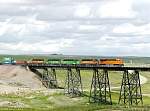 The Cut Bank trestle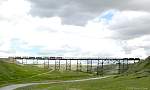 A pair of BN Geeps back out onto the trestle as they shuffle cars around in the small Cut Bank yard out to the right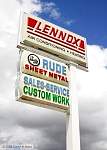 Rude sheetmetal? I'm not sure if they make rude shapes out of metal, or maybe their creations say nasty things to you.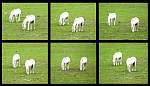 I saw these two fellows together and had to stop and go back. For the next two minutes they would walk, eat, walk, eat, walk, chat, watch TV etc in unison. I kept looking for projectors, UFOs and strings. Bizarre.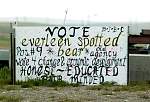 Get your vote in for Everleen Spotted Bear, who sounds like a nice chap. Browning seems to be the Blackfeet tribal center
...
So after leaving Browning, where It was so hot I considered putting on shorts, it starts hailing big nasty hailstones. I manage to find a country/christian/crossover radio station with the weather, and the forecast for Browning is: 1 foot of snow in the next 24 hours and 1-2 feet at the summit. Yikes! Careful warp factor 9 to points west Scotty, or I'm going to have a snow covered Continental Divide between me and my 6am flight tomorrow morning.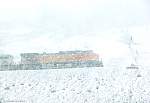 DB pauses for BNSF 5447 which approaches the summit with an inch of accumulation installed already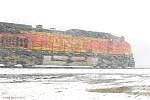 2 inches at summit and then its time for me to tread carefully downhill on the roads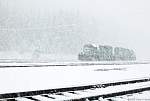 Back at Essex and it's time to get as far west as possible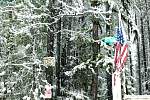 Snowld Glory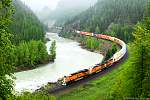 Down the hill maybe 20 minutes later and, the snow isn't settling at all. Scuse me, I think you have some icing sugar on your nose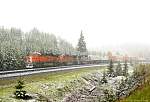 So ever in search of adventure, I head back uphill to find trains and/or snow. Ideally both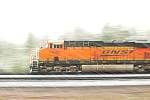 Swoosh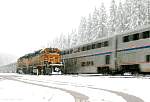 The Empire builder passes a pair of helpers waiting at Essex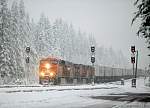 As the light fades, another eastbound rolls through Essex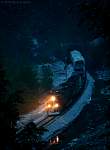 And it's good night from me...