Marias Pass in Montana
BNSF's HiLine Sub. June 2008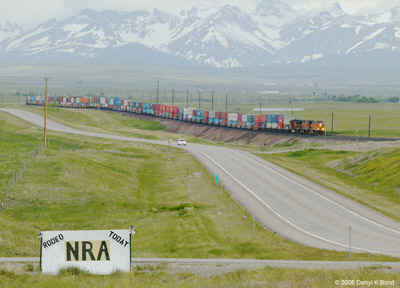 Only the Bible is missing
I've been wanting to go to Marias Pass for a while, although I'm not sure why.
I have a Highball DVD of the line, although it's not one of their best efforts (and they do have some good stuff)... A work colleague recommended it, well not the trains, but Glacier National Park... The famous annual Altamont railfan circus is held there of course, which always seems to produce a nice crop of pictures...
So I looked at the weather forecast and was presented icons depicting rain and thunderstorms for the next month and then booked a freebie ticket to Kalispell on impulse anyway. Nothing ventured, nothing gained. Hell, it beats painting the hallway.
P.S. Marias is pronounced as in Mariah Carey, the annoying woman who sings at a frequencies that scare dogs
---
The Locale: Magnificent. Awesome scenery with easy access for lazy shots along most of the line. Grades, tunnels, trestles, rivers, snowsheds, the Rockies, helpers, the wildlife, potential side-trips north into the National Park. Fantastic.
The Weather: Mixed. Lucky
The Rental: 08 Ford Taurus with about three miles on the clock. A sensible, OK handling, OK looking American car I'd actually pay money for.
The Trains: Plenty enough. Lots of old and lots of new locos. Plus Essex based helpers:

6816 (BN) + 6819 (H1)
6817 (H1) + 6821 (H3)
6818 + 7147 (both BN green)

Can't complain there.
The Accommodation. I spent three of five nights at the Isaak Walton Inn, which I expected to be an overrated and overpriced dump in a perfect location in the middle of nowhere crawling with train nerds. It turned out to be really nice. Staff were moderately accommodating, the rooms were decent with a view of the yard and helpers, food was good, there's a bar downstairs, there's wireless internet and a coinphone. What more could you need. I'd go back.
Useful Marias references:
Map of the line from East to West Glacier - found on the web, presumably originally stolen from the Isaak Walton
NY Railroads Montana Guide (Tom Trencansky)
Dale Jones' Railroads of Montana: Gradient profile Map
Rick Newton's Altamont Piccies (here at the time of writing this)

---
Click on a thumbnail pic at left to view the image here.
All digital images by Darryl K Bond. Feel free to use for non-profit purposes provided you credit the photographer, provide a link to here and let me know! All are approx 100-300 kb jpeg files.