Tuesday July 1, 2008 - Otago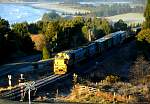 KiwiRail day one, 1 July, sees me up a few hours before the sun in search of prey. The train crew converses with control about the unveiling and the reply is that they're a government department now which is why 920 is running three hours late. All the better for me to get further south...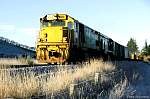 Bit of a weird shot in a frosty field somewhere. Hey, it looked OK from the car...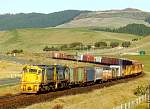 7213+4542 wheel a decent sized train between Shag Point and Katiki. Log wagons, ZAs, a JP, a coalie. Whatever happened to the good old Beard days of running empty UKs up and down the islands? What's next? Four wheelers? Hauling loaded wagons around?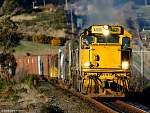 Into Moeraki. Dammit. Missed the Tumai shot. <Kicks self>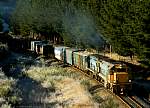 Under the Waianakarua/ Hampton forest overbridge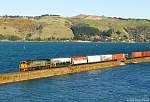 As if to make up for 920's tardy timekeeping, 922 heads out 40 minutes early with DX 5293 at the helm. Minus 10 points for cutting off the back of a small train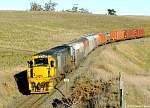 Tumai overbridge from the less exciting side. Is this the only loco left with no ditch lights?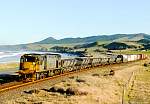 On the Shaggers coast again after stopping at Palmy to pick up empty goldies.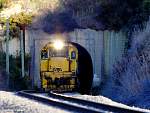 Coming out of the Herbert tunnel for a crossing with 923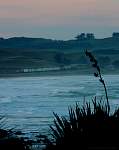 923 trundling along the Katiki coast as the day ends. Looks like Highlanders blue and yellow locos are mandatory in Otago today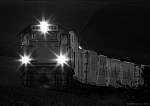 And again approaching Shag Central. End of KiwiRail day one. KiwiRail locos seen other than on email and the news: zero
---
Thursday July 3, 2008
Pause. I saw the DG yesterday for a few hours and did try to catch a couple of early trains this morning but was too far south. Then I waited almost two hours in the sun on Dashwood for the south passenger after walking 15 mins. Yep, of course a snotty cloud bank raced overhead in the minutes between the train leaving Blenheim and attacking the pass. I took an awful shot. Then I fell over. Then it started raining. Then I got back to the car.. So I meandered to Picton to catch my ferry. Hold that thought...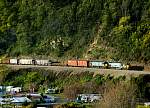 Train 735 departs Picton behind DFT 7132 and DQ 6382. Our family used to bring the caravan to this camping ground about thirty years ago. Thirty years ago! Holy crap!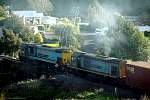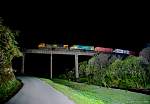 At 8:17pm, 7077 and 6324 drag train 737 across the Waitohi viaduct and up the 1 in 37 grade to Elevation. Shame this train didn't have the blue engines as the bumblebees don't flash anywhere near as well.

Oh and that ferry...it would seem I clicked the wrong button on the web page and booked to go from Welly to Picton instead of the other way around. It did seem odd that the terminal was closed this evening... On the bright side, cabins at the motor camp are only $50 a night and as I'm writing this from the cabin with the green roof at the far left of the 735 pic above, my train detectors will go off during the night as a bonus, and if I hadn't had to stay the night, I wouldn't have got the night shot. There's a sound reason behind all stupidity. Then again, this cabin's heater isn't doing much heating. It just seems to be stirring up the frigid air...
---
North Line, July 4, 2008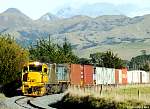 Fri 4 July: DB bumbles south in the Mini forever looking for trains that aren't there. Here's a grab shot near Ward when 726 finally surfaces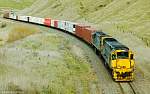 By the time it gets to Seddon, the sun is on the wrong side for the shot I wanted and here at Dashwood it's clouded over completely. A shot is popped nonetheless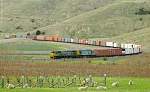 Cripes, what a whopper. This could almost be the States if it wasn't for those good looking sheep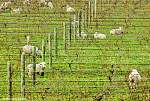 Waiter, this wine tastes of sheep poo...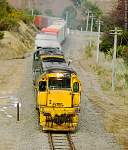 On the way to Picton in classic Question Mark formation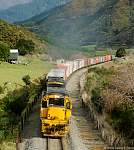 Approaching Elevation in semi-sun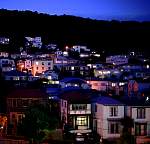 Houses on Mt Victoria, Wellington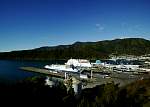 Ferries at Picton - that blue one was a complete stinker, smokier than a hundred Alcos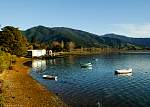 On the road to Nelson
9 July - West Coast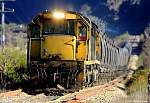 Meanwhile, not at the same time, and in another place, empty coalie 847 drops off the Reefton saddle on some wobbly trackage that's about to be replaced. That's not a grade... this is a grade. - Paul Hogan.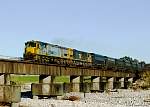 Just north of Reefton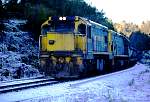 426 trundles toward Tawhai in snow and frost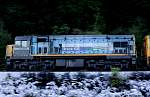 A pair of crappy pan shots just past Tawhai, although I half like the DX one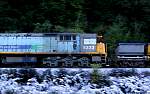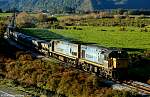 After picking up 4 UKs worth of coal containers from a recently re-opened siding in the far far background, 426 is on the move again towards Mawheraiti past Cliff's annoying Shadows. Pseudo-clever musical quips provided free of charge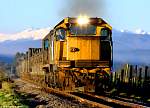 826 at Raupo again in the last of the sun with 4640 and 5333. I underestimated the height of this wee thing and had top pop it a little earlier than I'd focused for but should've taken another one after this methinks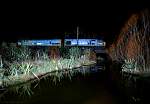 I'd hoped to get a night shot at Red Jacks crossing 949, but it wasn't really dark enough, so in desperation I pulled over here near Kotuku and waited forever for this feeble attempt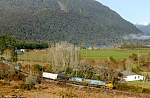 July 10: the same pair of blues on the return service next morning at Te Kinga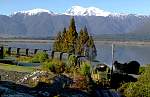 Following closely behind is 847 seen here at Moana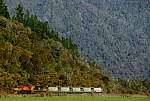 An Ontrack ballast train with those nifty YJ wagons between Rotomanu and Inchbonnie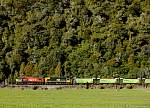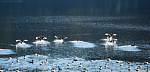 Birds. I guess.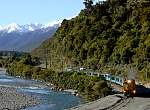 The westbound TranzAlpine passenger train near Rocky Creek. The new bridge here beside the old one looks almost complete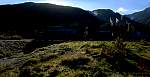 And just west of the Jacksons bridge, which is also being replaced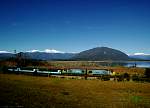 Coming into beautiful Moana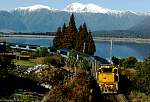 And departing Moana with Lake Brunner in the background
803 at Stillwater. Damn, could've sworn the sun was on this side...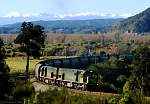 Driver Mike Kilsby pilots 832 onto the Midland line at Stillwater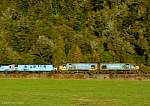 This was supposed to be a clever pan shot of 804 but due to the distance it looks more like a bizarre focusing experiment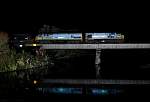 The Chosen Pair on 826 again on the Te Kinga bridge after another long wait, which will probably be replaced soon as it's currently afflicted with a 10km/h speed restriction. Sorry, these night shots are all getting a bit predictable because of some technical hassles...
July 11 To Reefton and Back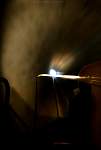 Next day I'm aboard 827/826 on a day that is rainy and stormy, but as we can see, is less so here in the Tawhai tunnel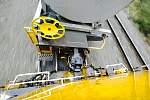 In the yard at Reefton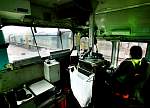 Crossing 847 at Reefton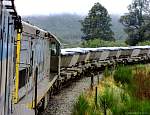 On the way home near Stillwater. Then a drive in the rain for a few hours until the storm forced me to shelter in the Otira Hotel ("they bought the town" but now run by a nice Scots couple) for a sleepless night as the wind and rain battered the place until I managed to convince myself that despite the walls moving in and out in the wind, that the place wasn't going to blow away after all these decades.