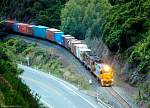 Just before sunrise on the 17th of Feb 2008, DX 5333, DCs 4876 and 4473 head train 739 through Elevation. Who said the 2am ferry was a stupid idea then...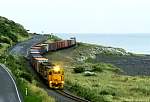 The same train heading toward Kaikoura under cloudy skies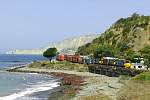 And then the sun came out... 734 catches me by surprise by crawling into Oaro earlier than I had calculated forcing a shady-side pic or nothing. Thanks to a series of loco failures, only the DQ was running, but the driver stopped here and managed to get the black DC started up for the run into Kaikoura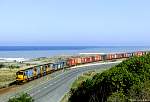 North of Kaikoura. DX 5460+4628+4450+6376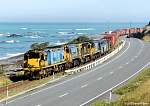 Approaching Pines. This picture finessed by Master Picture Editor DLA Turner (unbeknownst to him I was watching and taking notes)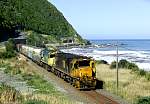 5327 and 6347on a G train wraps up a nice few hours of trainspotting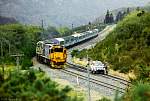 On the 19th of Feb, I tag along with track inspector Bruce Lord as an official visitor on the run up to Arthur's Pass. Fabulous way to see the country. Here at Staircase, we are overtaken by a heavily laden TranzAlpine. That train has come a long way in the last 20 years...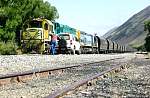 Crossing a coalie at Cragieburn with the old Midland Railway Co chair rail in the foreground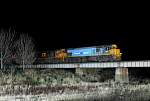 Night time experiments at the seldom snapped Makikihi bridge. This was a rare case of too many locos...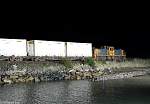 Y20 port shunt runs in from Port Chalmers on 31 March 08 behind 'Otago' liveried DSG 3251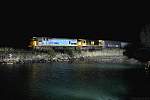 And then finally 930 shows up at Burkes. 31 March 08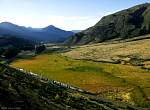 Meanwhile up at Cass, the Tranzalpine scoots past the scenery on Sunday 6 April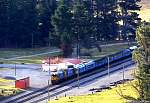 It's only a model. Cass a few minutes earlier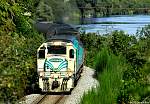 Whiteface 5172 leads 832 ex-Rapahoe through Dobson the next day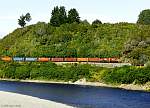 Surprise! Good Lord, it has been more than 20 years since the last official red repaint so what are the chances of seeing a matching pair in 2008? 7April 08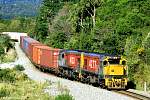 Yummy. A nice long train train 827 approaches Greymouth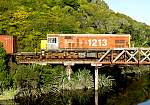 Shortly afterwards, the empty containers are ferried down to Hokitika on X6 shunt. Love those rickety old bridges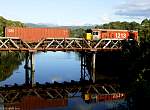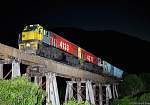 Later in the evening, the loads from Hoki plus local Greymouth traffic head east on 828. Amazingly clear night sky here at Stillwater - I don't think I've ever seen as many stars - including four shooters and a slow moving satellite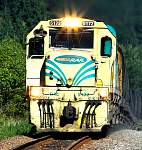 Faded 5172 on 832 again near Omoto. Note to self, I pity the fool who attempts a vertical here...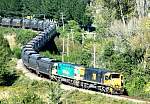 Next morning 845 is at Te Kinga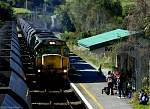 Hey, that's not our train... Crossing 832 at Moana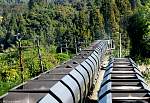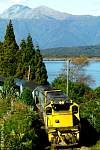 The passenger barely squeezes into the chosen 135mm viewport. Out to the left, fancy new lake houses have ripped up the landscape a little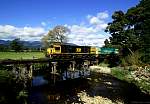 845 continues northward towards Reefton. I love the spindly wooden bridges over on the coast, although many are being replaced - get your pics while you can!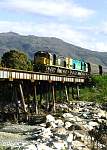 Exploring at Waimangaroa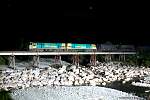 Where I hold a planning meeting with myself over a few ciders and the Best Burger In the World (from the stoners at the Blue Zephyr Takeaways in Granity) as to how to shoot 849, ending up with the stock Waimang bridge shot. I guess this and the reds at night on the Stillwater bridge were the two shots I wanted to get on this trip. Mission accomplished. Must dull down that star one day.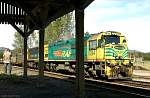 829 arrives at Reefton - 9 April 2008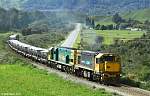 And then returns as 826. The funny little hoppers are loaded with heavy gold-laced ore headed for McRaes near Palmerston. This is an awful shot and I do apologise. When mucking around, don't forget to put the shutter speed back up when the train is coming. 125th of a second through the super-sharp135mm = speedblur, even on the stiff grade leading to the Tawhai tunnel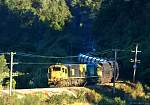 844 negotiates the curves into Stillwater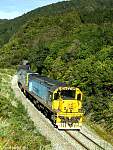 The Tranz at the Kiwi overbridge. The return service left the DX at Greymouth - I think it had died. Would it hurt to give the passenger engines a lick of paint... After 20 years, the blue engines grew on me this trip. Hardly beats a good fruit salad though...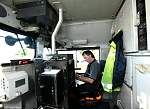 That night, I have an official cab pass to go train riding. Here, driver Mike Kilsby gets ready with 826's paperwork in the cab of DC 4421 at Stillwater while awaiting clearance from Train Controller Dave Green in Wellington to get underway. Next stop: the Phoenix Meat siding at Kokiri to swap out some wagons with the assistance of the Greymouth-based shunter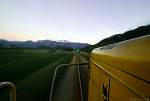 View from the DC. I couldn't believe it has been 12 years since I've ridden in a NZ loco on the main line and this time I paid a lot more attention to what was going on, gaining a greater appreciation for the skill of drivers who can take into account the weather and train makeup and then use grades and curve friction ('knowing the road') to set things up so they hit slow curves and speed restrictions right on the nose from miles out without having to rely on brakes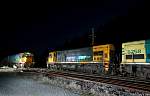 Crossing 841 at Rotomanu with almost enough little-flashpower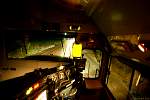 The view from DX 5448 at the pointy end of empty coalie 841 at Rotomanu as Mike walks back after setting the points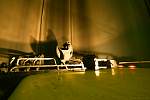 After a short hop on 841 back to Kotuku, we change over to bring loaded coal train 846 up the grade to Otira behind two 3300hp DXs which just romped up the grade. I'd love to say I was hanging off the front like a madman for the whole trip to get this pic, but this was actually taken at Otira after we had stopped and then had to inch forward a metre or two to clear the block.
841 waits for 835 at Otira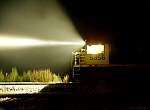 835 heads away from Kotuku after we had commandeered the car for the return to Greymouth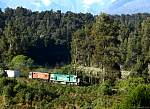 Next day at Kotuku and the reds have been separated already. April 11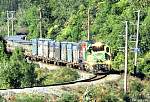 Empties bound for Reefton at Stillwater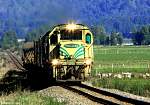 And further up the line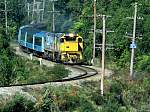 803 - three strikes and that shot is out. Maybe next time.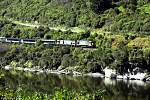 The Tranz skirts the Grey River near Brunner - 11 April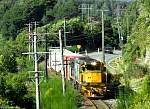 Later that afternoon, a tiny train with Hoki containers threads around powerpoles near Rocky Creek, where Ontrack is replacing the bridge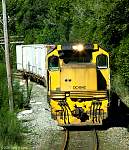 And near Aitkens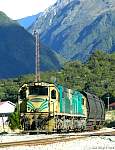 849 at Otira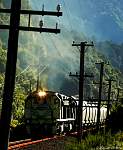 Bit of a disastrous day this was...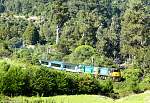 Next day sees 803 near Kotuku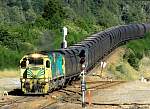 Bottoming out. 849 drops off the steep 1 in 33 grade and into the Otira yard - Sat April 12 2008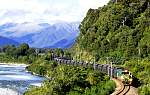 One of my favourite shots of this trip - 849 at Rocky Creek. April 12 2008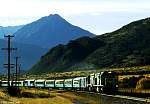 As the Mini cools her heels, 804 plods up through Cass. A few hundred metres up the track, the train goes into emergency to avoid a ute that fails to stop on the crossing near the fisherman's cottages. The train crew comment that there was a guy painting one of the cottages naked on the way over, so it is possible that a drink or two has been taken...
The...end!