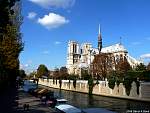 After getting lost, we stumble upon Notre Dame cathedral
At the end of every alley...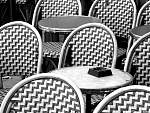 Cafes everywhere
Le Metro Cafe above Maubert Mutualite Metro station, a short walk from the perfectly located Hotel des Carmes - a minute from the Pantheon, the Metro, Notre Dame, wine, cheese, bread and pastry shops. Does accommodation get better than this?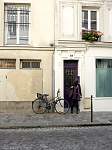 Leessen very carefwelly, I weell say thees only wernce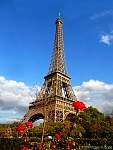 The spectacular Eiffel Tower. Wikipedia tells us: Depending on the ambient temperature, the top of the tower may shift away from the sun by up to 18 cm (7 in) because of thermal expansion of the metal on the side facing the sun. The tower also sways 6–7 cm (2–3 in) in the wind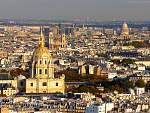 695 steps later... The golden dome is Les Invalides and the dome at far right the Pantheon, near Notre Dame and our hotel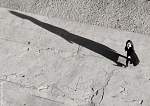 Lost woman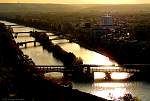 A pair of Metro trains cross on one of the many river Seine bridge. These shots from the second level. From here you can take a ride to the top.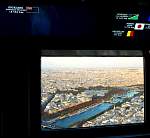 The view from the third/ top level - about 300 meters up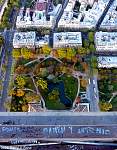 Antonio the brave was here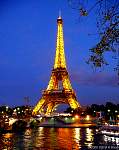 Night Spectacle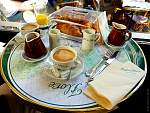 Brekky at Cafe de Flore before heading off in the wrong direction on our self-'guided' walking tour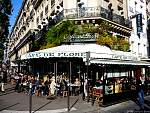 Cafe de Flore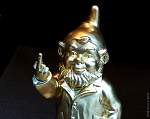 Even the gnomes are rude in Paris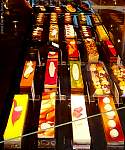 Edible art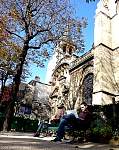 The grounds of Saint-Germain-des-Prés are a WiFi zone...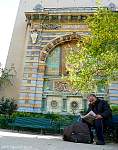 Catching up on the news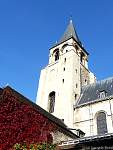 St Germain again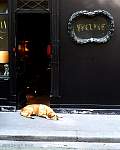 Dog Tired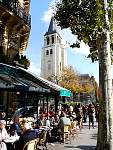 Cafe life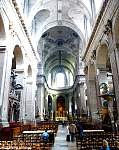 Saint Sulpice - building began in 1646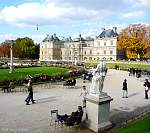 Beautiful and popular Jardin du Luxembourg gardens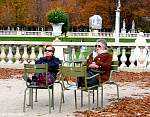 AbFab in Paris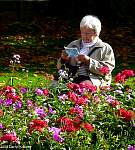 Not a bad place for a read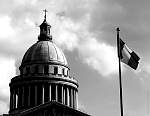 Pantheon dome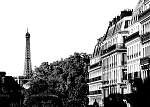 Parisian view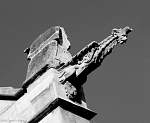 Gargoyle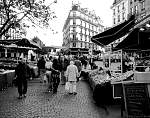 The view from the bottom of Rue Mouffetard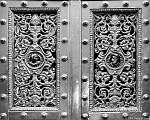 Door detail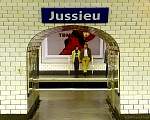 That's more than enough walking. Waiting for the Metro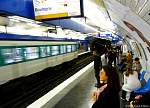 Brilliant Metro service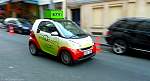 Beep beep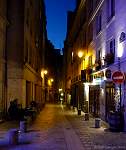 Rue de Lanneau - one of a zillion charming streets in the Latin Quarter.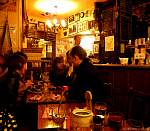 Scenes from a Parisian cafe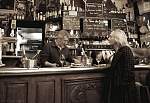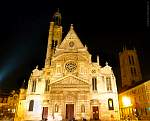 Sainte Etienne du Mont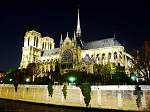 Notre Dame by night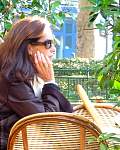 A woman and her baguette are not easily parted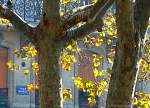 Headless pigeon. Superb photography.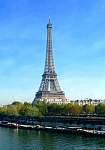 The ET as seen from the metro while crossing the Seine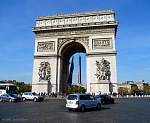 Arc de Triomphe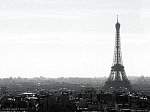 Views from the top (another 284 steps)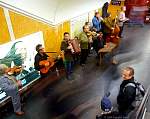 A very groovy 100 piece band from Estonia or somewhere.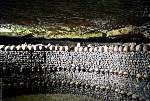 Between 1786 and 1814, the bones of 6 million were transferred from disease ridden cemeteries to the ossuaries in former underground quarries - the catacombs The tunnels were also used by both the German occupiers and the French Resistance during WW2. Or so we were told.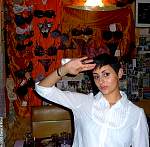 On an entirely different note, the most amazing food and underwear collection at Restaurant Les fêtes galantes run by chef Bibi at
17 rue de l'école Polytechnique near the Pantheon. Our helpful, charming, enthusiastic but frazzled English waitress may or may not still be employed there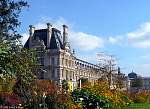 Tuileries Garden