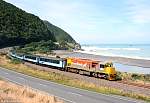 After two weeks of looking at birds, penguins, native forests and rain with the better half, Thurs Feb 19 provides a grumpy sky more rain in Chch, so I' head up to Waipara to look around the WPR and meet up with Gary Kelly and a few of the guys who are doing a spectacular job putting in a new turntable. A train passed through and as there was a hint of sun about, I eventually head north aiming for Oaro to see if I can make up the fifteen minutes I'm behind it. A red signal there tells me I've missed it so I putter up to Kaikoura for some lunch. The train duly rumbles over the bridge while I'm waiting for my lunch, but the cloud has returned anyway. Bugger. But is that some light up the coast? And we know that train will cross the passenger at Pines...Hmmm. I head up to Mangamanu to investigate.
This is the first time I've seen the new Kiwirail livery and find it quite eyecatching, looking even better than it does in pictures. I think they've done a good job (excepting 5454). Here's my quick fix for the Bumblebee locos though. Paint out the yellow TR and apply the current stickers to quickly add a bunch of branded locos to the fleet. Ladies and Gentlemen, I present the All Blacks Edition.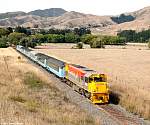 And at Parnassas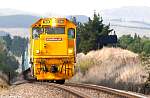 And finally climbing away from the Waipara river. 600kms for four pics?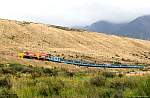 On Feb 22, the two South Island based KR DXs ended up on the Tranz. I ummed and ahhhed in Chch over the weather and foolishly decided to head up to Cass try to catch the train coming back. I made it with a little time to spare, but the weather wasn't great and I had trouble finding a spot that I liked which would require limited investment of effort due to the spits of rain and threatening skies. After much running around up and down hills further up the bank and becoming increasing dissatisfied with the whole endeavour I ended up here. Right beside the car. If one has to take a picture when the sun isn't out its best to keep the bright cloudy sky out of your shot. Then again, rules are for breaking. Hey, it might be the last time I see a clean pair of KR locos.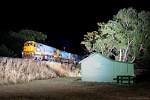 25 Feb 09. A few days later, after fitting the DG with a rear door handle, more misplaced optimism about the weather (now instead of metservice.co.nz putting up little pictures of suns and clouds 5 days out on their forecasts why don't they just put big question marks there instead? "Sorry, we don't have a feckin clue what the weather is going to do until it gets here. Our sophisticated meteorological dice have been lost so why don't you all go and buy great big umbrellas and if the sun comes out it will be a nice surprise." That's what I'll make them say when I'm Prime Minister. Jim Hickey is the only man I believe, and he's just an actor with a pleasant demeanour who knows how to pronounce NZ placenames and the pointy symbols on the weather maps. But I digress) has me heading west again. The evening of the 24th nets me the night shot at Cass I tried this last year and despite a massive effort missed it due to not having a critical switch set to the "on" position. One of the fifty things...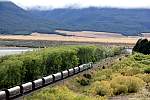 After spending a cheap night at the Springfield hotel and gassing up the car in the morning, the promised blue day is miserable. Surprise surprise. Gorillas in the mist.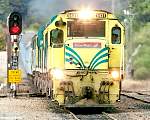 The bankers hitch a lift on 804 back to Otira.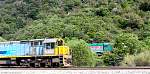 Three green DXs explore the runaway track at Otira as he Tranz continues her merry way west.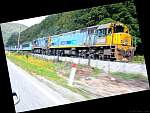 The Mini, with its rock hard suspension, is not the ideal vehicle for pacing shots. Especially when you're driving ;) but I pop off a dozen or so. Despite the crazy angle, this one is my favourites. We're train chasin, baby!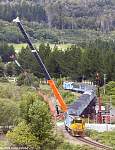 Threading between Tonka toys at Te Kinga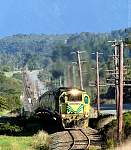 Wheeee! Rollercoastering past Phoenix Meat. This is what we New Zealanders call a 'bug dupper'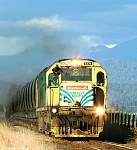 One of the main reasons I'm over this way is to catch a KR loco on 846. That's what I'm led to believe from Railtrack. Alas, any system is only as good as the rubbish entered into it. 846 at Raupo.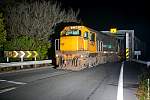 A more prolific and effective trainflasher told me there's 50 things that can go wrong when taking night shots.

I'm set up for a shot on my favourite Hoki branch bridge trying not to get run over by trucks. Its getting dark and one truck comes too close for comfort. I race back to the car to get a safety vest. I race back onto the bridge as I hear the train approaching. I trip up on something. That's a lie. I trip up on nothing, but end up on the road anyway. Sore knee, sore elbow, sore hand, sore flash trigger. Time for a quick test shot just to check... no flash! Nooooo! Another - flash! Whew! Just in time to recharge the lights... Train comes, click the shutter - no flash. Damn hotshoe foot on the trigger is broken. Another 20 seconds and I could have swapped the flash triggers or set a bulb exposure and fired the flash manually, or... But no. No time. Now I pride myself on being a pretty level headed bloke, but as the train crept over the bridge I could have been mistaken for Gordon Ramsay's understudy. Boy was I pissed. And in the American and not the Kiwi way. I manage to grab this consolation shot at the Taramakau road rail bridge on the way back to Greymouth.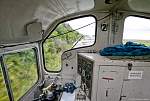 The weather on the 26th was cloud shadowed and spitty (or 'shitty' for short), so what better thing to do than spend time in a DSC on one of the hokiest of hokey branchlines. Special morning editions of X6 have been running to deliver concrete bridge beams to the construction site of the bridges that will replace the combined Arahura road/rail bridge. The charming little branch would make a nice model.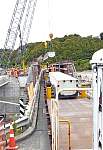 Cranes lift concrete spans onto the new road bridge at left while the old road/rail bridge is briefly closed to road traffic so we can sit on it. A new rail bridge will go in to the right.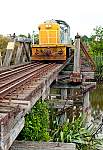 Waimea Stream from a less-common angle than below.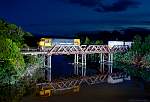 That night I try my Waimea stream/Awatuna (what's 'Awa' mean in English? Tuna must be fish...), bridge shot again despite the odd spot of dribbly rain. Nothing to lose. I hang a spare trigger off the flash just in case. Success.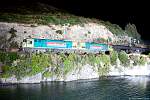 So with a little rain about I might as well head east from Kumara rather than heading back into

Greymouth

. About 15 minutes in I come across what looks like the back end of a car nose down a small bank. I circle back and get out my torch following skid marks and fearing the worst only to find the young driver quietly smoking a cigarette in the drivers seat having already called a tow truck. He looked like he could have done with a beer. I turn the scanner back on at Jacksons but there doesn't seem to be anything happening and the Bankers are peacefully idling at Otira so over the hill we go. But near Cora Lynn the radio announces the Bankers about to leave Otira with 846! What to do, what to do. Here's what to do. White lightning at Mt White.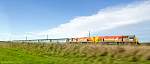 Sunday...Struggling to catch the Tranz near Kirwee with DLA Turner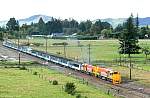 Last of the 'sun' at Springfield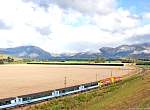 Go west, young men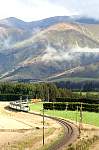 And women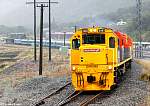 The Tranz leaves the wet stuff behind at Arthurs Pass for a few miles under cover until Otira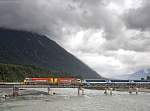 Land of the long gray bloody annoying cloud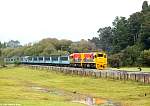 Scaring Pukekos near Kotuku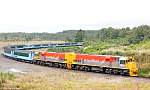 Arriving at Stillwater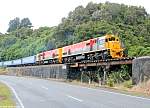 Skirting the Grey river under gray skies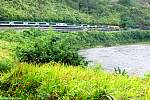 And one more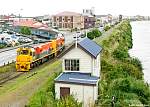 Leaving Greymouth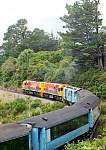 Omoto. Which would be an ideal name for a Japanese cellphone. (This idea copyright DKB 2009)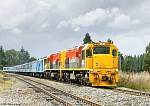 A small hole in the clouds at Kokiri or somewhere forces us to take an emergency unspectacular picture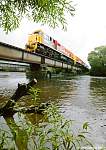 Flying past a nifty wee bridge near Kotuku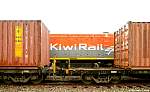 Advertising to an extremely small and damp audience at Jacksons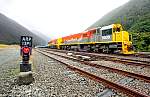 Arp Dep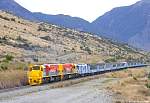 Bah. Enough of this miserable weather. Hey, next Wednesday looks like it might be sunny... Muhahahaha.