Romania Sept 2009
Home
Page 1. Pre Tour
2. Up and back with Reşiţa
3. The Krauss
4. Mariuta
5. Mariuta and the Railcar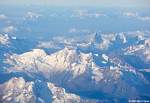 Over the alps on the way down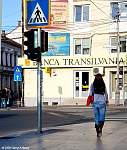 Toward the bottom of Transylvania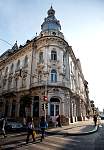 Cluj-Napoca. One of the many benefits of living under an oppressive communist dictatorship for so long is that your towns aren't filled with mirror-glass high rises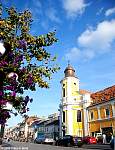 Kludgey picture of Cluj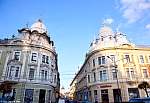 The 'Mirror Street' where the buildings on each side are (almost) identical copies). Coincidence? I think not.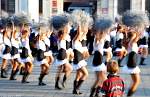 Its rude to stare at their pom-poms, laddie.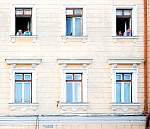 Four persons and a pigeon enjoy the spectacle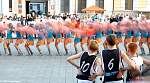 Judges confer in the Best Legs competition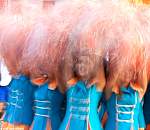 Last hurrah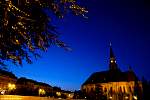 Cluj Union Square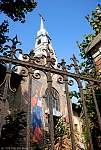 One of many churches in Cluj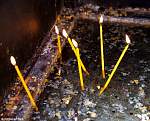 Candles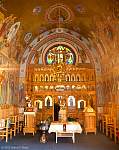 The interior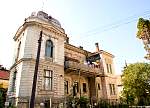 Reminds me of university flats...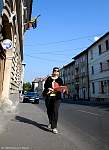 Candid snapper on the streets of Cluj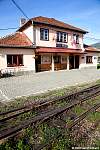 [Pause for long bus ride] The attractive Vişeu de Sus railway station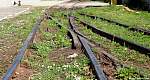 Dual gauge track with narrow gauge turnout embedded within it. Took me a while to get my head around this!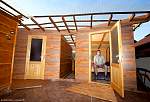 Jonathan's and Darryl's fancy rooms (with team bathroom far left) upstairs at our pension. We didn't let on to the other group members or pension mates, who were holed up in rat-infested coal bunkers downstairs, that we had scored the last two Presidential Suites. If you come on this trip, ask for the Ancuta Pension... After assuming I would be 'off the grid' - as they say in those spy shows - for the week, I was surprised to find in this tiny logging town that the pension has superfast wireless internet. Camera fired remotely with one flash propped up on it (no light stands - hence the unfortunate head-on brightness) and one tucked inside the doorway reflecting into a white plastic bag. Its all high tech here folks.
Home
Page 1. Pre Tour
2. Up and back with Reşiţa
3. The Krauss
4. Mariuta
5. Mariuta and the Railcar