In Dracula's Lair.
Romanian Steam at Vişeu de Sus, Sept 26-Oct 2, 2009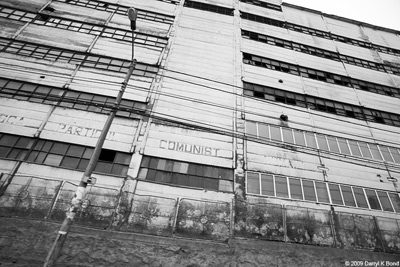 Welcome to Romania, Have a nice day.
The spectre of upcoming employment makes one think long and hard about their last weeks of freedom, so on a whim I packed my bags, my garlic and a fresh set of heart-stakes; and headed for the Transylvanian province of Romania to join Bernd Seiler's FarRail tour.
After a few hasty connections in Paris and Bologna, I arrived in Cluj-Napoca for a quick look around and what turned out to be a gratis night at the hotel due to their plumbing failing, so that was a pleasant surprise (the bill being zero, not the water being brown - luckily I got a shower in first).
Several hours on a nice bus with the group the next day gave us the first taste of the countryside, which became less-populated, less-flat and more-wooded the closer we got to the town of Vişeu de Sus, which was to be our home base for the week. We stayed in pensions (bed and breakfasts plus dinner and packed lunches) run by the locals which exceeded my expectations in every respect. Meals - soups, stews, polenta, sausage, cheese and what pension-mate David termed "generic former communist schnitzel" - were tasty, and while the locally made moonshine was less so, that didn't seem to hinder its rate of consumption.
The CFF Vişeu de Sus forestry railway is perhaps the last narrow gauge logging railway in the world that maintains a fleet of steam locos (although the 'real' log trains are all diesel hauled barring emergencies), thanks primarily to a group of Swiss supporters. The line follows river valleys up into the Carpathian mountains and suffered extensive damage from storms in 2008, including several massive washouts and slips. Fortunately, most of the line has now been rebuilt.
On most days, we travelled in coaches attached to the train: one was a fancily refurbished club-car/wood-tender and the other was a more rickety and authentic blue number which kept threatening to catch fire from loco sparks from or the heating stove staffed by the ever-efficient German contingent.
Disappointments? The weather gave us clear skies for the first few days and rain at the end. Surprisingly, I liked a lot of my rainy pictures, but I didn't come well prepared for the weather, running around in shorts and sunhat most of the time... It's also a shame we didn't get many loaded log wagons on our trains to make them look a bit more 'real'. I'm sure in time the railway will generate enough funding to restore a few more coaches and wagons to provide varied consists.
Highlights? The scenery was quite superb in early Autumn, even if it required a bit of hiking and river-wading to access the best bits. Shame we didn't do a few more climbs really, as those 'aerial' shots really show off the beauty of the line beside the river. We had a few minor derailments, things held together with string, a coupling fall out, and an 0-8-0 loco that was running as a 2-6-0 because of a broken rod... and that is all part of the line's character. Riding on the back of one of the empty log cars was the ultimate way to bounce along the railway...
Some might say, its a museum and not a 'real steam' line, but that could be argued either way. There is, however, no debate that I loved it. The far-too-many pictures taken are the proof.
---
Click on a pic or underlined text in the left frame to view the image here.
All digital images by Darryl K Bond. Feel free to use for non-profit purposes provided you credit the photographer, provide a link to here and let me know! All are approx 100-300 kb jpeg files.