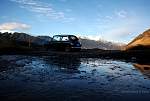 The Mini is mobilized in a westerly direction towards Mount White. Friday June 26, 2009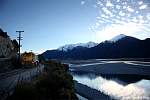 The Tranz heads back East.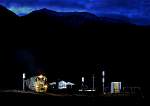 Eric Bryant pilots a pair of DXs up to Otira to pick up 18 wagons that were dropped off 832 earlier in the day and here they and the bankers make light work of lifting the tonnage away from Otira's top yard.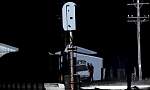 I've seen the light! A close up of the RAW pic reveals an OnTracker having his memory wiped by the Men in Black. They are now all equipped with sunglasses for night work.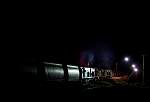 Going away at ISO 800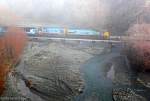 A long walk in the wet next morning is a bit of a waste of time as the fog doesn't clear in time for 803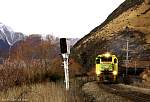 Mr Bryant again near Mt White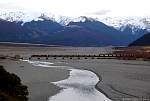 A pair of black DXs cross the Waimak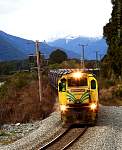 Rocky Creek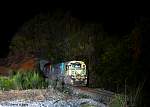 Out of the Kiwi/Brunner tunnel in a hastily set up night shot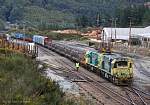 The Reefton train has stalled on the Stillwater bridge, blocking the line. Luckily a calm and collected Mr Green brings the locos off a following Rapahoe coal train to the rescue. Here the PushMe PullYou train is brought back into the yard.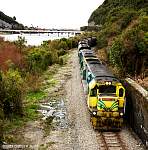 The coal locos back on their train with the new Cobden Bridge in the background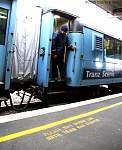 Don't even think about it...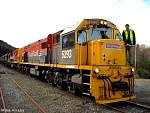 Next morning I'm in need of a haircut and saddling up for a ride at Tawhai on 832R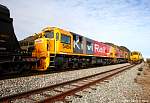 Crossing the Reefton goods at Mawheraiti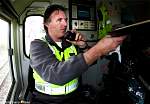 Receiving instructions from Mr Green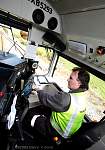 Getting underway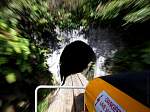 Into the rathole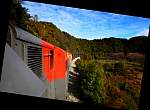 Beside the Arnold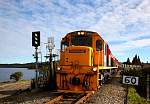 Into Moana for a crossing with 803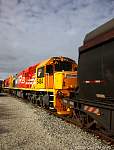 This is my first encounter with the KR2 paint scheme. Not sure I approve.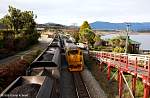 803 with Colin Kemp at the controls of Frankenstein DX 5310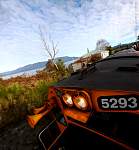 Coasting past Lake Moana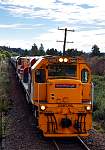 Alongside the Crooked River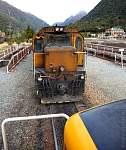 Into Otira where we nose up to the waiting bankers. The pub is top right of the pic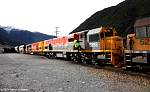 Our work here is done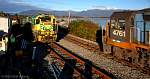 Mike and Steve give Mr Kemp a wave as 804 returns
---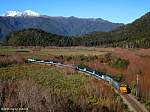 Despite forecasts to the contrary, Wed July 1 dawns crystal clear and the train radar picks up blue bandits over the Alps. Still carless, KiwiBiggles.com scrambles to save the planet 7199+4761 west of Rotomanu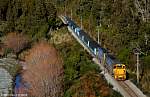 Between Rotomanu and Moana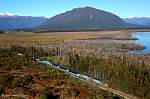 Lake Brunner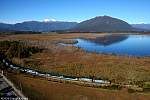 Approaching Moana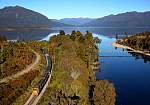 The Arnold river swingbridge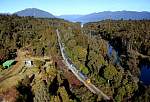 Arnold River without swingbridge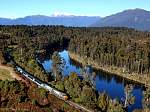 The Arnold near Kotuku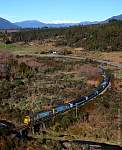 The bridge on the Kaimata bank from a less familiar angle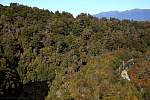 Back on the Arnold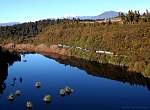 Arnold Clumps

Coming out of the Arnold Valley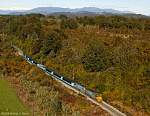 Approaching Stillwater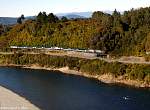 Beside the Grey river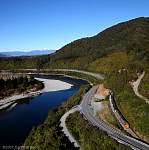 Kiwi tunnel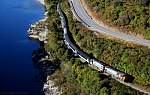 Greyside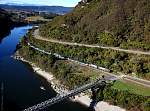 Brunner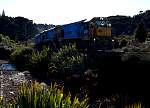 Later, on terra firma...