NZ July 2009
Back Home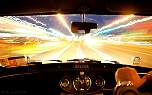 Ludicrous Speed engaged along Moorhouse Ave in Christchurch to give the Boy Racers a run for their money..
---
Thurs July 16 is crappy in Chch so I head to Cass, hoping upon hope that there might be a brief break in the drizzle and clouds somewhere. Anywhere. Even if the weather stays miserable, which is highly likely, Cass is a more scenic place to be miserable in than Chch even if you can't see the scenery. However descending down some twisties into a valley about 5 km out of Springfield, the drizzly fog magically clears in what seems like seconds to reveal a crystal clear day and loads of snow on the mountains. I'm in heaven even before I get to my destination.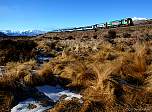 Shame they put a green snotter on the front to of 803, but you can't have everything. At least its clean. 5172 & 4761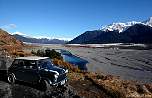 And to think people actually live in the North Island and in other countries...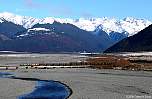 842 dragged east by a RooPoo and a Kaleidoscope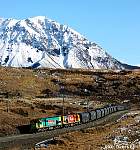 5385 and 5454 again at the ever popular over-the-top spot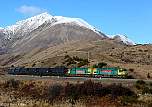 DB caught on the hop after a superquick crossing at Cragieburn - 5212 5241 wheel down the bank on 835. I'll take a two of a kind Greenies over a mixed pair of nothing anyday. And from a less superficial standpoint, the 3300 hp recabbed ones ones certainly pull well on the hills and are quiet, clean, dry and draftproof inside.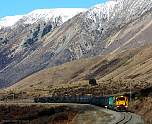 Old-favourite short-distance swimmer DX 5195 and less aqua-tested 5258 on 849 with Colin Kemp in charge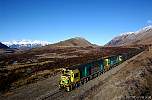 After a few hours of standing around in the cold, the sun angle gets as good as its going to get to snap train 837with DXs 5264 & 5431


And in Pano-vision (459K file)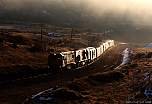 The Tranz returns home as the mist steams in dramatically from the east. She will cross 841 at Cragieburn.