NZ July 2009
Back Home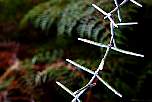 Frosty morning above the Cass river a few weeks ago.
---
Mon 20 July: I'm taking mum up to Christchurch as I fly out tomorrow. We're on the way to visit the rellies near Kirwee and its suuuch a nice day. And the Tranz has a pair of blues according to Railtrack. And I owe Alan the Helicopter Man a few hundred dollars from last time, so I make a quick diversion to drop it off. And he's there. And the helicopter is outside. And he has a new engine in it and he wouldn't mind going for a spin to bed it in. But the sun is low in the sky and I really wish I'd left Waimate a few hours earlier. Well, my wallet might regret this, but I won't.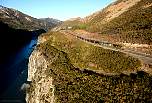 841 is finally apprehended at Staircase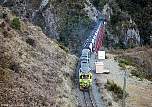 832 coming off the Staircase viaduct with a matching pair of green snotrockets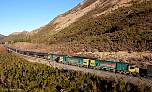 Staircase crossing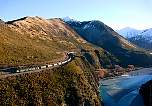 832 trundling down the scenic Waimak river gorge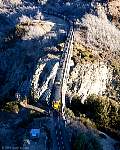 Into the shadows off Broken River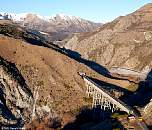 Slovens Creek Viaduct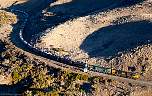 S is for Slovens. 841 is for mismatched DXs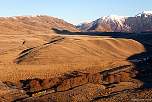 Approaching Cragieburn for a crossing with 804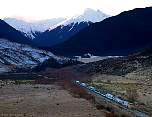 One train to rule them all!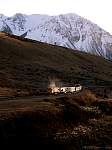 The familiar Cass Bank shot from a mildly loftier vantage point than usual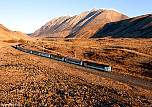 Helimustering the Tranz. Shoo! Gitalong little doggies. Amazing how many people enjoy the open air observation cars, even on chilly days. I know its chilly because I can't feel the right side of my body.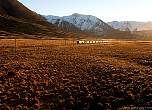 Tussock clumps on the Cragieburn straight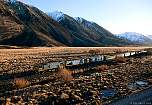 Of light and shadow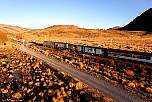 A crossing before the crossing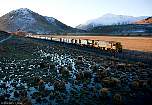 Skirting the darkness on the approach to the Cragieburn loop to cross 841
---
And that's me done - swapping the crisp cool winter scenery for a hot and stinky NY summer.