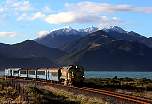 8 July. I head down from Picton and catch the Tranz Coastal approaching Hapuku behind DFT 7307 displaying its Vomitorum colourscheme.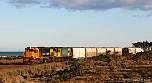 An unspectacular shot of 734 coming the other way behind shiny-nosed DFT 7295 and DQ 6347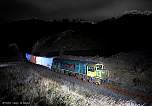 A little further north, grubby green bastard DX 5431 heads train 720 north after midnight. They say timeless design is the art of leaving things out. Going against the grain - because innovation is usually a good thing - Toll's team of colourblind ADD-afflicted fingerpainters tried to squeeze in as much as possible. The washed out colours in various shades of snot, garish orange Toll logo with its yellow swoosh, gratuitous nose whiskers, oval nose logo and number at the rear of the long hood (just in case you didn't catch it on the cab) mark this scheme as the antithesis, the opposure, the contraposition, the very Antichrist of style. And this isn't even a flattering night shot of it.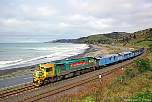 The 9th dawns cloudy, just to give the fingers to the nice sunny weather forecast. Speaking of fingers, I like the idea of not washing these in order to cover the colours, but wouldn't it would be nice to have a shiny KiwiRail DFT on the passenger trains that people look at rather than putting it on the Ohai coal trains?. This at Oaro.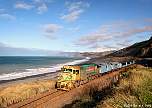 Playing on the beach near Rakautara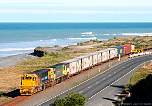 734 near back at Hapuku with the same pair from yesterday.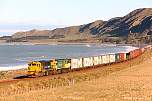 Near Parikawa or somewhere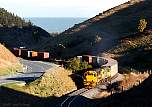 Up towards the Tar Barrel tunnel north of Wharanui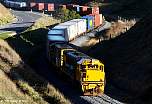 Same lens, but I like both these 'threading through the shadows' shots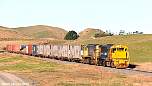 The chase continues through Blind Rver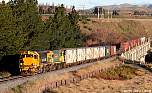 Across the Awatere rail-rail bridge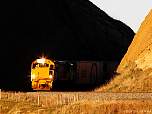 Out of the shadows on Dashwood.
---
That night I stayed up late for 720, drove 15 mins north of the motel, and monitoring the radio, figured I had plenty of time. I was 20 minutes into setting up when I see the headlight coming through the tunnel. Arrrrgh!
---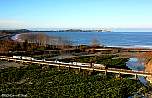 Friday 10 July dawns cloudy and I put in 200 kms looking for a sunspot while chasing the Tranz Coastal without firing a shot. Bah. On the way back to the motel, I return to the spot of the failed night shot and spend an hour planning and gardening. That afternoon, matching blue DC 4828 heads the return train across the Kahutara river south of Kaikoura.


The big picture. (Warning - 750kb file) This is going to look great blown up. An indication of the detail in this: close up of the DC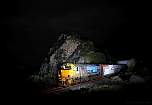 That night I'm in place and all powered-up 40 minutes early to ambush DFT 7132 on train 720 at Irongate Stream at 12:30am with Dave Green providing soothing commentary over the scanner. 11 July 09