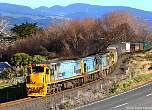 Given the nice weather, I figured I might try to catch train 922 down south somewhere, and I was spurred into action when an alert from Evan the Spy suggested that it might have four locos. Here north of Seacliff just after 2pm.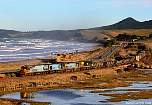 One of those Shots That Make It All Worthwhile on the Shaggers Coast after picking up 4 empty goldies from Palmerston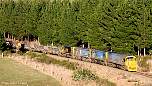 Frankenstein DX 5310 leads DC 4784, DFT 7213 and DC 4473 under the road at Waianakarua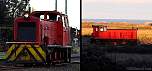 A pleasant surprise at Pukeuri as this Drewry waggles around setting out wagons for the approaching train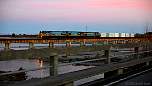 After dropping the trailing DC at Oamaru and picking up wagons at Oam and Pukeuri, 922 heads across the Waitaki. If you can't take a sensible picture you might as well take a silly one. This out the window up over the bridge rails and back in the rough direction of the train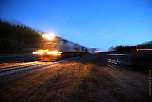 And a final silly one at Studholme where 5 container wagons await loading.