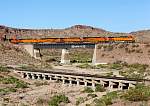 Kingman Canyon, and one of a number of bridges on the line that reveal that this line was Santa Fe country until the BNSF merger of the late 90s. That seems like a long time ago now...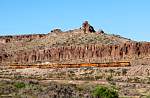 This was actually an impressive 'light' power move, here back-dropped by the canyon cliffs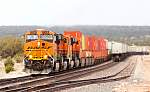 Near Supai summit, BNSF 7546 heads east as a westbound trailer train recedes into the distance.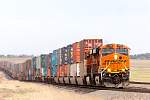 Seligman rollercoaster. Bad boy being on the wrong side of the sun, but I almost got away with it due to the hazy sky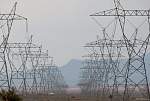 Powerlines head off into the future north of Kingman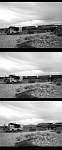 And speaking of the passage of time, a pair of swooshy GEs head a long grain train past a burnt out RV. This was intended to be a somewhat better arty farty shot than it turned out to be.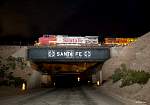 After dark at Topock, I took a few flash shots and was promptly set upon by the local rent-a-cop. This was perhaps not the best shot as the train was on the far track, but there'ssomething nice about seeing a Santa Fe branded loco heading across a Santa Fe branded bridge 14 years after the merger...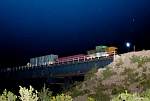 And just for the caboose nerds, I was surprised to see this BN jobby on the back of that train and had to try a nasty on-camera flash shot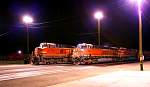 Cooling their heels at Needles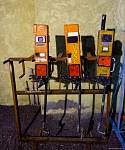 Overheard at the bar: "Hi, my name's Fred." "Really? Mine too!" "Get outta here, you're not going to believe what my name is!"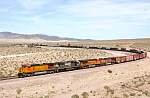 Ludlow curve.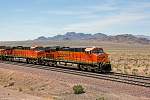 Ludlow with mountains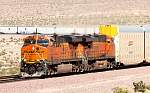 BNSF pinup at Ludlow. Nope, there's not much at Ludlow. The diner does good milkshakes though.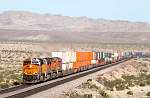 West of Amboy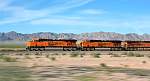 Pacing along near Amboy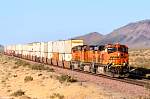 Somewhere Goffs-ish. Maybe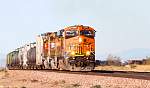 Further East of the previous shot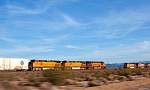 And not far from that - a pacing crossing on the double track with both trains moving at a good clip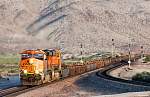 Java loops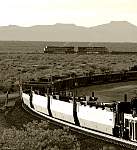 Same train heading away and gaining elevation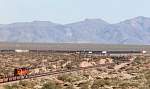 Next morning, not far away, a BNSF baretable chases a slow moving manifest and will quickly come to a stop as it rounds the corner to find a red signal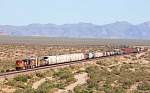 With the tail end of the baretable still visible at the right of the pic, a manifest heads west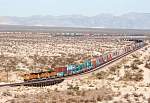 Just as a flashback, here's my favorite shot from this place - taken in 2007 from a better location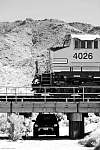 Sometimes you just ain't gonna fit. I race out and take a shot of the approaching train anyway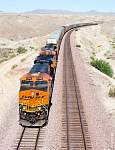 Topock moonscape from the highway overpass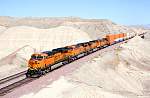 And from further in after some climbing. And that's a wrap boys and girls, time for me to head back to Vegas to dance the night away with the troops.