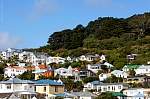 Ahhh, Wellington. Is there a nicer city in the world on a nice sunny calm day? Shame about that.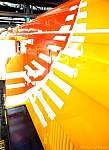 The weather was less than stellar the next morning (as is sometimes the case) but shelter beckons at the KiwiRail Hutt Workshops in Woburn.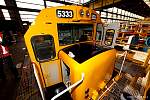 DX 5333 getting finishing touches after a rebuild and repaint in the new colours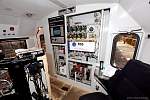 DX 5333 cab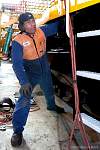 It's a hive of activity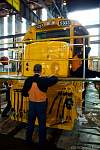 Looking shiny.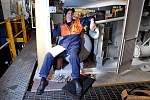 Meanwhile, in the back end of DX 5310, things are being assembled per the instruction book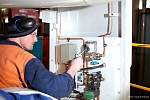 Insert 'tab A' into 'slot B' and liberally apply PVA glue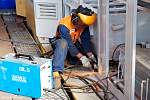 Removing an offending item from 5310's long hood

The GE 7FDL12 motor inside 5310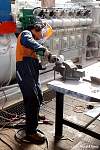 Working away on a critically oversize item, with DX 5310's motor in the background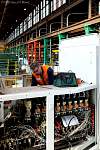 5310's electrical cabinet behind the cab. Don't stick your fingers in any sockets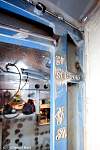 For the past few years, all DX rebuilds have received clean new draught-proof cabs fabricated at Hutt. Hidden behind the back posts are the signatures of the guys who worked on them. Now that is some precision welding.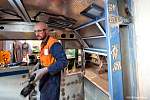 Fitting out a new cab on the shop floor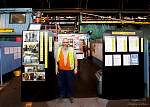 Tikitour leader James in front of the Group 3 (Fabrication) team bay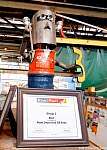 Avast!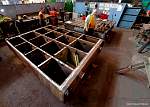 DX fuel tank with baffles.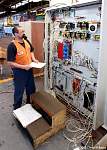 And you thought wiring up model train DCC decoders was hard... Brightstar and other electrical guff in the panel that sits behind a DX cab.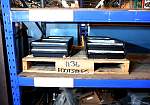 Its like the Atlas Model Trains Spare Parts Dept but on a larger scale...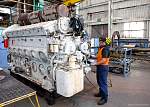 EMD 12 cylinder diesel from a DC loco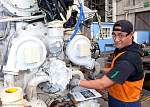 Taping up before a clean and paint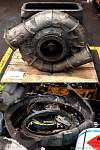 DXR turbos - in fair condition (top); and in less than adequate condition (lower)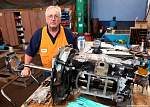 Ganz air compressors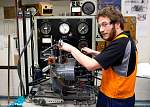 Diesel loco governor testing station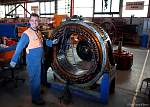 Strobist style shot of a generator repair - thanks to Evan for being a Mobile Light Stand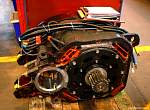 traction motor - I think this is a D29? from a DC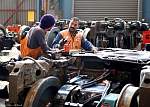 Refurbishing loco bogies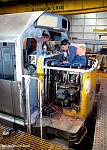 DC 4790 being refurbished and KiwiRailed from fruit salad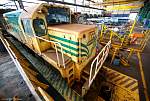 DAR 517 getting an evaluation. One doubts this odd bird will ever run again.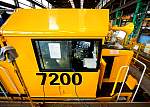 DFT 7200 gets ARTA-ised for a stint on the commuter trains in Auckland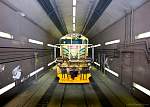 DQ 6347 in the launch tubes of Battlestar Galactica... or maybe just the paint booth at Hutt after repairs stemming from that little incident at Picton a year ago.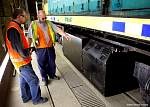 6347's battery box and fuel tank repairs - James shows Evan which bits are the wheels

DQ cab interior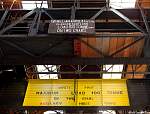 Need a lift?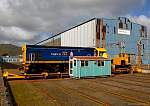 DC 4939 is lugged off the traverser by baby TR39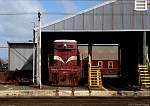 DA 1471 stored out the back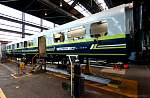 Prototype SuperGanz 1373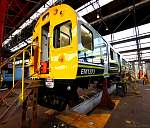 In the new Wellington Tranz Metro livery. Looking sharp.

EF 30186 arrives on site. 30065 was inside near the Ganz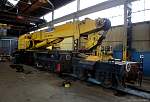 EL6002 crane drying out from its swim at the Nuhaka bridge a few years back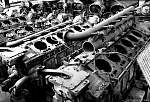 Dead Engine Society. GE 7FDL12s in the foreground with EMD 645-12s behind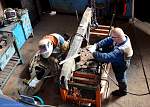 Wagon bogie work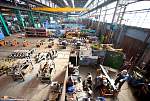 Overall view of the main hall at the shops. A big thanks to the KiwiRail Marketing and Workshops staff for the tour.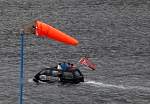 As seen from the Picton Ferry... Crazy mainlanders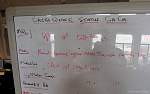 A sad reminder of the Sept 2010 Christchurch/Darfield earthquake in Wellington Train Control. This was taken a three days after the quake. Of course five months later much worse was to come.