DG 2376 / 783
What a piece of junk
In April 2005, after three years of trying, I purchased the 'spare parts' DG owned by the Weka Pass Railway for a long, slow and no-doubt expensive restoration. Has there ever been an attempt to report on such a tedious project in near real-time before? It's a bit like setting up a webcam to watch grass grow.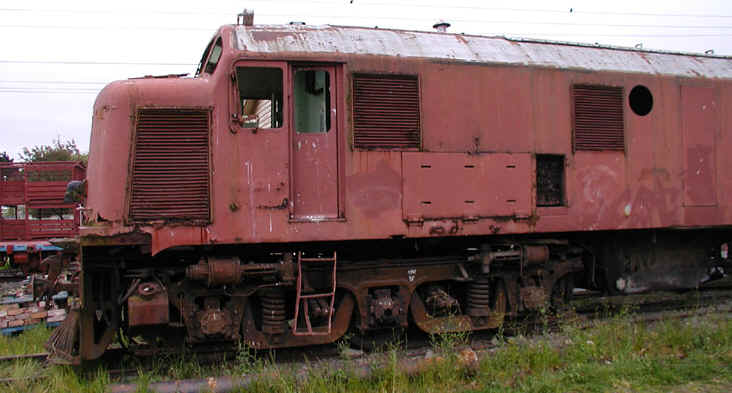 ---
March 2009: More of the same.
A little more work in the back room has it looking in pretty good nick. A little more wall and grille work will see it ready for the installation of dynamic brake (fan, grids and roof shutters), compressor and some wiring and piping.
July 2008: Nothing to report. Carry on.
Retrieved a few more bits courtesy Dave Green and the Evan Batchelor Storage Company.
And now, just to infuse a little culture to this locale, here is a poem kindly sent in by Dave Turner, one of our Christchurch listeners:
The cold south wind is howling,
Blue tarpaulin flutters unsown.
Litter floats on spring tide rising,
As deluges of rain drive down..........
April 2008: Come in number one, your time is up
Time to go. Not quite as much progress as I'd hoped but progress is progress. I got most of the rear room's inside done - another few days would have it sorted. I did get the new superflare primed, fitted and sealed. I didn't get the side grilles out except for the rear blower one and didn't get the main roof off except for the rear room panel. At least the back looks a little better now.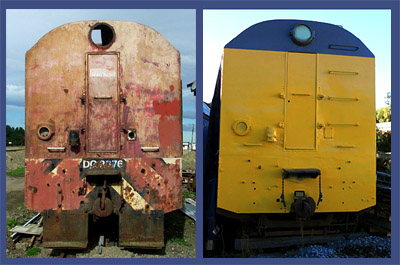 There are plenty of disheartening discoveries of missing bits from time to time (hmmm, can you 'discover' something that isn't there?), but after more exploring and now that I know a little more, this not an impossible task. It will take time and money, but its not impossible as long as it is approached sensibly in manageable chunks.
---
Feb-March 2008: The exposť continues
The goal: get something done. Anything.
Progress to date:
quickly learnt the difference between 'Whitworth', 'SAE', 'UNF' and 'UNC' nut and bolt threads. Whitworth is the one. Bought the other ones of course.

stripped and painted more interior panels in the back room

needle-gunned, sanded and applied a rust-killing primer to the entire rear exterior, including headstocks

removed rear left 'flare' on bodyside, had the rust cut out and extended the top of the metal by 50mm for...

cut out 50mm of rust from the bodyside on top of that for a new superflare

made a patch out of 2mm steel to cover the hole where the missing MU plug was

removed the roof panel that is sorta over the compressor in the rear room. Needled, sanded and painted it

found and reinstalled aux gen covers

found and reinstalled some of the PITA internal generator field resistor bank covers above the battery boxes. The guts of both sides seem to be intact (way hay!)
It feels bloody good to be doing something (anything!) on the DG after such a long time. It also feels really good being able to put in some solid days rather than snatching a few hours here and there every year
---
July 2007: Back to from whence it all started
Gerard Greenlees and I happened to be in or near England at the same time and spent a few days around Manchester visiting a few preservation outfits and EE parts suppliers. Parts are... a) readily available in new and refurbished forms; and b) pricey as far as I'm concerned, with the US dollar being almost worthless at the moment. I'll probably buy 'important' bits (the piston and conrod, rings etc) from one of these suppliers and try to source other bits (covers, manifolds etc) second hand from Oz or elsewhere. No great rush, they'd just be sitting around anyway.
Other findings: Manchester is a fun town. English passenger trains are pretty impressive as are the stations (they all look like 'SuperQuick' kits. The former RSH and EE loco works don't exist any more.
---
Nov 2006: Strip Club
A 'semi permanent' power supply has been hooked up so Andrew Hamblyn and I completed some rather messy paint stripping, cleaning and repainting in the back room.
The replacement rear bogie leaf springs are almost ready, leaving axleboxes and wheelsets as the major bits remaining to be sourced before that bogie can be reassembled.
We now have an original horn, some replacement radiator core tubes and the missing WHB brake gauges which should complete our gauge collection.
On the heavy machinery front, with the assistance of Gerald Greenlees, we went through the loco and assembled a shopping list of EE engine parts, for which prices have been requested from overseas. Additionally, a number of approaches are being considered for getting the prime mover running again, which will be a major milestone in the restoration.
---
May 2006: On the Ground
Visits to Wellington, Dunedin and Christchurch see inner and outer coil springs for the bogie, a drivers seat, a set of pumps and injectors, a fuel delivery pump, rear view mirrors, parts catalogues, window glass, front and rear tail lights and a big rear headlight safely squirreled away inside the Kp, together with some tools and materials to get the restoration started.
Gerard Greenlees and I had an initial explore around inside the Kp and find two complete sets of DG (one may be from an EE DF) dynamic brake grids/fans and roof shutters, a complete DG master controller, a DJ control stand and air operated reverser and copious contactors and other bits and pieces.
Evan Batchelor, Andrew Hamblyn, Andrew Hopley and myself spend a day unloading the bounty into the Kp and exploring the pig once more. Hey, she's not as bad as she looks, OK. Well in some places anyway. Since then, Mr Hamblyn has begun clearing the 'back room' (which should house dynamics, whb compressor and the rear TM blower) and placed our tarpaulins over the loco. A big thanks to AH for his on-the-ground efforts.
Still looking for: wheels, axleboxes, EE 6srkt mk2 engine parts, 2 EE 525 traction motors, brake stuff.
Below: Three Amigos: Darryl, Andrew and Evan debating whether the bar and pool table should be fore or aft of the spa pool. Pic snapped by Andy Hopley.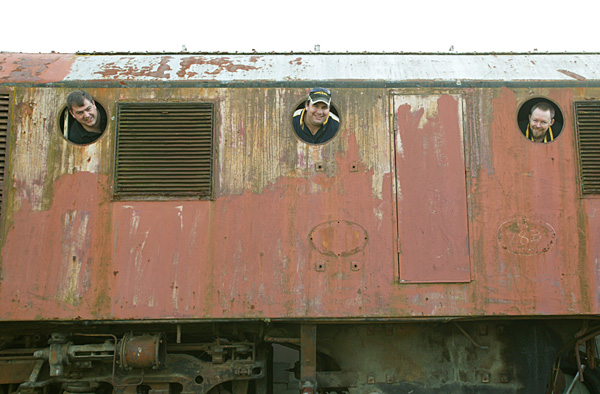 ---
April 2006 : Misery loves company
A Kp wagon, formerly in use as a load bank at Linwood, has been purchased and placed next to the DG at Ferrymead. As well as being a nice rolling storage shed, it contains the missing dynamic brake shutters/fan/grids and some control equipment that the DG needs. Thanks to Steve Weir, Gerard Greenlees, Toll Rail and the good folks at the Canterbury Railway Society for helping us secure and house this real find.
Also in the real-find category, a train controller that I used to visit in Dunedin 20 years ago has offered up a collection of DG bits and pieces including a nose door with light, fuel gauges, two tail lights, side mirrors, armrests, handrails and cab fittings amongst other goodies. Thank you sir!
The replacement of missing bogie hardware being retained by Weka Pass has started. Inner and outer coil spring sets have been acquired - some purchased from Rietveld's and others fabricated by Dawson-Reid in Christchurch. A set of rather pricey leaf springs are also being built with the next challenge being the axleboxes and wheelsets. After that, the bogie can be put back together with the short term goal being to get her safely pushable before work starts on cosmetics and the guts. And of course, the hunt for missing items continues both in NZ and overseas.
---
Nov 2005: Some progress
The cracked bogie frame has been superbly welded up and painted by Seaview Engineering.
---
April-June 2005: Is that a locomotive in your pocket?

The purchase is finally completed and as part of the agreement, the loco quickly whisked off the property to a temporary home at Ferrymead. This catches the railfan community by surprise and stirs up all sorts of excitement and concern, particularly over a rumour concerning a possible recabbing with one of those nice square cabs in its future. Nothing like ruffling a few feathers.

From: Bond, Darryl K
Sent: Friday, 10 June 2005 11:28 a.m.
To: XXXXX
Subject: RE: Dg 783/DG 2376...

Hi, long time, no hear! Ha, someone's imagination has been busy. I heard two stories surrounding the Weka Pass DG:

1) Peter Ross bought it and wants to bury it near Cass so that it can rust away in peace away from the cruel hands of preservationists. Little does he know that Tony Batchelor is already planning an excavation. Once recovered, the loco will be airlifted to Mainline Steam without any warning whatsoever. Just to surprise Ian Welch. Once in Plimmerton, the loco will be fitted with the nose from a jumbo jet, slung under a zeppelin, and then modified to run on US standard gauge. Apparently it will then be purchased by Michael Jackson who will fit it with vacuum brakes and press it into service as a mobile childcare center.

2) Another rumour has it that some railfan bought the loco in the hope that he can get it back on its feet again before he dies without contributing anything to NZ's preserved rail heritage. Or it rusts away to nothing.

As always, I look forward to receiving the next Railfan to find out what's really going on!

Regards,
Darryl
---
Oct 2002: Ideas burbling in my head
On a visit back to NZ, I pay a visit to the Weka Pass Railway and have a look at their 'spare parts' DG. It looks awful and there are a lot of bits missing... some of them quite large... The bogie, engine and control gear seem to be the the biggest worries but the body looks to be in reasonable shape. What the hell, it can't be that hard. I make the first of a number of approaches to Weka Pass to purchase the DG for restoration.
---
Click on a thumbnail at left to view the image here.