I'm 'darn sarth' at the Virginia Museum of Transportation in Roanoke for a Lerro Productions 'night session' where they supplied lights, actors and smoke effects in an effort to recreate the grand old days of steam. This is J 611, an impressive 4-8-4 passenger loco built in the town in 1950. Twice the tractive effort of a booster equipped Kb and the ability to run at over 110mph (170kph)...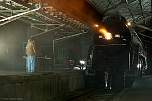 A problem that quickly became apparent was that some barn doors on top of the studio lights could minimised the illumination of the space-age canopy above the engines.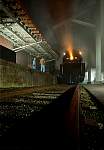 The actors tended to hang around on their designated marks for ages as well, so you ended up getting lots and lots and lots of shots from different angles of basically the same thing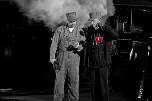 Fellows with a lamp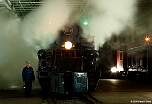 The attempts at smoke generation were well intentioned, but unfortunately the breeze had other ideas, so it ended up overwhelming the scene pretty quickly (cough, cough), resulting in multiple 'takes' of the same setup, which became a little tiring, and dare I say it, after a few minutes, a bit cheesy. I would have preferred a few minutes for each shot and then another setup. After all, I don't think the official photo line ever left the front of J 611 and A 1218, whereas there were tons of other opportunities at the museum.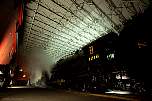 So I went exploring. These are the first US steam locos I've seen up close - they are really, really big engines. I'm surprised there isn't an elevator way up to the cab of 2-6-6-4 A 1218 - about the most impressive loco I've ever seen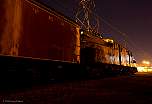 There are loads of early diesels at the VMT, plus a Virginian electric loco and this elegant looking GG1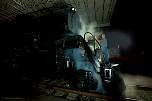 Back at the photo line, it was time for an hour of 'guys polishing headlamps' in a somewhat overplayed homage to an O. Winston Link picture. Interestingly, the OWL Museum is right next door and one of the best hours I've spent at a museum. I could have spent all day there...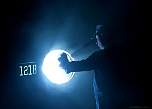 Blue Light Disco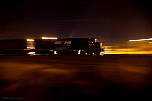 This became pretty tedious. I was at least as interested in the passing parade of NS trains through the fence. Here pair of locos back past the museum.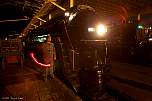 I managed to prise the guy off the headlamp of J611 and suggest this shot with a bit of motion. Note the nasty lens flare - not sure if this was the lens itself or the dust and smoke that accumulated on the front element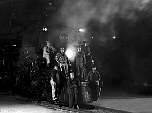 The A team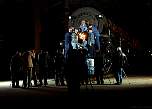 Train snappers snapped. So all in all, an interesting night and some good pictures, but I felt it could have been more productive.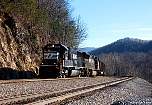 Next morning I head out early in an attempt to scare up a real train. Here a standard cab SD70 and a flared SD70M bring a long train of coal empties up the steep grade southwest of Roanoke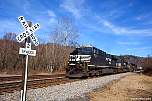 The next empty coalie with four ES40DCs was stopped for a while and just as I was heading back to the car, it started up. Drat.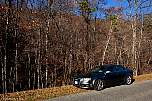 John Denver would have been proud. The scenic Blue Ridge Parkway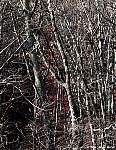 Last of the fall colour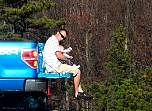 Tailgating on the parkway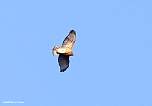 Next morning at Hawk Mountain, PA... This is a nasty blow-up of a Red Shouldered Hawk (or something - I'm better at identifying trains)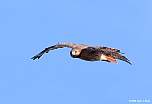 A Red Tailed Hawk swoops down to check us out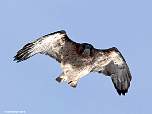 The same Red Tail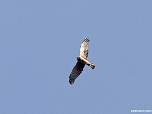 And to end, a 100% crop of a very high flying Northern Harrier. Even with a 400+1.4 stretcher, this was a bit of a dot in the sky, yet the camera managed to capture something. If you're coming to Hawk Mountain, stay at the local B&B.