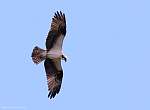 This is an Osprey sea-eagle at home in NY. This picture has no functional purpose being on this page and is provided purely for decorative purposes.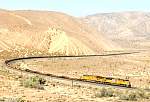 Meanwhile, back to the story... Fresh from a sleepless night at the non-air-conditioned Bel-Air in Mojave, I attack the Warren curve to find a flat baretable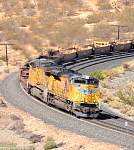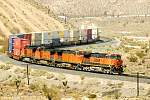 Ahh,that's more like it. Real trains, Brucie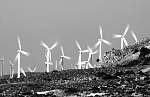 Spinning electricity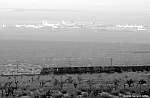 A BNSF freight passes the Mojave airport, the retirement home for old airliners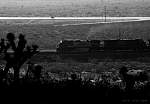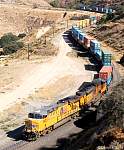 A long wait sees shadows encroach on my shot at Clear Creek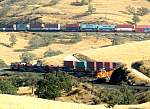 A following BNSF stacker threads down through Allard to Tunnel 2. Note the height that is eaten up by the Allard horseshoe at right. This is quite the grade.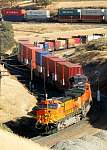 Same train, better picture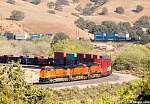 And lastly running through Caliente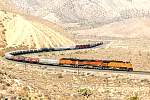 Next morning, it's Warren time again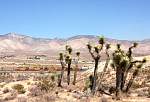 U2 trees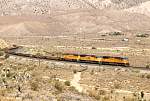 Give us this day our daily morning baretable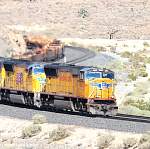 Whoops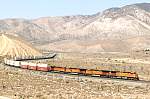 Yummystacks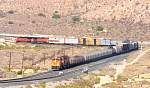 Descending through the heat haze

Some colour in the desert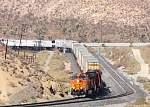 Long trains looking short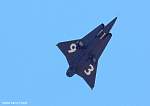 Strange bird at Mojave - the new Saab 9-3? :)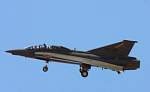 Makes mental note to reset camera after taking trains. 1/60th handheld with approx 900mm isn't a surefire recipe for sharp pictures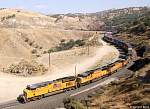 A short UP train threads its way down the Clear Creek ravine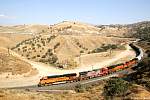 Finally, the shot that was requested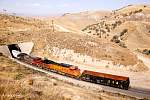 Bumming a ride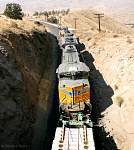 Aces High- a pair of UPs head out of Tunnel 3 with a long train comprising one tie wagon. Overpowered methinks.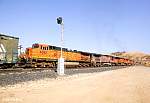 Departing Bealville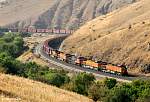 Caliente Narrows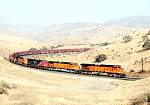 Shooting at tunnel 2 in the company of Bob ('Tehachap' of Trainorders)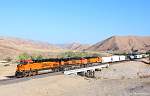 The new bridge near Bena. I thought this section between Bena and Illmon had been double tracked by now. The roadbed looks formed.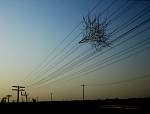 High flying fugitive tumbleweed finally caught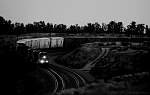 Sandcut Evening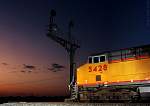 A UP train heads past the neat old SP cantilever signal mast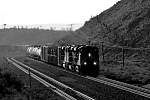 A different take on Warren the next morning, but alas no downhills in the hours I was there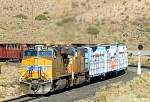 ...So we'll just cheat and snap these pushers instead.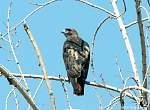 Big Bird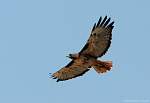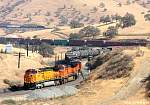 Another take on Tunnel 2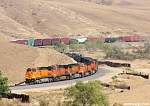 S bend between Bena and Illmon. Maybe this was the better angle...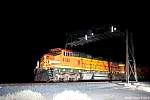 Meeting His Excellency the Lost SdnLdr Hopley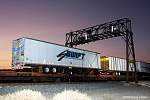 Intermodal test shot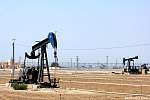 Bobbing for oil near Edison next morning on the way back from Taft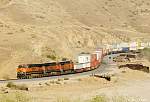 We climb a steep hill and wait. And wait. And wait. S bend between Bena and Illmon. All that work and the other angle was probably better...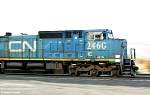 Ex-LMS Dash 8 pusher at Bealville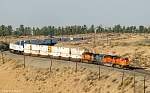 The final morning at Tehachapi sees this uphill dropping down temporarily at Sandcut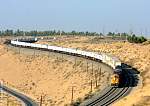 Crappier version of the above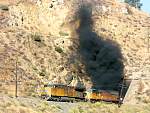 Bursting from one of the Tehachapi creek tunnels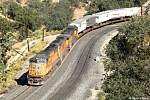 UP pigs at Cable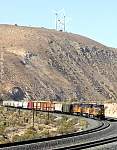 A return to Warren, this time knowing there are a couple of trains on their way

And again. UP galore


Rounding the loop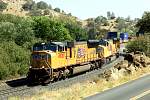 A last run up to the loop sees this UP train heading down through Woodford

Final fling at the backside of the loop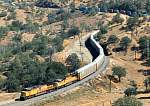 And then it's off to points east

---
Barstow Yard
---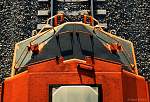 Pumpkin head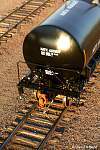 It was about here I discovered that my 85mm lens was completely buggered...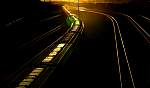 Grain moving about the yard in large steel vessels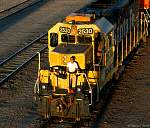 Shunters. I mean Switchers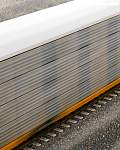 Autoracks

Barstow Sunset. I surely do like this one.
---
Cajon Pass
---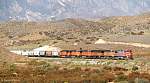 I spent a couple of hours on Cajon Pass on the way back from my very first visit to Tehachapi in 1988. I don't think I even got the slides developed. But now with an almost open mind, I'm prepared to give Cajon another go. We find a nice spot and wait. Bah, all the trains are on the wrong track

Or going the wrong way

GP60M on a downhill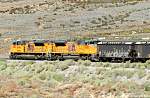 UP pushers on a BNSF train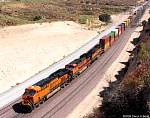 View from the summit in the company of a couple of Brits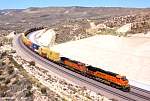 Helpers on the above train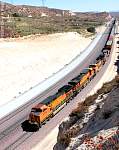 The immediately following train on the third track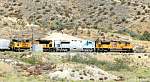 The George Bush Senior loco. The George W Bush loco will have his name spelt wrong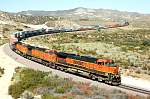 After the departure of Brent, I umm and ahh for a while about heading back to Tehachapi. During this time nothing much happens. After 40 minutes I start up the car and decide to head off. About four seconds later, a headlight appears in the distance and it ends up on the right track, thus saving me about a hundred dollars in gas money.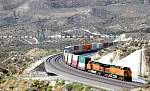 And then one more uphill before boredom sets in again and I head to LAX for a date with three Margaritas. Sorry. I just can't get into Cajon...