Tehachapi 18 / Barstow / Cajon Pass
Return of the Jedi. Sept 8-14 2008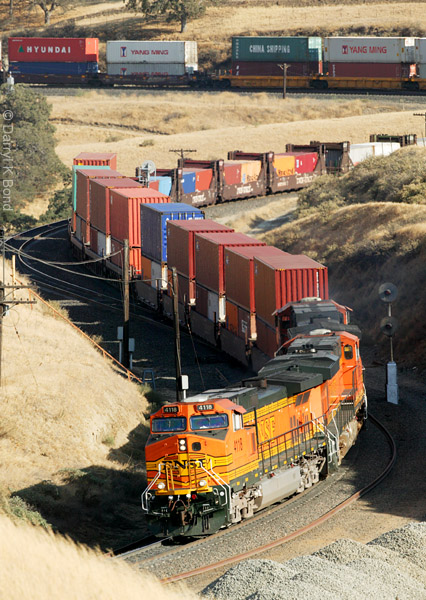 A return to Tehachapi after almost two years in absentia with a touch of Cajon Pass via Barstow thrown in for good measure thanks to the arrival of the RNZAF's finest Brent Hopley and a good excuse to visit a mate in Bakersfield.
Weather Rating: Good. No clouds, a fair bit of haze though.
Railroad Nazis Rating: Passing with flying colours. As had been reported, I saw the dude in the white SUV about and saw him shifting a few people along, but I didn't indulge in many excursions off the marked tracks this time. Good job too as I saw him heading into some pretty hard core spots. Maybe he was taking pictures...
Train Rating: OK. Lots of multi hour waits this trip. Way more UP trains than in the past - it seems that they are running many coast-line trains on this route as well.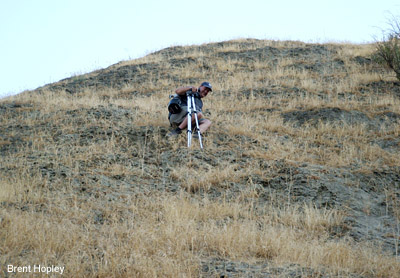 Holy crap, that's steep. I thought I was going to die
Accommodation Rating: Fair-middling. One night at the Bel-Air in Mojave: boy has that place gone downhill. The 4 million satellite TV channels have been replaced with one fuzzy one via the bunny ears. I think 'Wheel of Fortune' was on but it was hard to tell. The air conditioning wasn't working either, which is hardly a selling point when the motel has been baking in the desert sun all day long. Still, on the plus side it's under $20 (plus tax) a night, and thus still superb value as the rate has only gone up about a dollar in the ten years since I first visited. As another bonus, the truck stop out the back is considerably less busy than it was before the 58 bypass opened. A few nights in the new La Quinta (the old Travelodge) at Tehachapi Summit, which was OK and reasonably priced. One night at the Route 66 motel in Barstow. Cheap, trying desperately hard to cash in on the Route 66 ambiance, but fairly unspectacular apart from the round beds. Hmmmm
Rental Car Rating: At the beginning: Excellent, at the end: Dubious. A Dodge Nitro for $14 a day - how could one go wrong? Except for the stupid name, this is a fine veeehickle. It looks really funky from the outside, in my mind what a small Land Rover should look like, except the tail door which reeks of minivan. Nice interior apart from a bit of interior trim looking a bit saggy. Motor a bit sluggish - could do with another gear or two methinks. Competent off road. The thing that worried me was that the ESP skid light kept coming on when veering rightwards at speed downhill on the freeway, which makes me wonder what the shelf life is of these things. Dodgy.
A stone chip courtesy of a truck on 58 was patched at Bakersfield for $40 in the hope that the rental car company wouldn't notice.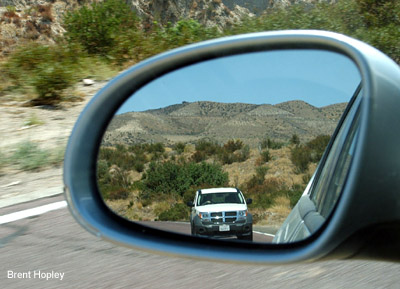 ---
Click on a thumbnail pic at left to view the image here.
All digital images by Darryl K Bond. Feel free to use for non-profit purposes provided you credit the photographer, provide a link to here and let me know! All are approx 100-300 kb jpeg files.