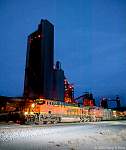 After getting up to Mojave in reasonable time on the Sunday night I figure I might as well shoot something. The sun goes down much earlier in winter eh? Around 5pm, BNSF 7526 and SF604 head this northbound past Monolith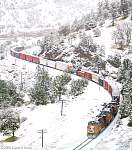 Next morning, there is snow on the ground at the higher elevations as UP 5436+5442+4299 wheel downhill out of Marcel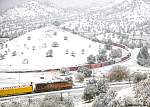 UP5459 on the back as the trains heads down around the Loop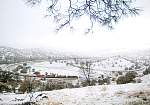 The next train is a UP uphill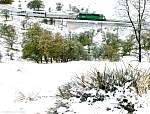 Followed by the 'Rio Grande River' geometry car being towed by SD60M 8162. Cripes it's cold.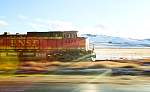 Speeding uphill toward Monolith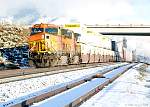 And pausing in the late sun at Summit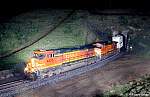 Its hard to pass up a train with 'short' power for a night shot, so I have another go at this one at Tunnel 2 just as the rain starts falling. Dash 9s 4475 and 5098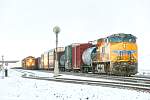 Tuesday morning sees a little snow and a little sun about at Summit as a northbound DPU waits for this southbound empty coalie to pass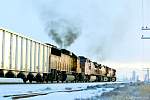 Coal power - the GP60 started smoking ahead of the GEs as tradition demands.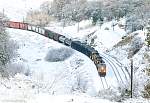 A set of grubby UP power coming downhill at the Cable Crossovers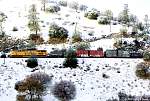 UP pusher between Cable and Marcel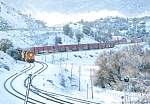 BNSF down through the white stuff at Cable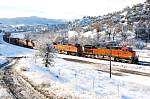 And that's such a nice scene it warrants two shots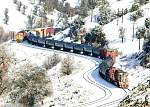 Then I head for a walk a little further uphill to snatch a fine perch to watch the proceedings from.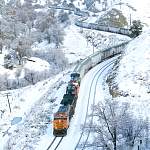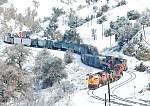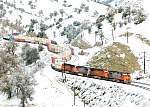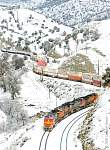 And I'm spent...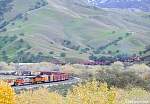 To the west, the weather has turned sour as a late afternoon BNSF manifest heads uphill through the horseshoe at Caliente with a pair of DPUs on the back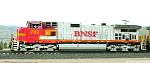 The nice clean warbonnet on the back of that train

Something is wrong with this picture... #9 in a series: I was sitting by the road crossing setting up for a twilight shot with the cement works in the background when... a car rips across the crossing, misjudges the angle, catches the rails and slides down the track about 100 yards in a shower of sparks. Stuck. The driver was a little shaken but fine. I called 911 + UP and eventually a tow truck removes the misplaced car. Weird.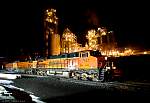 After all of that: Monolith at night
If this was cricket, Wednesday would have been called off as a rain day, or more appropriately a snow day. After spending the afternoon drinking grape knee-highs in the company of my laptop at the City Slickers bar, I head out at sundown to see what I can see - which isn't a lot.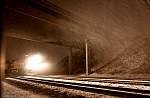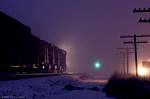 So I end up...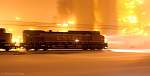 ...playing...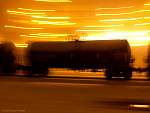 ..in the snow.
---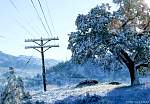 Thursday morning... and although the back road is officially closed to through traffic, I head up to the loop anyway, because that's not really 'through' is it? The car thermo says 7 degrees F (-14C) outside and the the snow is thick on the ground above Tunnel 10. This barely qualifies as a train picture thanks to the UP leaving Marcel in the distance.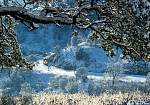 The same train approaching Tunnel 10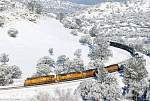 And through Walong at the loop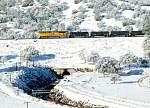 With it's pusher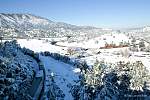 Next we have a BNSF downhill Z train - boy this snow isn't hanging around

And then another UP train. Highway 58 was closed until 11am and it was unbelievably quiet until the farm animals started up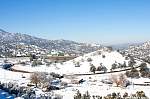 More of same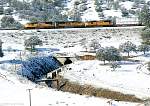 Ditto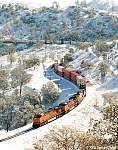 While floundering through the snow back to the car, this BNSF stacker shows up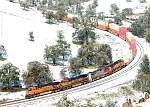 And again...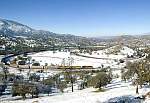 And a UP loop panorama to round things out for the morning.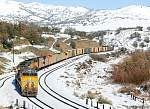 After some lunch, it's time to hit Cable for a pair of uphill trains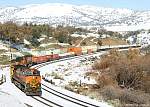 Which were supposedly being followed by a pair of downhills that didn't materialize for a few hours

That's not a trailer, this is a trailer. - Crocodile Dundee

After a few delays another uphill finally arrives after the shadows have destroyed my shot here, but I think it's made in the shade, to coin a phrase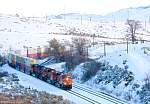 Cable sunset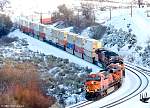 And again to make up for the lack of shots yesterday.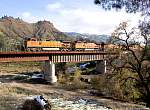 Meanwhile, next morning at Rowan Bridge, a little snow remains in the shadows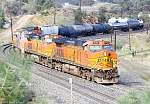 Departing Rowan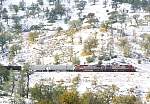 "Rumors of my death..." Warbonnet pushers at Marcel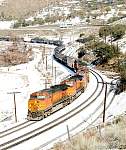 A nice shot at Cable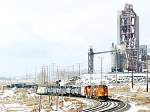 Passing the cement factory at Monolith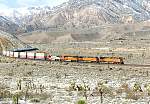 There is a little snow remaining among the Joshua Tree desertscape at Warren. Drat should have come over here yesterday. Boy, did this little trek make a mess of my now-brown rental car.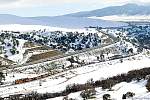 This guy was stuck at Cameron for a few hours this morning with a traction motor pinion problem. Here it threads through Cable siding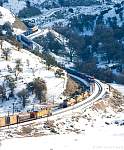 A pair of following UP trains cross at the same spot during a break in the clouds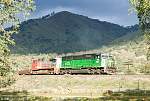 An uncommon combo at the head of a baretable train approaching the loop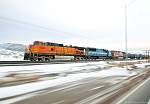 A colourful mix between Monolith and Summit to end the day

Old warhorses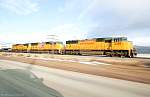 Friday morning and I still have my pacing lens on for this UP pig train heading out to Monolith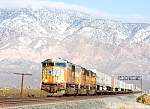 And here it is again coming down toward Mojave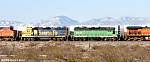 ...where it crosses an uphill with these interesting fellows in spots 2 and 3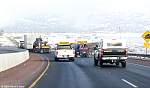 Then I head back into the thick of it only to be stuck at the head of a zillion cars behind this big lump...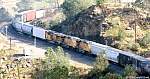 So Friday becomes another slow day. This monster UP manifest breaks down on the Rowan bridge for a few hours tying up the whole railroad until it eventually gets moving again. I made it 3 locos, then 78 cars, then three midtrain helpers with 38 cars following.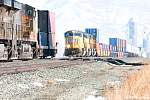 The big manifest makes a triple meet at Summit as the tangle begins to clear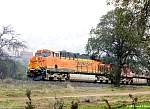 A BNSF stacker heads down the loop with part of its train visible in the distance ahead of the cab windows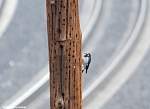 A bird? A Downy Woodpecker? A Hairy Woodpecker? A Plump Red Crested Powerpolepecker?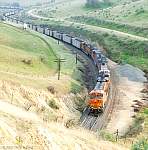 Here a loaded coal train is about to enter Tunnel 2 in the snotty weather that reached between Tehachapi and Sandcut. Haven't seen too many of these coalies on Tehachapi.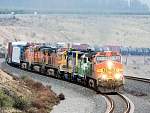 As an aside... A new take on intermodal? The neat combo that I saw at Mojave this morning finally makes it to Sandcut in fading light at the end of the day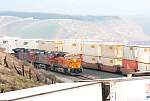 A pair of stackers crossing at Sandcut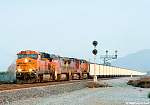 The loaded coalie again at Sandcut crossovers in the last of the sun

And finally, it's pushers heading off into the sunset. That will be it for the trains, thank you very much.
---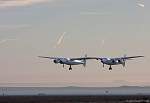 As its name would infer, Sunday was sunny when I woke after an abnormally pleasant night in my $19 motel at Mojave. Alas a cloud came over as I was getting the car defrosted at 8am, so I headed to the Mojave airport to have a poke around. I bumbled about and came across a bunch of people hanging out behind a security fence the far end of the airport … turns out this was to be the maiden flight of the White Knight 2 - mothership for the Virgin Galactic commercial space program. It took off without drama, flew up high for 40 mins or so with its chase plane and landed to great applause from the Scaled Composites people who built it. History in the making!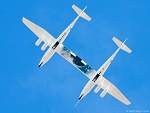 Eve's bottom. This thing has the wingspan of a B29 Superfortress according to the ever-knowledgeable people at Wikipedia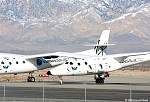 Safely down again to much applause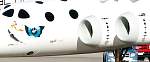 Detail from the above shot - note the 'evolution' markings on the engine nacelles