It's Snowtime!
Tehachapi 19
Dec 14-21 2008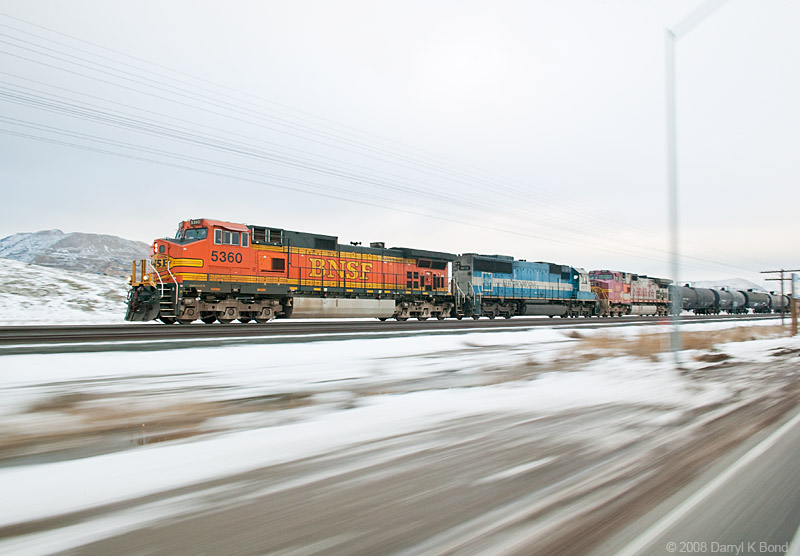 A report a few weeks prior had suggested that California might be in for some snow, and once it was almost certain I managed to grab a $125 flight on American out to LA in search of the white stuff.

Weather Rating: Well, it's winter, so clouds, sun and luckily, some snow.

Train Rating: Plenty.. Still more UP trains and also more manifests than I remember in the past. It might be time to sell my BNSF stock now that we've stopped re-mortgaging houses to buy plastic gadgets from China on our credit cards.

Bizarro Rating: High. While setting up for an evening shot at the Monolith road crossing, a car flies past and then along the tracks in a shower of sparks. Driver is shaken but OK, so I call 911 and the UP folks to stop the trains. Bizarro indeed.

Railroad Nazis Rating: The only time I came into contact with them was at the incident above. Most were pretty decent, including the RR police guy, but of course after the car was removed one of the bastards told me off for trespassing. I suppose I was a foot or two inside the fenceline, but well away from the tracks. There's no pleasing some people.

Groovy Aircraft Rating: High (again). Somehow I managed to catch the maiden flight of the Virgin Galactic White Knight 2 transporter

Rental Car Rating: OK. A white Hyundai Santa Fe was duly selected from the Dollar Rental Cars $14-a-day rack. White because it would be less conspicuous to the RR Nazis in the snow, and the car itself because it was a 4wd, had reasonable looking tires for dealing with snow and because my neighbour had just berated his niece for buying one so I had to see what all the fuss was about. I'm not a fan of the exterior styling, but inside it was nice enough once you get past the acres of fake wood and fake aluminium that has been the unfortunate trend for a few years now. A bit creaky when taken off road, but that's not why anyone would buy one. In Summary: Hyundai has certainly come a long way since the Pony.

Accommodation Rating: Fair-middling. A few nights at the lesser of the two Best Westerns (about $95 all up), a few nights at the Ranch House for $45 and one at the frigid Bel-Air in Mojave for $20
---
Click on a thumbnail pic at left to view the image here.
All digital images by Darryl K Bond. Feel free to use for non-profit purposes provided you credit the photographer, provide a link to here and let me know! All are approx 100-300 kb jpeg files.