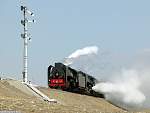 Monday: Nothing like a pair of QJs to warm your cockles. 7040 and 6992 approach Gulumanhan for some water and a crossing.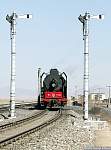 Waiting at Gulumanhan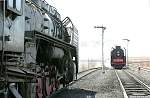 Bob and I shelter against 7040 in the cold as 6988 and 6849 rocket by.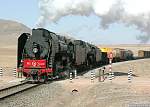 7040 gets underway from Gulumanhan at the beginning of our quest to document every level crossing in China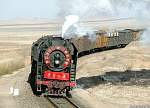 On the picturesque curves between Dariqiga and Chaganhada, a rather attractive banner loco 6978 spirits a short train uphill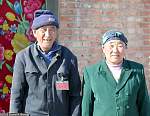 Crossing keepers near Dariqiga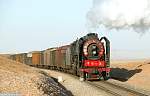 The same train near Gulumanhan
The sun nears the horizon near Baomutu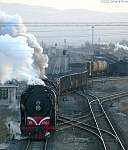 6992 and 7137 depart Daban just after sunset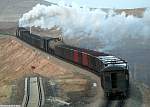 ---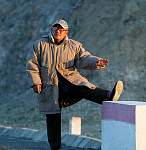 Tuesday morning dawns cool, crisp and clear with dozens of locals up for their morning calisthenics around the Daban overbridge.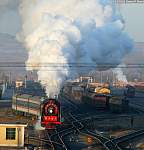 Or alternatively, you could watch steam trains. 6911, the regular passenger loco departs with the daily passenger to Chabuga.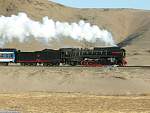 The supershiner panning around the big curve beyond Gulumanhan. Gotta be happy with that shot.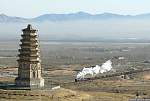 Daban-Chabuga Signature Shot: the Pagoda at Lindong.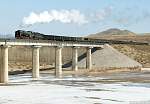 The same train crosses the big bridge by the superhighway headed by QJ 7041. Despite the river being largely frozen, the temps were pretty warm while we were there and as the week wore on, the ice thinned considerably.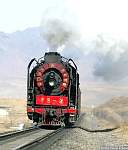 The banner loco 6978 again on a goods near Chaganhada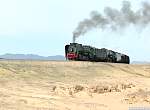 DB clearly packs the wrong lens for the walk into one of the S curves between Dariqiga and Chaganhada and ends up with a Mongolian sand picture.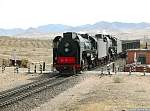 7137+6992 make another mindless level crossing runby for the video boys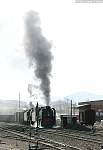 Lindong is quite a busy station with many daylight trains picking up or dropping off wagons and taking on water. Here 7137 and 6992 get moving again.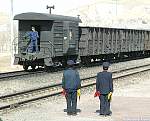 The critical flagpersons at Lindong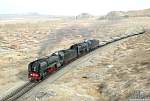 A nice scene above the plastic village as 7104 and 7002 climb toward Lindong in warm air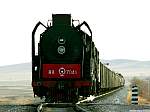 Yay, its another level crossing - this time 7041 + 6978 cross the Donkey Spot near Dariqiga.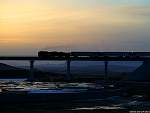 Sunset by the ever popular superhighway bridge with 6911 and the return passenger
---
Our morning ritual of catching 6911 on the morning outbound passenger sees her getting underway from Daban on Wednesday morning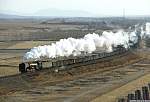 A nice glinter - banner loco 6978 between Gulumanhan and Baomutu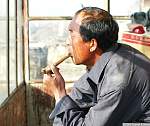 The team heads back to Daban and I decide to keep out of everyone's shots by hanging out with the crossing keeper near Baomutu. Of course, communication is restricted to grunts and pointing so its not a time of great information interchange. Here he takes a whiff of a tobaccolike substance in his sunroom as we plan our next conversation.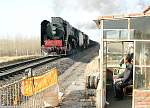 He has a nice setup here with a homemade crossing winder accessed from a handle inside his sunroom and a few rear view mirrors to see if anyone is coming along the road from behind. Meanwhile, 7038 one of my favourites, and 7009 scoot past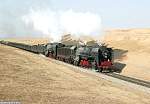 Hey, where's the guards van? Another excellent example of why you should use a tripod
Wide open spaces near Baomutu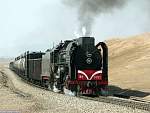 What was I thinking. At least there's no level crossing here at Dead Cat Curve near Gulumanhan.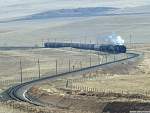 Something a little more adventurous with the Telescope in the heat haze as 7104 and 7002 thread their way around the Chaganhada S curves. Makes mental note to come back here if ever in the neighborhood again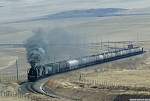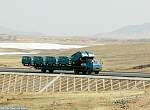 Clusterbomb - 11 vehicles in one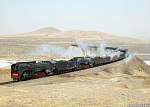 Meanwhile, back at the big bridge...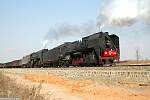 The red soils of Gulumanhan host the same train with 7063 and 7143 at the pointy end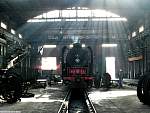 The Gods shine on 6991 in the Daban shops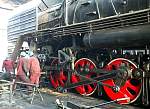 Hip replacement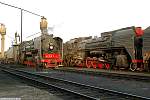 Last November, this area was bustling with in-steam QJs being sanded, coaled, cleaned and prepared for the road. Now it's much quieter with 'stopped' outnumbering 'active' locos as the sun sets on planet Earth's mainline steam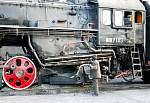 Freshly overhauled 7143 of blue headboard fame gets her grate cleaned for another run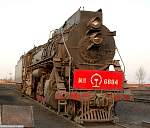 6884 is a bit of an oddity with no smoke deflectors. I think I read she was the Daban shunter for a while. Now, with rods removed she probably won't see another fire in her belly.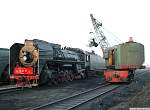 6981 gets another load of coal from one of those nifty steam cranes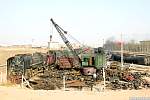 It's more depressing out the back, where lines of QJs wait out their last weeks before dismembering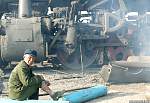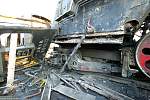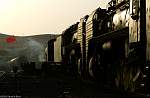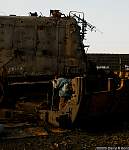 Herr Seiler surveys the grotesque remains of 6632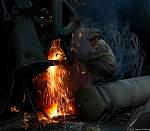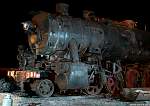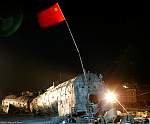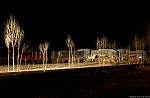 Death row cruelly illuminated by the lights of a brand new diesel.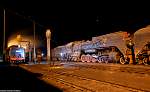 Amongst the dead and dying, the strong soldier on, perhaps a little slower and a little more cautiously, as eventually, their time must also come.
---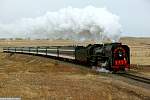 Thursday morning dawns appropriately gloomy, but like clockwork, shining star 6911 rolls out of Daban with the morning passenger, which we catch in the hills out of town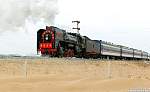 Venturing out past Lindong for the first time on the trip, we wait in a cold sandpit at Yamenmiao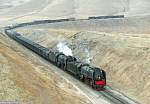 In the hills above Lindong, a nice doubleheader drifts downhill behind 7081 and 6978 in overcast light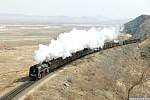 Meanwhile, this is the train we were waiting for, alas a single loco train behind 7143, which already seems to have collected a little dust over the shiny paint seen the previous evening at Daban. Can you have too much steam?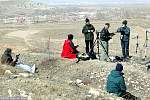 Passing time on a hilltop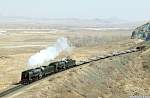 A pleasant view back in the direction of Yamenmiao from above the plastic village. The lead wagons behind 6978 and 7049 have unloaded ballast en route and will be detached at Lindong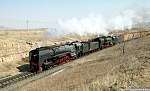 Surprise, another uphill catches me off guard. 7038 and 7009 left a small lineside fire back where the rest of the party were piccying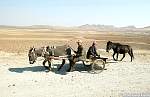 Black Beauty on banking duties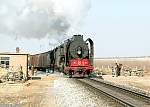 Poser at the Donkey Spot. 7040 & 6992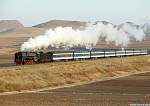 In a rather surreal scene, shiny 6911- with rods flashing - looks like an electric train on full power as it rushes around the horseshoe curve before Lindong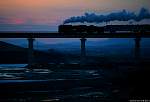 Big Bridge Sunset, take 2.
---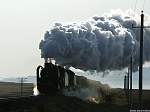 Friday morning means its backlit time near Diaojiaduan. Try spelling that when you're drunk. 7038 and 7009 race past in the crisp morning air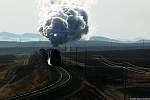 Another backlit shot here of 6988 taken shortly after its departure from Chabuga. One of my favourite shots of the trip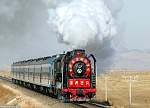 6911 again not faraway from the end of its journey at the place with the really complicated name beginning with D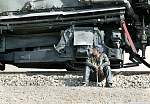 After some frenzied wheel tapping activity, the driver of 6988 takes a breather at Yamenmiao while awaiting a crossing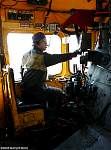 In the cab of 6988 for the ride to Lindong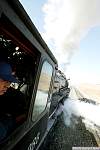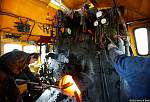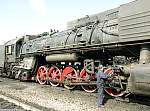 A quick water and grease for 6977 and 7010 at Lindong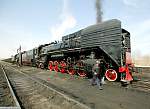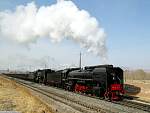 Up next, a long walk back into the hills beside Lindong to meet up with the guys. On the way up (and down, and up) a few trains surprise me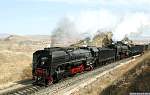 6991+?7041?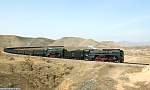 6849+7105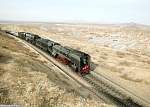 7104+7143
Eventually we meet up, after a long wait on a hillside nets only a set of light locos in the chosen direction, its time to head off to brighter locales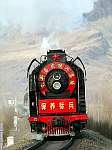 Bah, clouds. Nice attempt though.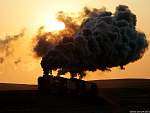 Saturday morning and we're up bright and early for a sunrise train that doesn't show. 7119+7163 bowl up eventually and I manage to screw things up royally in one of those rare moments when you actually have too much height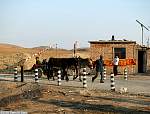 Gratuitous ass shot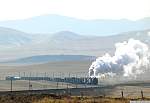 Meanwhile, back at the batcave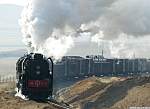 7119 and 7163 chugging at Chagenhada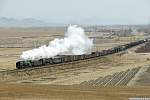 The same train doubleheading away from Gulumanhan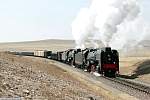 7089 and 7009 attack the grades not far out of Daban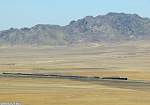 A whole lot of nothing near Chaganhada. Apparently this is 7089 and 7009 again, although its quite hard to see from here...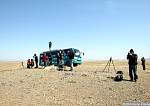 Train nerds snapped in their natural habitat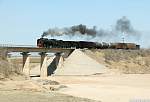 Officially a light engine movement, 7041 crosses a sandy riverbed at Dariquiga with a handful of wagons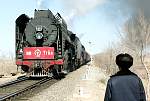 The signalman at the west end of Dariquiga inspects a rapidly passing doubleheader with 7104 and 6849 doing the honours as our last train for the trip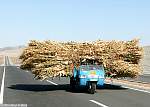 Wide Load. So I see the new superhighway is being well utilized...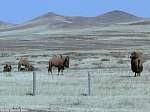 Twinhumpers shot through the bus window