China Steam
JiTong Line: Daban - Chabuga
March 28-April 1, 2005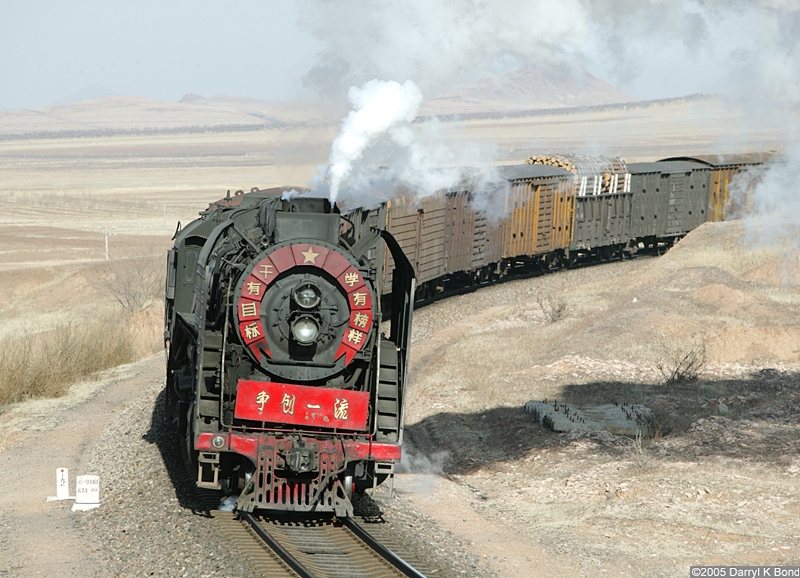 Steam worked since its opening in 1996, the JiTong Railway is slowly being dieselised, but remains the last holdout for of mainline steam railroading in the world. The imminent end of steam on the famous Jingpeng Pass prompted me to book a spot on Bernd Seiler's Farrail trip, which planned to hire steam power on scheduled freight trains over the line. Unfortunately, the line's management reneged at the last second, so instead of a return to the Pass, we spent an enjoyable few days on the Daban-Chabuga section which was 99% steam during our time there.
Daban-Chabuga lacks the built-in spectacle of Jingpeng but on the other hand, it's also more 'real' - there are no crazytrack curves and viaducts that would look improbable on a model railway - just a good honest steam railway running through the plains, mountains and sands of Inner Mongolia. So you just have to try to generate some spectacle in your pictures yourself. Failing that, you can always make a spectacle of yourself by getting in everyone else's pictures.
Click on a thumbnail pic at left to view the image here.
All digital images by Darryl K Bond. Feel free to use for non-profit purposes provided you credit the photographer, provide a link to here and let me know! All are approx 300 kb jpeg files.