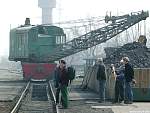 Adventurers on the brink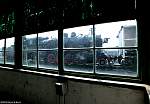 At the February 7th Wagon Works (how's that for a neat name), brand new aluminum hopper wagons are shuffled about by steam loco SY 0891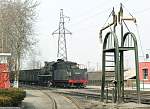 SY 0891 again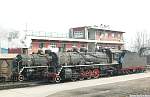 SY 0891 and JF 2446 wait between shunting moves. Apparently the JF is the oldest standard gauge steam loco still running having been built in 1956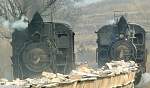 Next stop, Dahuichang where two C2 locos are in steam running the limestone trains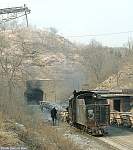 This time, I walked up to the top of the line, where a rather bizarre loading arrangement sees the stone dropped down a vertical shaft into the wagons. Here, #3 pulls a loaded set out of the loading tunnel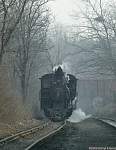 A little further downhill, #1 as seen through the Telescope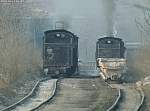 Crossing near the loading facility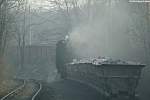 Drifting downhill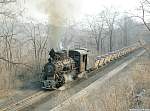 At this time we were mobbed by a freak show of about a million enthusiasts from the UK. Luckily, they managed to get out of most of the shots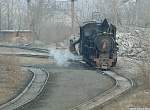 One last light engine trip for the day was run for the enthusiast circus Alas this line closed later in 2005, with trucks now hauling the limestone...
---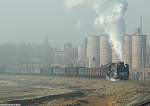 That night we headed up to Chifeng on the overnight passenger and spent the next day at the Yuanbaoshan mining railway. Here JS 8418 emerges from the haze and passes the cement works on its way to the mines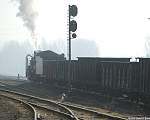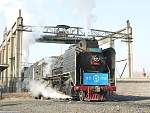 Loco servicing facilities at Yuanbaoshan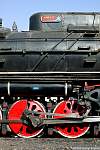 Locals sifting through the ashes for unburnt coal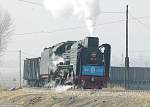 JS 8418 runs out of town tender first and then runs around the train at Majiawan before heading out toward the coal mines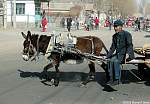 Rush hour
Running tender first back to town past a burnoff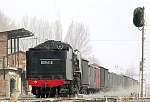 8418 shunts the sidings up by the cement works up by mine 2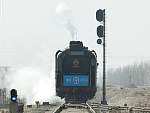 JS8250 crests the grade by the cement works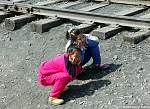 The noise from these steamy monsters is just terrifying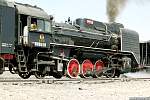 Feeble blurry attempt at a wheelspin shot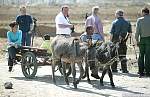 The assembled photographers are dodged by local traffic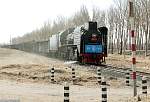 8418 running away from town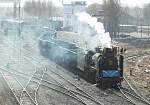 JS 6248 heads away from Yuanbaoshan station with the afternoon mixed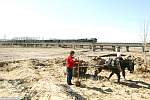 The same train crossing the long bridge just outside of town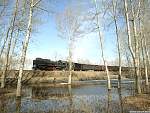 Approaching the CNR interchange at Anqinggou, the JS passes through a rather attractive wooded area complete with a semi-frozen swamp. Our hero escapes with wet feet.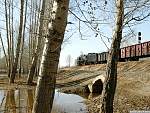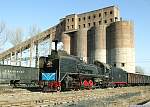 On the way back home, JS 6248 shunts at Fengshuigou before heading back to Yuanbaoshan station with the return evening mixed