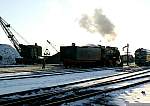 After the long haul to Daban, there is copious snow but no trains other than the passenger. The shed has plenty of QJs in steam, but ominously, there are plenty of spare diesels also.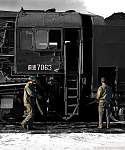 Deflectorless Daban shunter 7063 receives coal during a break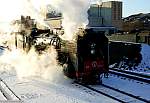 7081 has been the passenger loco since the withdrawal of 6911and she steams past the new diesel servicing racks after turning on the triangle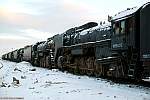 The scrapping has stopped, but the deadline grows longer. The two boilers with the Chinese flag have gone.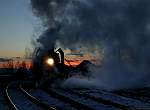 7081 simmers away while waiting for her 4am passenger assignment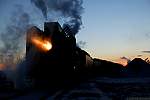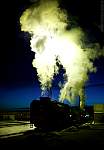 High steam in the twilight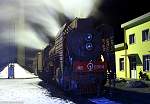 Survivors. They may have been getting ready for one more steam hauled freight, but I think that they were in steam because nobody realized that steam was finished bar the passenger and special trains.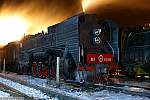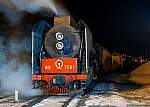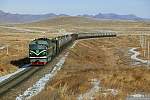 The next day sees no shortage of diesel trains, but again, no steam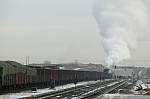 7063 shunts at Daban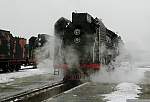 7143 has lost her blue nameplate, but is still alive after exiting the shed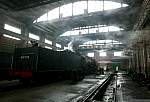 As 7143's exhaust dissipates in the cold air inside the shed, 7038 receives some attention before her big day out on the official trains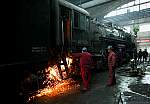 7038 receiving attention to her rods and bearings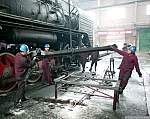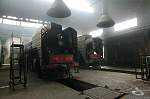 The surreal atmosphere in the Daban shed continues right to the end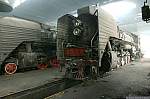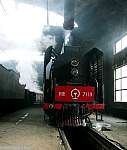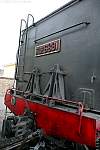 The last plates are welded on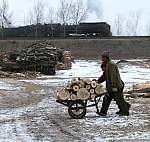 Storing firewood for the winter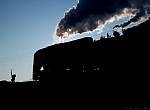 Chabuga silhouette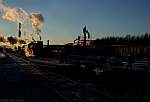 One final visit to Daban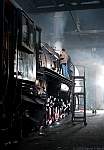 One of the chosen ones, 7038 receiving brass boiler bands for the final big show and retention for future 'special occasions'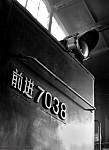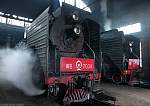 All dressed up and no place to go. 7119 (in the background) would join 7038 a week later decked out in ribbons and placards for the official 'farewell' excursion and a trip and a final steam hauled freight the next day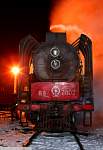 The end is nigh. Ah, the memories... I wish I could have seen more of JiTong, but am glad to have seen it at all