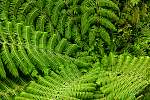 Jet lag be buggered. Bro Paul takes me on a visit through the Waitakeries to Piha, almost convincing me that there is a reason people live in the Auckland region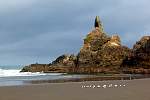 Piha beach - if this was America every inch of this beach and the hillsides would be swarming with hotels, apartments, malls and Elvis impersonators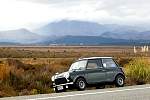 A few days later, I'm back up in the middle of the evil North Island buying a 38 year old Mini off a guy in Rotorua. Stranger things have happened. Apparently.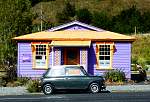 Beep Beep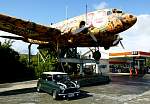 I have purchased a photogenic example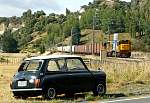 Ah, trains finally. A few minutes later, this thing got moving and I scuttled off to get a pic of it in the South Rangatiki viaduct. Suddenly the heavens opened.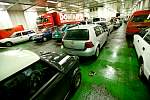 Defying logic, I take the 2am ferry sailing to the South Island which is rougher than a witch's carbuncles. Sick bags optional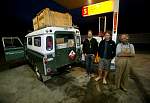 5am: fuelling up car with gas and me with caffeine at Picton, where I stumble upon an imperial Landrover's worth of nerds carrying old computer gear down to a display at the Uni of Canterbury. As a closet nerd myself, we chew the fat a while. Remember the ZX81, Vic 20, Pet and PDP11? Nerd.
Morris meets some cousins - Morrie Minors in a field near Kaikoura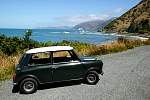 Sunning herself on the Kaikoura coast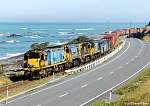 Yes its a train, but isn't it nice?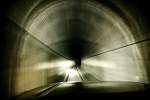 A few days later and I'm a guest in a track inspection hirailer to Arthur's Pass - what an awesome way to travel on an awesome piece of railway...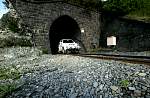 Out of tunnel three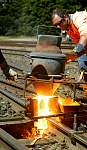 Thermit welding rails together at Arthur's Pass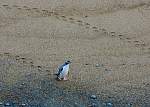 Yay! Cat is over for a few weeks and we... see the Yellow Eyed Penguins at Oamaru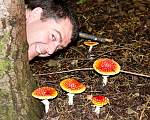 ...walk in the woods at Hanmer Springs...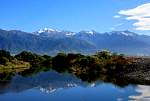 ...watch the mountains from the sea at Kaikoura...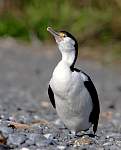 ...watch the Shags...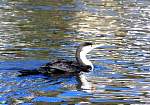 ...are we still allowed to say "shags" in this PC world? ...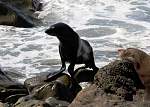 Watching seals at Ohau Point near Kaikoura (north east coast of the South Island).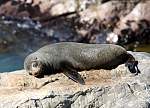 Lazing on a Sunday afternoon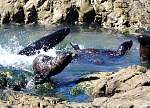 Baby seals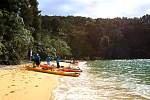 Sea Kayaking in Abel Tasman National Park near the top of the South Island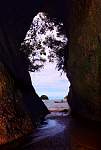 Quick, to the Batcave. Da dadada dadadada dum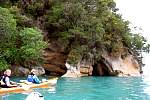 From the other end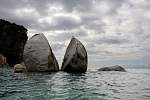 Split Apple Rock. Damn clouds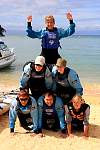 2008 NZ/Irish/German/US Olympic Sea Kayaking Team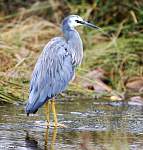 Heron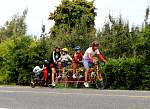 The Goodiessssss. Goodie, goodieyumyum. Note the chains up to the kiddie cranks and the third drink bottle, which looks suspiciously like a bottle of wine...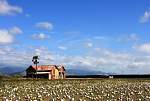 Pumpkin Patch
Then, inexplicably, we're in the tiny town of Granity (pop. 50) which is wedged between the mountains and the sea on the West Coast.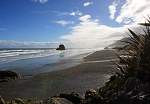 The Big Fish pub is right on the beach...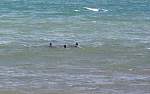 ...so you can watch the dolphins in the morning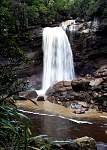 Walkway on the former Charming Creek bush railway. We inadvertently walked the whole length of this and were walking back to the car via the road, which we didn't realize was three times the distance. Luckily we were picked up by firstly a surfer dude, and then by a busload of elderly ladies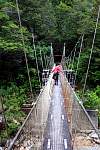 Swingbridge on CC walk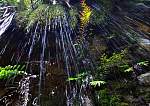 On the West Coast, you have to expect a little dampness...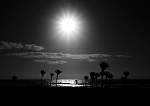 A stand of Nikau palms south of Ngakawau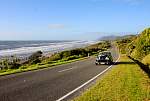 Gotta love the Coast...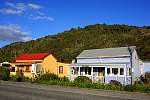 Granity cottages. If you go, pop in and get the BEST cheeseburger in the world from the stoners at the Blue Zephyr Takeaways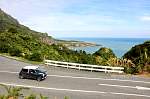 On the road again... the arrows are a great idea for those of us predisposed to driving on the wrong side of the road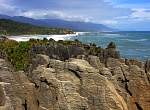 The Pancake rocks at Punakaiki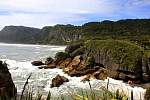 Looking north from Punakaiki