A 50 footer used on the Greymouth miners trains 1981

CF 978 Wgtn early 90s

E 6082 ex-Invercargill shunters trolley W/off at Dunedin 1990

E shunters trolley 1990

EA 543 interesting Hut Wagon Studholme 1986

EA hut wagon Oamaru 1984

EP 71 nicely weathered at Oamaru Mid 1980s

EP 293 Oamaru 1984

EP 293 Oamaru 1984

F 30 foot enclosed flat ends Oamaru 1986

F 30 foot rounded ends and FM Oamaru

F steel 30 ft rounded ends Timaru

F 47.5ft van Dunedin mid 1980s

F 56 foot former Southerner or Endeavour guards van labeled as an EA. Linwood 1991.

FB 254 Wellington 1993 plus Daily Freightways containers

FC 32 Wellington 1993

H modified for pine tree seedling traffic and MCC car carrier at Studholme early 80s

HC, H, T livestock wagons w/off at Studholme early 90s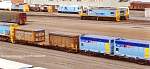 HLC coal containers on UK and PK. Westfield 96. The earlier HCCs had vertical sides with chunky bracing rather than 'curved' sides

HWT 16tipping container Wellington 1993

IB 18 Dunedin early 90s

IB 18 Dunedin early 90s

IB detail with ZK - Westfield 96

K (and W end) survivors in Dunedin early 80s

K and W Dunedin early 80s plus LB end

KS (now E) Wgtn early 1990s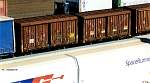 KSs still in use at Westfield 96 - not many 4 wheelers around at this stage!

KST 4331 Early 1990s. Must have been one of the last?

KST 5015 and a UR Oamaru 1985

KSX10 at Timaru 1984

LA Stone train w/off at Studholme early 1990s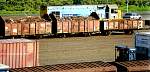 LPA and LC wagons work out the end of their days in scrap service. Westfield 96. Some LPAs were fitted with log cradles and still survive on the north line. KS roof in foreground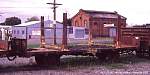 Strange beast NCL 57 (NC with log cradles) Woodville 1993

ND 72 in Dunedin early 90s - modded with twistlocks for cintainers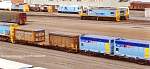 PK in foreground with HLC coal containers and a UK behind it Westfield 96. PKs entered service approx 1980. The earlier HCCs had vertical sides with chunky bracing rather than 'curved' sides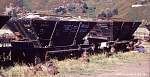 Q 8407 ex Huntly out the back of Hutt workshops in 1991. I'd say the tarp pole arrangement made of old pipes on top would be an aftermarket modification. Thus voiding your warranty. I remember seeing Qs on a goods train departing Greymouth for Otira in 1981

RR Roadrailers on train Paraparamu Early 1990s

SK 361 created for container traffic ex T wagon bases. Often seen with HCC coal containers. Dunedin early 90s

SRB Iceliner in Wellington, early 1990s

SBV? Swapbody in Wellington, early 1990s

UBC stored Taita 1993

UC 1437 at Wellington loco, early 90s

UC 283 shorty on northbound train leaving Wellington, early 90s

UC29 stored Taita 1993

UCs various laid up Taita mid 1990s

UDK-EWW and BC Sputnik stored at Taita 1993

The ubiquitous UK

UK detail. Derailment in mid Canty early 1990s. Can you believe I had a purple Honda City.

UN Oamaru mid 80s

UR Dunedin 1991

UR and KSTs Oamaru 1985

URK 256 134 and friends Timaru 1989

UR? LC, LPA wagons at Westfield in 1996 with a ZP end lurking in the background
US and a UK with three of those groovy bulk wine tankers - Westfield 96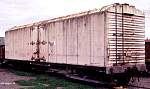 VR written off - Woodville early 90s?

YBs still in service in 1995 - Huntly

YC1285 and YF 82 Oamaru 1985

ZA 2384 Wgtn early 1990s


ZC Wellington 1992
ZC 92, Westfield, 1996. Note taller ZD end to left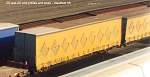 ZD and ZC differences in end profiles and heights. ZD has sloped sides
ZD Westfield 1996

ZH with Coke signwriting - Westfield 96

ZK and IB detail - Westfield 96

Zk curtainsiders Westfield 96

ZP 10339 without roof vents - Wgtn early 90s. Roof vents were removed about this time I think for rust/leaking issues?