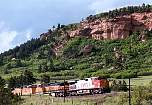 BNSF southbound train on the 'Joint Line' in Colorado. June 1999.

Helpers being cut off the back of a coal train at Palmer Lake on the Joint Line. June 1999.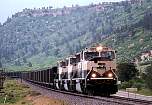 A Joint Line coal train heads south - most of these trains have helpers, many with remote control DPUs. June 1999. It started hailing within seconds of this shot being taken (June is supposedly summer for those out-of-towners)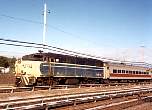 A few shots of the Long Island Railroad before the wholesale introduction of the new EMD DE30AC locos and double decker Kawasaki coaches. This is a 'powerpack' - an old loco, largely gutted, and used for HEP and control. At the other end is the train loco. Taken at Ronkonkoma in Oct 1998.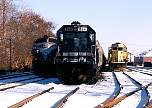 Christmas Day 1998 at Port Jefferson Yard.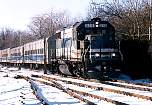 Same day and place - a train arrives at the yard from the city with the train power at this end....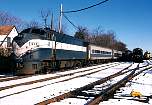 ...and the powerpack at the other end of the old heavy cars.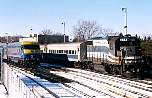 After running through the yard, it arrives at the station, passing one of the new trainsets that will lead to its demise.