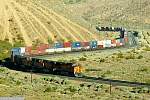 The trip begins with me taking an embarrassingly long time to figure the sun out, as evidenced by this abomination at Warren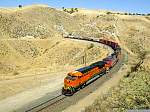 Later, up at Clear Creek, I managed to get the sun to point the right way for this leader in the new BNSF scheme.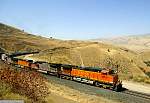 For a little while anyway. 24mm hides the nose shadow somewhat on this mixed combo of Dash 9s.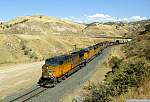 UP locos in the new Heritage Dirt paint scheme tread carefully down towards tunnel 3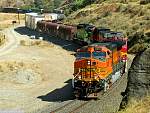 All the fours: A following BNSF freight with four locos in four paint schemes passes the sealed up bore of tunnel four, which was bypassed after the 1953 earthquake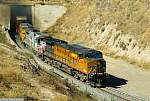 Now I shouldn't complain about grubby power, as at least this one has a clean number. Second loco is an ex LMX dash 8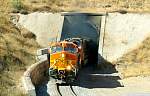 Why do all the uphills come when you're waiting for downhills?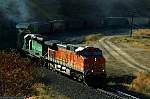 And again. Arty farty shot when the sun won't support anything else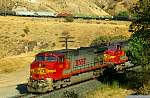 With the shadows lengthening due to the sun having been stolen by all those uphills, this is the only patch of sun left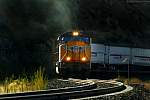 Bathed in a sliver of light, an uphill UP intermodal blasts past the remains of tunnel 4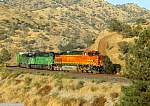 The train seen a few pics ago scoots around the World Famous Tehachapi Loop

A crossing at Marcel as the sun drops below the mountains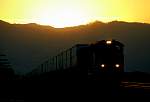 Last shot of the day near Summit
---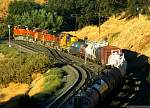 Next morning, I clamber to a new spot only to be thwarted by the maintenance folks shutting things down before the train I want arrives. Lookit all them clean lokeys.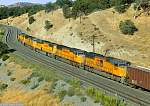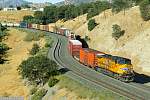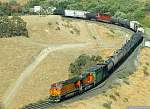 What better way to kill an afternoon than a hike and a few hours waiting for non-existent trains. Eventually these two arrive after the sun has moved away from its previously optimal position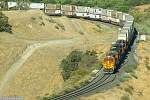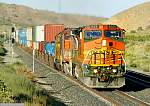 The first bluebonnet of the trip is the third loco on this train storming through Cameron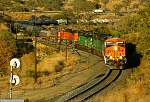 The day ends in colour at Woodford. There's another one of those fancypants new BNSF locos
---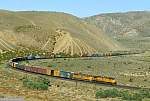 Darryl finally gets the light right at Warren. Second loco is an SD70ACe for those taking notes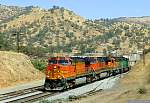 Bah, Woodford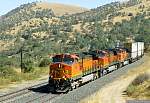 Bah, Marcel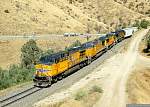 A better spot at Marcel, and the beginning of a new era on the UP - cleanish locos!

Somebody needs to take a chainsaw in here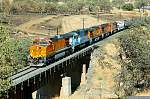 Another example of nasty light at Woodford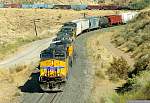 Clear Creek. Insert interesting caption here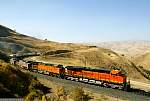 BNSF GEVO 7777 sports the new scheme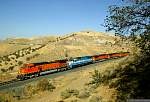 Our hero looks for a different shot here with the 24mm. I was hoping that the train would be a stacker or something that would highlight the train coming out the right portal of tunnel 5 here.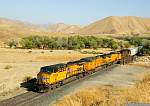 I can' t be letting those cleanish locos get away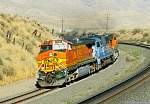 I got pretty good value of of this train. Last shot at Sandcut.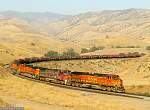 A slightly different, and if I might say so, pleasing, angle on the tunnel 2 shot with some grubby locos on the pointy end of an uphill coil train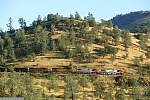 Return of the Warbonnets!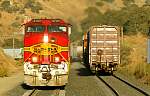 the same train running through Woodford, past a long hood leading Dash 9 and a couple of cars. There must be a story behind that movement...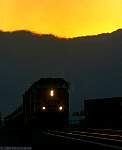 Sunset again, screwed up by those stack cars. This is the coil train again with some great heat waves emanating from the locos
---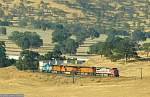 Another decent snake-avoiding expedition yields a couple of new angles, first this one led by a grotty Dash 8...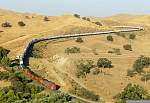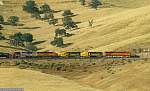 Take 2 with a nice mix of power: GEVO, GP30, GP35?, SD40-2 and GP60M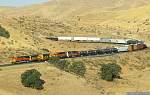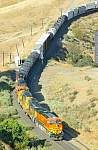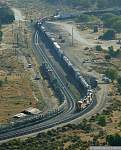 There's that darned rail train in the siding at Caliente that's been causing me all this anguish.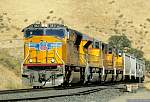 Yummy, more clean UP locos to round out a good morning's haul.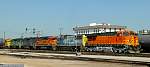 I head to Bakersfield for lunch during the midday train lull, where this nice jumble of power waits, including an NREX labeled tunnel motor. Unfortunately this train didn't make it out during daylight hours. I also bump into Colin Marsden from the UK here, whose pictures will no doubt be here shortly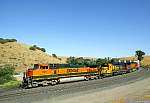 Another screwed up shot at Cable

I'd like a supersized stack train with an order of light on the side please

BNSF pushing through Cable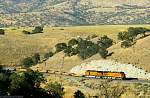 After another long wait... a baretable train. By now the lengthening shadows had screwed up the shots on the walk back to the car.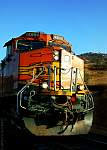 The last of the rays round out a fairly disappointing afternoon at tunnel 3. This train was stopped for mysterious and unknown reasons.
---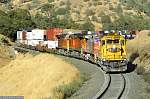 And what treats do we have in store today... There haven't been too many bluebonnets out this trip, and to find a stack train headed up by this specimen below the loop is a stroke of luck.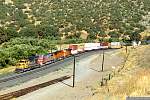 Taxi, follow that train.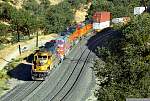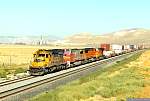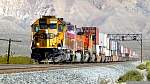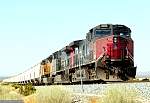 Around the side of Mojave Airport, the Trona/Searles Branch heads into the northeast to places even warmer and drier. Here we see a set of ACs waiting to head up the line.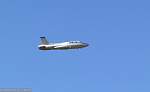 Disturbing the peace at Mojave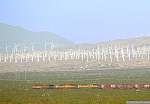 Windmill anyone?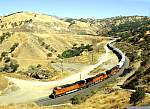 Meanwhile, back at the Batcave this fairly short intermodal winds downhill beside Clear Creek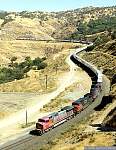 Followed by this one powered by a snotbonnet and a pair of CN locos.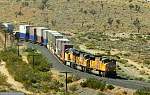 A nice UP train heads down through the Joshua trees at Warren as Mr Hopley arrives at the signal bridge a mile south of here

A quick tour of the sights along the line, combined with lengthening shadows and some superbly bad decisions from my good self, scores zero decent pics (rounded down). So how did you enjoy your trip Brent?!

---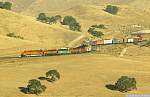 Luckily for my continued existence on this planet, the next day nets a much bigger catch as four uphill trains and a couple of downhills pass through Allard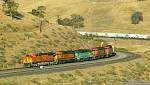 Nice to see a few greenies still around. Those older locos have a sound that the heavily muffled newer power can't match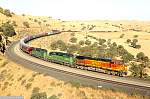 Last one is a big intermodal...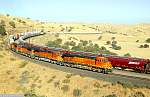 ...led by a GEVO, and with new logos on the grain hoppers in the background to round off this session. We'll be back after a short break.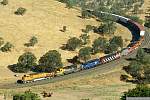 Next stop: the loopy bit.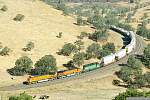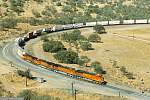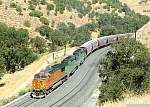 A quick snap at Cable, a quick lunch at the Appleshed and Mr Hopley departs with warm trainy thoughts in his mind and warm images in his camera.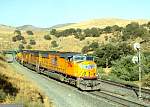 After the excitement of the morning's barrage of trains, what could the afternoon promise? The rail train is the only bounty arising from a few hours at Cable and then this UP job in the last of the sun at Caliente. That would be a whole TWO shots for the afternoon. Good work DB.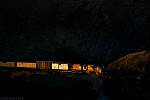 ---
Enough of this. Lets get out of here and leave on a low note. As I'm driving in the direction of the airport, this pops under a bridge a few miles out of town. Emergency exit and back to Tehachapi for a quick shot.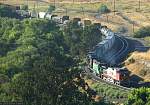 Well that wasn't so great, you can hardly see the ex DRGW tunnel motor. I reckon I could get one more before getting on the road to LAX...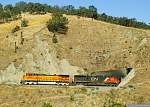 Damn, that's not the train we're waiting for. Waiting. Waiting. Waiting. I impatiently head up the road 500 metres to Cable, and... the train's going through! Another minute and I'd have had it at the tunnel! Nothing else for it but to can the flight and head over to the loop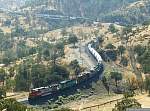 Yes, this is a crappy shot with the light on the wrong side and the locos too far around for a glinter.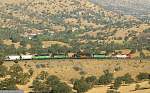 Oooo, look, I can actually see the T-2 in this shot. Talk about 'redlining'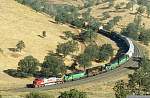 Ta-Da. Well that was groovy. So now that I'm two hours behind schedule, I call United to figure out what later flight to catch back to NY and am informed that my plane is running two hours late. Ha! Priceless.