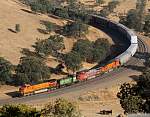 Saturday morning begins with Mini-me second out in a downhill manifest coming down through Walong, the loop siding. Mr Google tells me that BNSF 3420 is a SW1500 built in Dec 1969.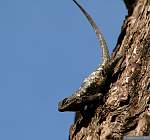 Geico the gecko basks in the sun above tunnel 10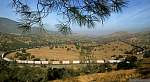 Tehachapi loop panorama. It occurred to me on the drive down that I don't really have that many pictures of the loop itself, and as the weather looked pretty dodgy anyway, I figured I might as well sit up there and snap what comes by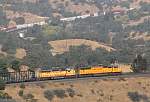 A short UP manifest ambles down the loop while the stacker ahead of it waits at Woodford for an uphill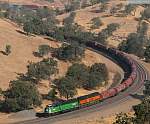 >Cyclops BN SD60m 9236 and ex ATSF 344 make up an unusual combo at the head of a short empty coil train following the UP train which is visible in the background stopped outside Woodford. The dispatcher resolves this problem by bringing the uphill into Woodford and then running the three downhills out.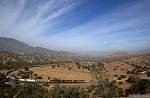 UP manifest at the loop with three AC4400s on the front and another bringing up the rear.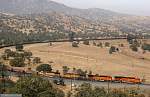 An Evowedgie, an H2, a UP AC6000 and an extremely faded H2 power a coil train uphill with an additional pair of Dash 9s helping out at the back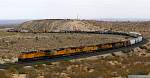 Clouds, clouds, clouds. I head over to the Mojave end to find: clouds. UP at the Warren curve.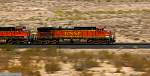 There's not much else to do when its cloudy but play...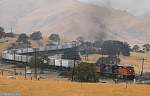 Two fish in a tank: One turns to the other and says: "Do you know how to drive this thing?"
---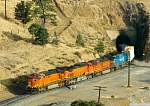 Sunday begins with a few rays of sun outside tunnel 10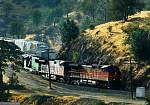 Downhill near the Tehachapi webcam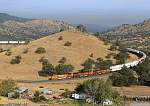 Stacks of stacks this trip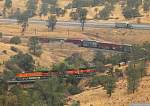 Approaching the loop from below as the blue sky evaporates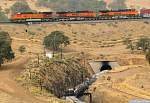 Loop de Loop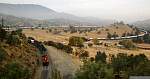 Another panorama of the loop from tunnel 10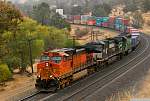 Grotty weather at Woodford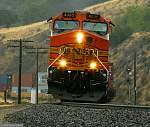 And at Clear Creek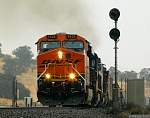 And at Bealville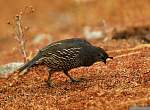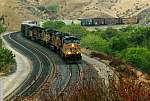 A UP train runs down the Caliente Narrows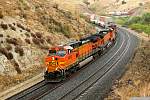 Its Raining Again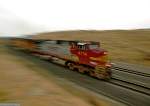 Having fun at 16mm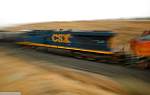 ---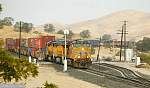 The race is on at Bealeville, with a pair of UP trains heading uphill. The stacker is given the light leaving the manifest to wait.

...and wait some more as a UP pig train also passes by


The train of trailers in the sun at Woodford


Further up the line near Marcel, the stacker comes by next, obviously overtaken by the trailers as well


The manifest finally makes it through Marcel. Wow, three UP trains in a row! All with cleanish locos!

A tiny BNSF coil train is up next with some gloomy clouds visible in the background

After the mandatory haircut break, the clouds roll in ahead of this colourful downhill BNSF manifest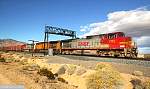 After a long wait at Warren fails to bear fruit, this pair of warbonnets with a UP intruder glides under the signal bridge near Mojave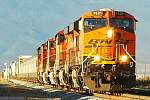 Followed by a late wedgie in the evening sun