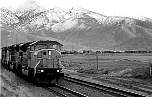 A pair of UP SD90MACs lead a manifest train past Monolith. The morning's snowfall has yet to melt from the surrounding hills.

The same train leaves Marcel behind and heads for tunnel 10.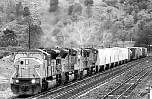 And then through Woodford after descending the loop.

Between Edison and Sandcut, a BNSF stack train is reflected in a roadside puddle.

Waiting at Bealeville...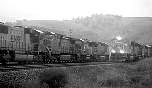 ...for a crossing.

Four UP Dash-9s head uphill from Bealeville.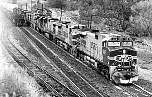 A BNSF uphill train with plenty of power to spare motors through Woodford past a rail laying work train.

And again.

And again.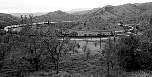 And again, around the loop.

And again, uphill from Marcel.