Friday


After the afternoon drive up from LAX, it's straight up to the hill, where a BNSF pumpkin leads three Warbonnets past the railcam and down toward tunnel 10.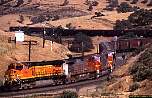 The same train down at tunnel 2.


And at Sandcut in the early evening sun.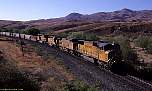 An eastbound train beside Caliente creek.


A noisy manifest with three ageing SP units and a UP Dash-9 swing around the curve leading to tunnel 2.


A quick blat up the hill and the same train is caught at the top end of Bealville.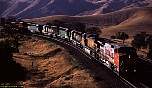 Near tunnel 3, a following stack train with an extraordinary mix of colour catches the last of the sun.
Saturday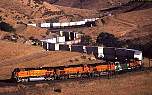 The tranquility of early Saturday morning at Allard is crushed by a stack train threading its way uphill from tunnel 2.


A pumpkin-less stack train at Bealville


BNSF manifest exiting tunnel 10.


A pair of clean Warbonnets head down the spiral...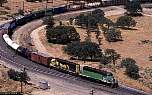 ...with a pair of EMD bankers in pre-merger paint schemes bringing up the rear...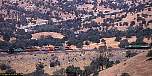 ...chases it's tail as the train at the top of the page waits at Woodford...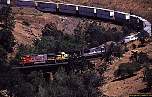 ...before crossing Tehachapi creek and approaching the loop...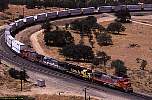 ...and then leaving Walong behind.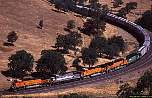 Dash-9s, another LMX Dash-8 and a cascade green SD40-2 wheel a grain train down around the loop.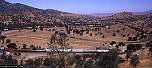 The same train and its helpers in a loop panorama.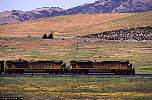 Spring is in the air... A pair of SD90s tread past the poppies at Tehachapi.


A pair of eastbound stack trains near Cable crossover headed firstly by a mix of BNSF colour....


...and followed by a set of winged UP SD70Ms.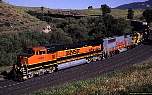 A colourful BNSF train heads west through Cable.


...and passes an eastbound counterpart at Woodford.


After the westbound clears Woodford, the helpers throttle up for the approach to the loop.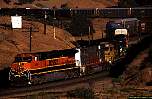 The westbound again at the top of Bealville as it approaches tunnel 3 in the evening sun.


The colorful consist passing fields of cows at Bena.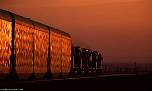 A following train of articulated auto racks headed by a Dash-8 and four SD40-2s rumble towards Edison just after sunset.