Studholme Junction Reminiscences
There were no trains in the small South Canterbury town of Waimate in the early 80s, but that was no hindrance to a young fellow armed with his Mum's camera and a Raleigh 20. Third Mounted Trainspotters Brigade, advance!
August 2008
---
Although we took it for granted at the time, Studholme was a fascinating place for the Batchelor and Bond boys in the early 80s. From time to time in the school holidays we'd throw off the small rural service town shackles of home-town Waimate, pull on an ex-church-fair disco shirt and a pair of brown Stubbies, mount our trusty Raleigh 20 and Cruiser three-speed bikes and hit the open road in search of adventure.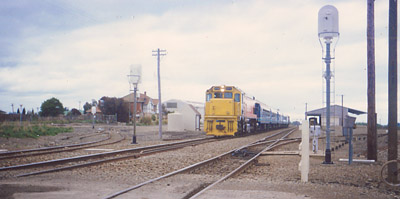 A late morning arrival would have us nicely placed to catch train 143, the southbound Southerner, which always seemed to manage the sprint down from Christchurch in the allotted time with its smart two-tone blue cars, matching 56 foot steel paneled F, and a blue parcels van bobbing along behind.

After the Southerner, it was exploring time. Back in those days, Studholme was still a staffed station, with a big new goods shed, high and low loading banks, a brand new 'designer' station building that had replaced the previous wooden structure, red painted luggage trolleys and scales which looked like they hadn't been used for decades, a few jigger and signal control sheds, foundations from old water vats, and of course that fascinating yard – complete with unusual island platform, the stump of an amputated Waimate branch and even a wagon turntable!
We explored the line, we fossicked in the rubbish bins for old timetables and waybills, we read our Rails magazines, we ate our sandwiches and station agent Alan "Granny" Thomas would call train control to find out where the trains were - "there are a couple of kids here who want to see them go through" – and in return, we'd "help" him move wagons around with the Ford tractor. Bliss.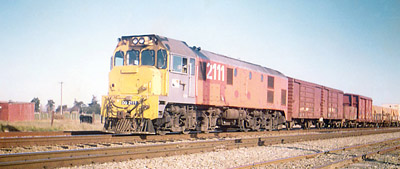 Around one pm, a single DG or DJ would amble though on the point of 180 - which had left Invercargill early the previous evening - with a lengthy train of motley 4 wheelers rattling along behind it at a leisurely pace. This one would sometimes drop off or pick up the odd wagon or two – an LA of coal, an NC for timber, an MC with a new car, an empty ventilated Z to be loaded with strawberries in the summer. Following on its heals would usually be 160, a hotshot collection of bogie container wagons powered by a pair of DJs or a new DF, the first wagon inevitably being a PK topped with two green NZR containers proudly displaying canvas banners proclaiming its 'Egg Traffic' contents being rushed to places north.
Twenty five years ago, it was a different age; when quite different customers meant quite different things to the people running quite a different railway.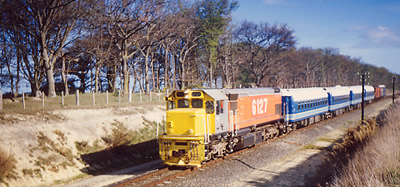 During the early 80s, a quiet evolution was taking place before our eyes as the stout, snorting, scruffy DGs disappeared, with the last of the gruff-looking recabs being stored by late 83. The rarer and more elegant DIs became confined to quarters between Dunedin and Oamaru and even the ranks of the ubiquitous blue DJs began to thin as the fancy new Canadian DFs took over as the primary motive power before they themselves were largely displaced by DXs and DCs towards the end of the decade. Long slow trains packed with four-wheelers gave way to fewer express freights being run mainly at night.
As with many country stations in those post-deregulation times, much of the custom dried up at Studholme, which was closed as a manned station in Oct 86 and for a while became a storage point for written-off wagons. Today, little remains as scrap drives and nature have reclaimed most of the yard precinct.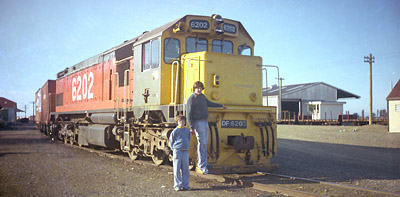 Back in an 80's afternoon though, we waited anxiously for a lifeless colour light gantry spanning the four north-end tracks to burst into life and signal that the trains were coming - usually the Southerner blasting towards us from the south, desperately trying to make up lost time.
Tension hung in the air though, for the train-nerd lottery was being drawn and on jackpot days, southbound train 175 or an early 147 would be strung around the platform road while a late 160 or 180 might hold the loop to be overtaken by 144 and complete the triple meet. On those days, our numbers came up and we pedaled home to Waimate with the headwind in our chests, a few awful pictures on the camera, and big smiles on our faces.
Yes, in Waimate during the 1980s, life was simpler. And Heaven was just seven kilometres away.
---

---