Chapter 4: Tehachapi for Dummies
The beginners guide to the railfan's Mecca.
Why? To save you having to figure this out for yourself ...and I have a terrible memory.
Created: May 2001, last updated: Oct 2006.
---
Timing
I'll leave this up to you, but between April and October are the best months for sun. Sunlight hours are short during winter, especially in the valleys and canyons, it can be quite cold, with snow at times. At the other extreme, June-August is rather hot but you can count on sun. March/April and November/December can be cloudy and cool, although you might get some nice green grass and spring wildflowers, or fall foliage respectively. It can be hazy at any time. The second half of May is usually great for trains and weather, with railfans swarming to the area over the Memorial day holiday weekend (book accommodation in advance!). There are traditionally more trains between Tues-Sat (best day: Sat), but there's never a drought. Check the trainorders.com railcam and weather.com before you go. Also check out if there is any trackwork being done - this can be quite frustrating if you've come all that way and they close down the line on you. Make sure you go for more than a day though in case there are maintenance or other problems.
Getting there
The fun stuff is in the Mojave- Tehachapi- Bakersfield section.
You can fly into:
Bakersfield (close, but it'll cost you in fare);
LA (drive less than 2 hours north either to Mojave via 405 and 5 out of LA to 14 northeast through the Antelope Valley (turnoff is after the trucks/cars split on 5) and Palmdale and then north up 58) or to Bakersfield via 5; or
Las Vegas (then a 3-4 hours drive via Barstow, but a great trip across the desert at sunrise or sunset - try via old Route 66 between Needles and Barstow for some cool sights); or
San Francisco (a long slog down I5 to Bakersfield).
Rental cars can be hired from any of those airports. If coming back to LA, don't forget to hang a right off 5 onto 405 if you are heading to LAX!
You can also travel from LA to/from Mojave via Cajon pass, another famous trainspotting location, or LA to/from Bakersfield on 5.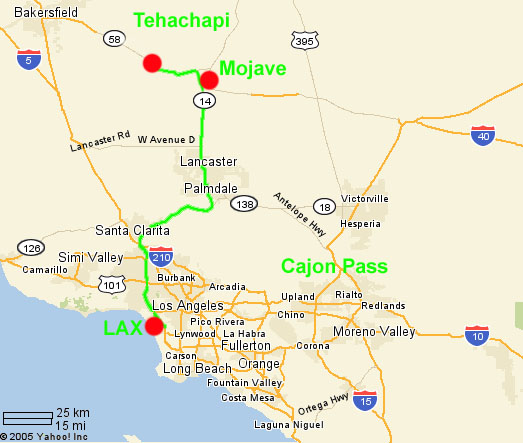 Sleeping
There are plenty of motels in the area, especially on the main roads. I like to fly by the seat of my pants and never book ahead, as I don't know where I'll be from one night to the next. This has been a problem during busy times, such as Memorial day weekend or if there are Jehovah's Witness conferences in town. Seriously.
I usually stay in Mojave at the Bel-Air on the main road at the north end for the first night. Other than it being closer to LA, I'm not sure why... Highway 58 is outside with an all night long parade of trucks, beyond the road is the rail line and behind the motel is a truck stop. Yes, its noisy and run down, but it's only about $19 a night , it really gets you into the US desert atmosphere (spoken as a true foreigner), and you can always bowl up and get a room, even if it's late. There is also a zillion channel satellite TV in some of the rooms, so you can catch up on that NZ vs India cricket match, Sumo wrestling or knitting championship.
In Tehachapi, the Ranch Motel (not to be confused with the noisy 'Ranch House' motel on the main street) is away from the noise and will give you a good night's sleep for about $35 per night. Follow the signs toward the California correctional institute (!) and you can't miss the green neon sign about 5 blocks down the road perpendicular to the main street. You'll pass Tehachapi Hospital also, hopefully you won't need their services. I have to admit that I did, and I had trouble finding it! One bad thing about the Ranch Motel is that there is only a shared coin phone, so if you need in-room modem access, you're screwed. The Best Western Mountain Inn on the main drag is a little dearer, but comfortable, quiet enough and handy. The Best Western Country Park right next door is the luxury option. The rooms are really top notch, with free internet access and continental breakfast. Of course, for the price of every night at that place, you can stay at the Bel-Air in Mojave for about a month...
Bakersfield is quite a hike away from the best photo spots, but I have stayed at the Best Western Hill House (or something) across from the Amtrak station - if you get a room away from the tracks it is very quiet but still close to the yards. There are plenty of quite scary motels in Bakersfield for use in emergencies and I wouldn't go back to any of them.
Often motel rates are dearer at the weekend and some of the smaller ones don't have in-room phones. There are also a bunch of hotels on the main street of Tehachapi with views of the tracks for the real foamy nutter gunzels amongst you who don't need to sleep...
Waking
Be ready to leave before sunrise, as this is often when the best stuff is going on with a big rush of trains in both directions. I really mean that - if you sleep in 'til 8am, you'll miss most of the action. Trains usually fizzle out by 9-11 am and return mid-late afternoon, although sometimes there is a steady dribble all day. You'll get the most trains on Saturdays. There are sometimes maintenance work windows during the week around the middle of the day and thus a train vacuum, often for large portions of the day. The sun goes down early in many spots because of the hills, particularly during non-daylight saving time, but Sandcut, Monolith and Mojave catch the last of the sun.
Driving
The main drag is Highway 58, which provides an express route between Bakersfield and Mojave and points in between. You are not allowed to park on 58, but exits of interest are:
A few outside Bakersfield ('Tower Line' etc) will take you to the line near Sandcut.
'Caliente' (a dodgy intersection rather than an exit) goes to Bealeville, Caliente, Tunnel 2, and then eventually through to Sandcut and Bakersfield.
'Keene' takes you to Woodford, the loop and Marcel viewing areas via the Tehachapi-Woodford road back to Tehachapi (202).
The Monolith to Tehachapi rd is accessed from the respective exits.
Gen Beale, Arvin, Broome Rd and Hart Flat exits are not much use except as U turn sites.
If you get sick of the trains, check out the desert! Explore some of the back roads around California city and check out the Mojave Airport - home to stacks of mothballed airliners.
Route 202/Tehachapi-Woodford Rd is accessed from the 'Keene' exit off 58 or from the western end of Tehachapi. Check out Woodford, the loop and a number of overlooks above tunnel 10, Marcel etc.
The Bealeville Road that leaves 58 at the Caliente 'exit', takes you via Bealeville and down to Caliente horseshoe. Just under the railway bridge, you can also turn left onto the Caliente-Bodfish Rd. Don't ask me what a Bodfish is, I have no idea.
Caliente-Bodfish Rd between Caliente and Bakersfield follows the railway up above on the left to tunnel 2 with a nice view of the Caliente Creek Narrows below on the right. Past Tunnel 2, you can leave the railway and take the twisties through to Bena, Sandcut and Bakersfield. Be careful on this road, there are a lot of tight corners (Yeeeehaaa!). There are sometimes cows out and about also - I have seen a few opposite tunnel 1 so you don't want to be hitting them! At a sort of a T junction turn right. If you are traveling the other way, from Sandcut to Caliente, it's very easy to miss that T junction if traveling at full steam, in that direction, it's obviously a left turn.
Other than 58, roads are sometimes rough and have many curves and hills. If it snows, go real slow - I had an accident occur right in front of me on 58 and slid straight into the back of it. I'm used to my Audi with winter tires I guess...
Many of the access roads are private property, and the ones that seem to be OK can be steep, rocky, rutted, and/or sandy. They can get boggy very quickly if it rains, or you can get stuck in sandy patches, so keep moving!
I had a Ford F150 pickup truck as a rental recently, as LAX had only two vehicles left... and no self respecting railfan would chose the minivan. Now a big-ass honkin truck would not my choice of commuter vehicle, but once I got used to the supertanker-physics of the thing (steering? what's that?), and mastered the obligatory "out of my way or I'll squash you like a bug" attitude, those things are great for railfanning. They can go places that even I won't take a rental car and standing on the flatbed or sitting on the roof gives you an extra few feet of height. Quite a novelty...
Fuel can be ingested at Mojave, East Tehachapi (where you can watch helpers being detached) Tehachapi and Bakersfield. No fuel may be had at Keene anymore.
106.1 Bakersfield is a great noisy music station, although if you're cruising across the desert, y'all just gotta throw some country on the goshdarned wireless. Hyuk, hyuk, hyuk.
Walking
Take a bottle of water with you, a hat, some sunscreen and bug spray.
Don't trespass on private land! Many of the access ways are of uncertain ownership to my colonial eyes, but use your common sense and keep to trails. Keep off the Ranch lands between Woodford and Tehachapi, especially around the loop. The trail to Tunnel 10 seems to be OK, but don't do anything to peeve anyone off - there have already been some areas that have been fenced off. If you open any gates, shut them.
OK, I consider railway land fair game as long as you stay well away from the trains and don't do anything stupid, and I must admit I've trespassed a couple of times on what is probably farmland (I feel bad about it and I'm going to hypocrite hell). How would you feel if photographers were poking around your house? Don't trespass on private land! So there. Be good. I warned you.
Avoiding
There are snakes around during summer, and apparently in other seasons as well, and I've seen a couple of the buggers up close - without pooping my pants as predicted .The locals say they hate you more than you do them, so as long as you make a noise they'll steer well clear of you. The middle of the day is supposedly too hot for them, so they hide under rocks (and cars?!) and mainly come out at night when it cools down. Still, I've seen them in the day so be careful, keep your eyes open, don't go poking under rocks, keep to open spaces and stomp along using an extended tripod leg to thrash about with if you're paranoid like me. Scraping noises are geckos on trees, rapid rustling is mice or little lizards and the rattling noises are seed pods on bushes. It's the slithering-through-dead-grass noises you want to be wary of.
I've seen a bobcat (maybe it was a mountain lion) running down the road above Caliente and you sometimes hear reports of these fellows around the pass. The mighty interweb tells you to stand and face one, look big and menacing, don't run, don't bend down, whack it with your tripod if it gets too close. OK, I made that last bit up.
Bugspray is a must during the warmer months as there are squadrons of tiny biting flying things around many of the spots off the beaten track.
If you go tramping through the grass, your socks and boots will fill up with all sorts of annoying pricklies. I keep meaning to invest in some cheap gaiters to stop the itchy scratchies getting in. I think I'm allergic to Tehachapi, as the dry grass and occasional insect bite drives me nuts. Nice idea: those long/short convertible pants with lower legs that zip off.
I've seen cows on the Caliente -Bodfish road, so you will probably want to be avoiding them, and there are plenty of jackrabbits and little ratty squirrelly things to avoid during the warm seasons. Locusty/grasshoppery things are sometimes present by the zillion on the access track to tunnel 2 at times in summer (shut your windows!) and through to Bena, so your car will receive a protective coating of bug guts on that trip.
You can get a nice sunburn real quick in these parts, even early in the morning, so wear a hat and sunscreen. And drink lots of water. I sound like my mother.
Eating
Fast food, the staple of railfan cuisine, abounds at Mojave and West Tehachapi with all the major players being represented. A few family restaurants in Tehachapi have a view of the tracks, including the Mountain Crossing with a mix of pseudo healthy food, including a buffet and locally farmed ostrich burgers. There is also an HO scale layout based on the loop in there. The Frasieresque Apple Shed right by the tracks is recommended for an excellent lunch and plenty of souvenirs. There are a couple of other family restaurants on the main road. Kelcey's in the main street has a limited but reasonable menu including all-day breakfast and burgers. Huevos Rancheros and a Chocky milkshake please. You can buy a magazine, train book or a trainset at Trains etc a few doors down the road. The fancy new City Slickers bar/restaurant has an excellent menu and decent service all wrapped up in the kind of charm vacuum that only a freshly poured establishment can offer. If you are after something more adventurous, Las Palmas in Green St, Tehachapi has great Mexican food including a lunch buffet. Another lunchtime siesta-filler: get your hair cut by Barry the Blade at the Hot Rod barbers in Green st.
Rigo's Taco in Bakersfield also offers tasty fare so you can watch the UP trains waiting for their turn at the hill while nibbling on a Taco, and there are quite a few Basque restaurants around as well, including WoolGrowers on 19th St a few blocks east of the Amtrak station. I can only assume that the Basque folks only ate about once a year from the size of that feed. Taco Samich (yes that's how it is spelt!) in Tehachapi is OK and right beside the tracks. The Keene Store (now open again!) is a handy source (actually the only source) for water/snacks between Bakersfield and Tehachapi. It also serves among other things a fantastic cooked breakfast and is a great place to chat to locals and tourists alike. The Keene post office is across the road, so you can send the obligatory Tehachapi Loop postcard home.
Clicking
Many folks like to sit in a sofa beside the tracks at the loop with a beer in one hand and a dozen donuts in the other, take some dull pics of whatever rolls past and call that a great day. Fine... but if I was you, I wouldn't hang around the loop all day... it is surprising how many great locations are easy to get to.
Here is a possible Tehachapi-in-a-day agenda:
Get up before the sun and head part way in (or all the way) to the Allard horseshoe (if you have a big lens and walking feet) or Bealville or Caliente (if you don't) for the morning rush. If the weather is cloudy and you're adventurous, try the Warren curve.
Follow one of these trains back to the loop and hang around there mid- until late-morning. Park uphill from the monument and walk out on the narrow dirt track through the long grass to tunnel 10, avoiding snakes.
After you've done that to death, follow an uphill train eastwards a little further and look down between tunnel 10 and Marcel.
Continue back to Tehachapi and grab some lunch/water/film during the midday train-siesta.
Woodford is nice after lunch and if you find an interesting downhill...
...head back down 58 to the Caliente exit and pop down to Bealeville, potter a short way up one of the car friendly access roads look back up to tunnel 5 from the mid afternoon.
Continue down to Caliente and head up to tunnel 2 via Caliente-Bodfish rd.
Continue to on Caliente-Bodfish rd to Sandcut and Bakersfield.
Wait for the sunset at Sandcut or find a train coming back and beat it back to Woodford, catching the last of the sun between at Monolith or Mojave.
Don't worry about missing a train while commuting, there is normally no shortage. See these Tehachapi pages for some ideas.
Exploring
The Tehachapi line is full of interesting nooks and crannies that just beg to be explored. Some spots are easy to get to, others require a bit more effort.
The map below is displayed in a small size in your web browser, but you can click here and save the full size image to your PC for later browsing so you can zoom in and out and around. A big thanks to the good people at Yahoo, whose work I've just stolen.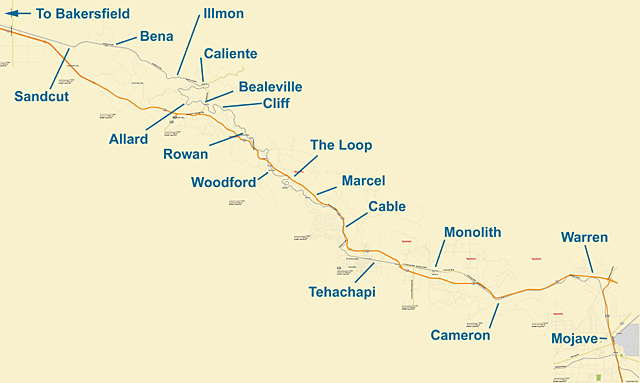 How many times do I have to tell you - don't trespass on private land!
Developing
There are supposedly same-day slide developers in Bakersfield or you can mail your film out for processing to Fuji Trucolor Phoenix at the big US Postal Service place opposite the Hertz rental return at LAX. One-hour photo processing is available in Tehachapi at the new pharmacy at the extreme west corner of main street, and other places.
Renting
Don't want to travel with all that gear? Forget something? Feel naked without a big honkin lens? Want to try a different angle before you buy?
You can rent all manner of lenses and camera bodies - in fact almost anything photographic you might want - at Samy's retail store and Pix rentals, both a short detour via the 10 freeway. Pix isn't a retail shop loaded to the gunwhales with stuff like Samy's, but is open 24 hours a day during the week and from 7am-10pm in the weekends which means you can spend an extra half day railfanning, then drop off the gear before catching a late flight.
Damn it's Cloudy
Try the other side! At certain times of the year, the loop attracts clouds and the Bakersfield end attracts fog, but the Mojave end is often cloud free. Then again, sometimes you're just screwed.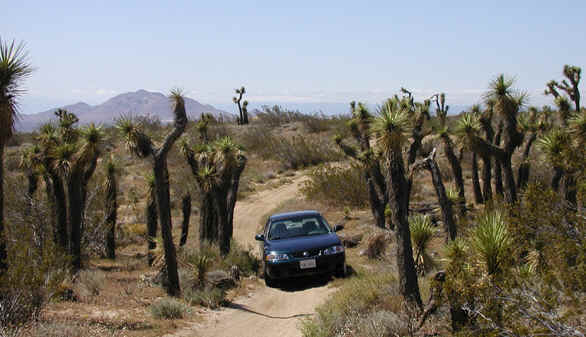 Fun with rental cars...