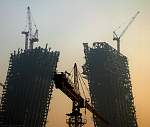 Around the clock construction in Beijing - the new 'leaning' CCTV towers seen from the safe haven of Traders Hotel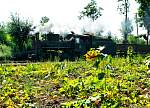 Nasty light on sunflowers and steam at Xiahua in the first shot of the trip -but I guess I can go home now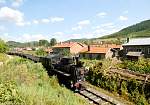 The line running behind Tuoyaozi village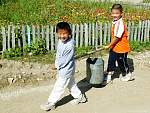 Bringing water to the school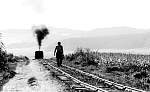 I walk the line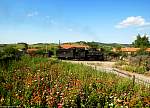 Tiptoe... through the tulips. Not that there are too too many tulips in there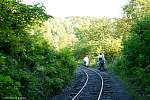 Easyriders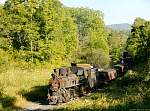 Our first banked train approaches the summit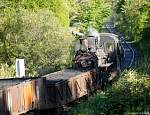 The banker pushing from the back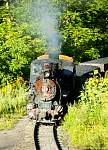 Sunflowers at the Lazifang horseshoe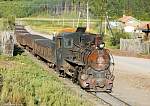 Number 11 drifting into Tuoyaozi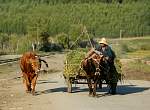 Followed by outdated trainchasing vehicles
Slipping through Xiahua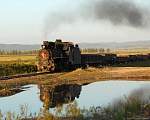 Bah. Perfect timing. Not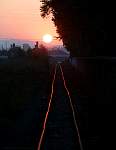 Next morning, we're up before the sun
Avast landlubbers! Swab the dubloons, shiver me timbers and keelhaul the spinnaker. Arrrrr.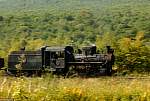 Rambling through the fields south of Lixin. It's not easy panning a train that is moving at about 1mph...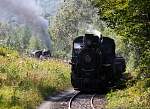 A half-arsed summit shot. At least I got half the arse in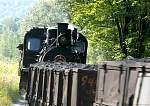 The banker sweeping by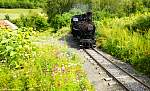 Lazifang flowers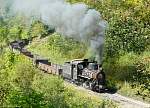 One of my faves from up the junglebank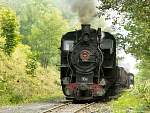 Cresting the summit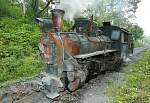 The banker stops at the summit to unhook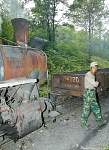 Uncoupling with a smile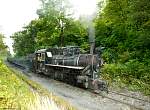 And we're off again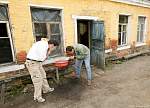 Washing facilities at Lixin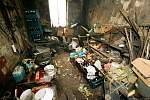 The kitchen at Lixin. Beer is obviously a key ingredient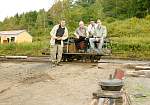 The mobile speeder grandstand with the BBQ in the foreground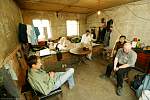 Inside the Honeymoon Suite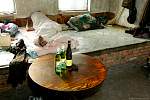 Two Foot Riesling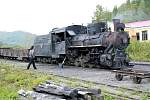 Fresh water delivery as # 168 takes a leak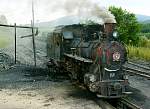 Lixin Loco. This loco has bought loaded wagons in from the mine and now it waits for the next inbound empty train. The loco off the inbound will turn on the triangle and then join this loco in lifting the loads to the summit. It then cuts off, returns and runs the empties out to the mine, returning with loads and the cycle starts again. There are normally three locos in steam running this schedule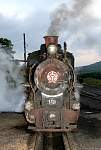 Flash! Ahaaaaaaaa! He'll save every one of us...
Dum dum dedum.
Bloody hard thinking up these captions.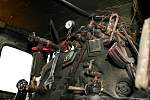 Inside the cab - note the tablet hoop in center shot - it may look shambolic, but they run a pretty organized little line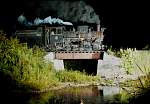 One of my favorite shots of all time. Taken with three remote flashes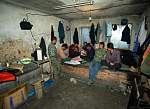 The high rollers room. I'll see your four sunflower seeds and raise you a ciggie.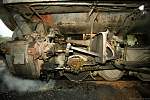 Filling in time during a break in the drizzle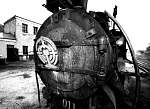 Per previous caption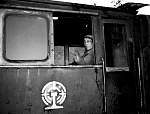 Ditto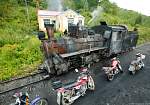 The hunters and the hunted rest at Lixin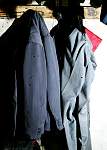 Would you like flies with that?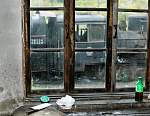 View from the station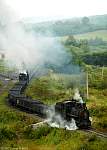 Wilson and I did a little bushbashing to get here, mainly because we didn't see the trail... I like this shot better than the sunny one - maybe the angle, maybe the misty mood, possibly the 6 ciders I've just had while typing this.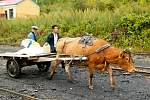 Getting the groceries at Lixin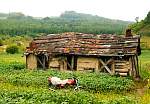 One of the Lixin farmhouses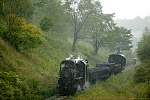 And the rain came down... note one of our umbrella-ed motorcycle passengers chasing the train while making a beeline for shelter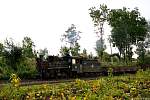 Man Acquitted in Bizarre Grotesque Sunflower Transplant Experiment Case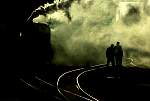 The only shot you can easily get at Huanan Depot. While the individuals are friendly, some Chinese companies seems to have a no long-nose-trespassers-with-cameras policy. So just like everywhere else really...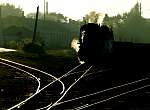 Making up a train of empties at Huanan...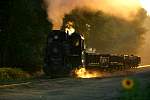 ...before heading out into the wilderness. I think it was at this shot that one of our team spied a few feet of elevation, but his foot sunk into what had looked like a small hill, but revealed itself to be an dung heap. Sheisser!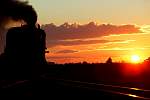 Dajiuguan sunset. Easy for you to say.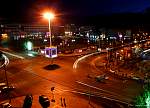 Huanan Party - Tai-chiers at right, marching band beyond the light pole, and random fireworks and bangers till midnight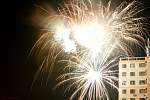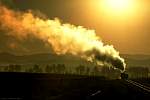 A nice sunrise on our way out validates the decision to stay another day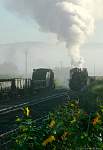 As does this sunflowery meet in the mist at Xiahua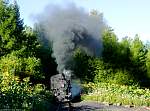 More flowers at Lazifang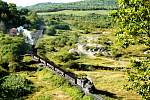 The sunny departure from Lixin - one of the signature shots on this line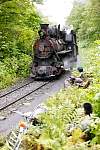 Bikes and pillion passengers bail off the trail to avoid becoming hood ornaments on C2 #011