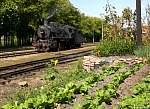 Taking a rest at Jixi - Xifeng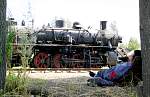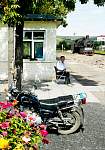 Xifeng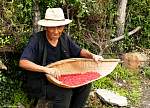 Mmmm, yummy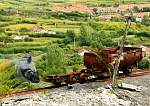 A few shots at the Qikeng mine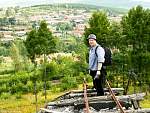 I'm on... top of the world looking.... down on creation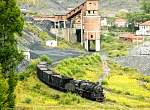 Qikeng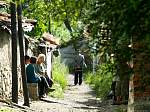 Back alleys of Jixi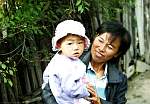 I almost bought this baby for NZ 50 cents. Wasn't sure if it was a real one or a copy though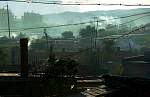 Dideo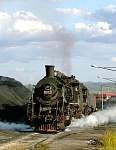 A double header pulling loaded wagons out of a loading area at Didao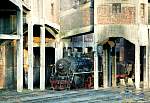 Didao hebei washery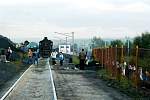 kiddies on their way home from school duck under a fence while an adult fends off the trains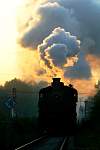 Jixi morning between Dongcheng and Beicheng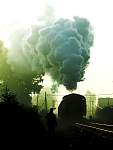 And don't forget yer shovel, as the Irish say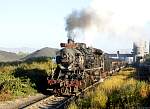 SY 0590 has had an altercation with something pretty solid if its funnel is anything to go by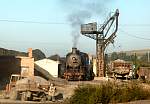 Cleaning up at the Nanchang stabling point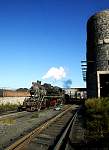 Beicheng again. There is a pink church near here with a clock that rings "Silent Night" on the hour.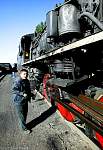 Oiling up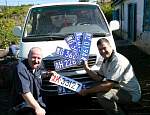 The Great Plate Scandal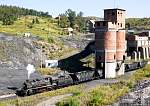 Qikeng in the sun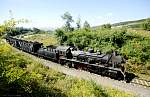 Superwide shot of the train backing down the zigzaggy line down from Qikeng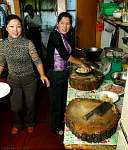 We had a nice lunch at this place... somewhere. I did get their address though so I could send them some piccies. We were quite an event here - a local photographer showed up to take pictures of us in front of the restaurant. "Lead Levels Good Enough For Foreigners" was probably the headline in next morning's Jixi Peoples Paper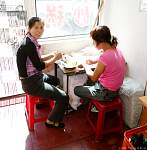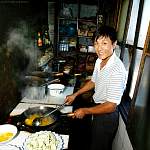 I'm pleased with that last shot of the dude performing cooking magic - in tricky lighting it was. As Yoda would say.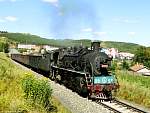 A shot to remember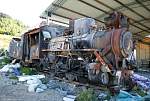 Forlorn Dahuichang #1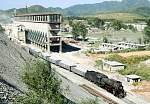 The new bins (almost operational) at the end of the Huludao Limestone Railway. Two previous incarnations are at left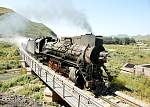 Running back to the terminus near the school mentioned in the Jan 07 trip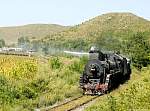 If you come to this spot, keep a look out for one of my tripod leg sections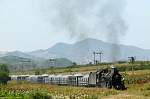 This doesn't look very exciting, but the train was making a heck of a racket approaching the summit, slipping away and inching forward at a snails pace. A couple of dudes were on top of the boiler, possibly feeding sand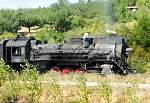 Slip sliding away
The road crossing of both the limestone railway and the CNR line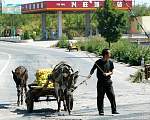 One wonders why they have a gas station here...
Outdoor pool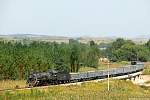 Heading out with empties again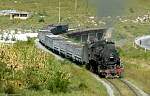 Call me unimaginative, but I do like this spot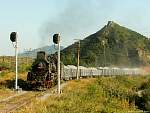 Back at the terminus with more loads from the bins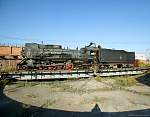 Spin that wheel. This area has undergone a transformation in just 8 months - new apartments and shops by the dozen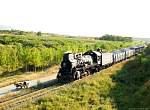 Horse vs Iron Horse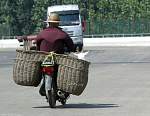 I'd like the automatic transmission, power seats, satellite radio, xenon lights and the goat bags please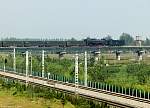 The old and the new at Zoucheng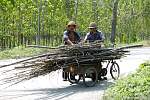 This picture of two wee fellows and their trike makes me laugh for some reason. Maybe its the hats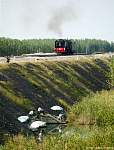 QJ past the fishing hole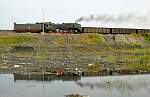 Zoucheng may not be JiTtong, but there's still something majestic about the QJ locos