Wednesday 1 March 2009. It's sunny and Kiwirail Locos have been sighted on rader over the Channel...Third Aerial Trainspotting Squadron - scramble!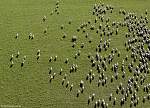 Tally-ho! Run, run for your lives!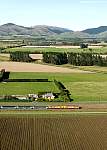 Approaching Springers across the plains as seen from our blimp. Why yes, that would be the two South Island KiwiRail DXs... ;)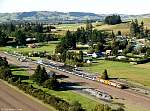 Springfield stop. What a lovely little neat town. Shhh. It's only a model.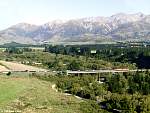 We don't get the ideal shot at Big Kowhai due to our steam powered zeppelin drifting in the wind.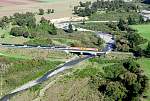 Here's a better shot of Little Kowhai as a consolation prize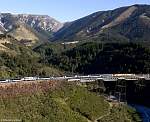 Pattersons creek - again a bit of a struggle to time this right with wind blowing our spaceship around a bit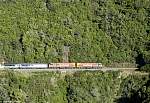 Heading for the Waimak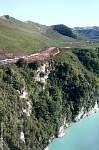 Up the Waimak through the copter canopy. Managed to get rid of most of the reflections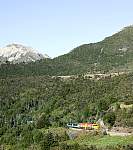 Approaching Staircase

Staircase - we had a lot of wind (not us personally, you understand) in the Waimak gorge so had challenges staying still and timing passes at the locations that we wanted to hit. A shame, because arguably that's some of the best scenery.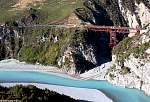 Staircase viaduct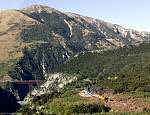 Post-Staircase with the viaduct in the background

What turns out to be Bridge 25 - Truscotts Creek. Thanks to Mr John Stephens on the NZ Rail Geography Yahoo group for the ID. This was a wild point-the-camera-around-the-corner-at-where-the-train-should-be shot, but I kinda like it.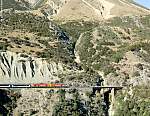 And thus, by a process of elimination, it would appear this is Rocky Creek, just before Broken River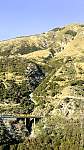 Vertically speaking...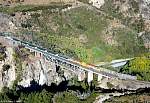 Bah. Card full on the big camera. Broken River from the 40D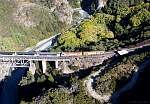 Bit of an odd shot, but I like it - off BR. Apparently that's the old coaching road there according to one website.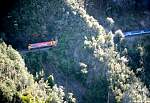 Almost got there tunnels except for that damn photographer in the way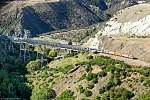 Pause while DB formats a couple of memory cards over the tunnels in shadow. Just in time for Slovens Creek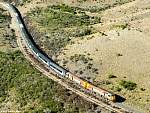 The S curve off Slovens Creek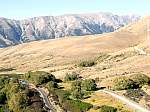 A bunch of shots...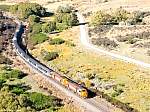 ...from around...

...Avoca...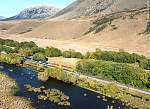 ...and thereabouts.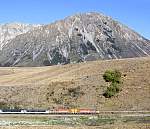 D5 broadside. Hit! You sunk my battleship.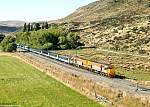 Low-flying-birds-eye-view of the Cragieburn loop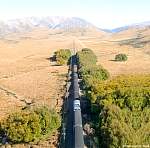 To infinity and beyond!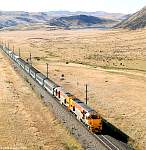 This is either somewhere in Arizona or the Cragieburn straight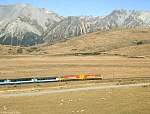 Mmmm, sheep. Nice scene, but a bad picture taken at slow shutter speed through a wavy canopy bubble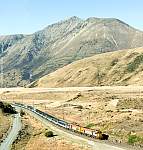 The familiar top curve of the Cass bank from a less familiar angle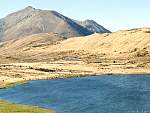 Lake Sarah from the other side of the world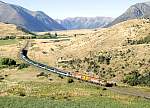 A nice one of the Tranz approaching Cass - What a beautiful train and a beautiful day for the beautiful people on board to enjoy the beautiful scenery. I vaguely remember the call of 500 odd passengers - that's a damn impressive haul. At least for once they got some nice clean KiwiRail DXs to write home to Japan, China and Australia about.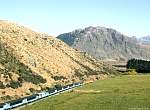 Still approaching Cass station, as if in slow motion.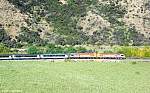 And still - I think we've frozen time - Matrix Bullet time style.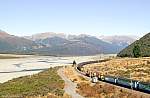 Cora Lynn - Crossing a pair of green and yellow vomit bonnets on 844 loaded coalie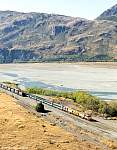 Cora Lynn - Other other end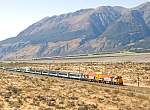 Cora Lynn straight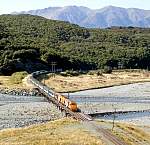 Bealey Bridge with a nice backdrop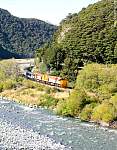 Beside the lovely Bealey river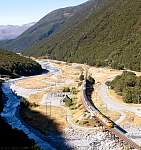 Approaching Arp.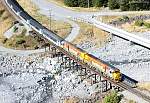 Closer - check out this bridge at night on the next page. And I'm spent. Well my wallet is.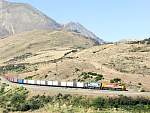 Back on terra firma after climbing down from the top of a really tall ladder strapped to Dave Turner's car, we squeeze into the Mini for some ground-based excitement, because following the pleasantly-hued Tranz is 827, headed by KiwiRail DFT 7008 and passenger regular DCP 4559. The decent sized train snakes down the Cass bank carrying mainly Hokitika empties and the odd Greymouth bound wagon.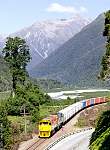 A little later, the train floats down the Otira valley past the DLA tree. Huh? That's what I said. More on that in a moment.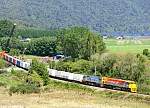 At Te Kinga, another neat old character-laden 10km/h bridge is getting a facelift by Ontrack. As is the big bridge near Jacksons and the Stillwater one that I got the two red DCs on last year. Git yer rickety bridge pics while you can.

Darryl gets confused by all the localities on this part of the line beginning with "K...", figuring he had plenty of time to set up the heavy artillery to pick off the train as it came out of the Kaimata tunnel when suddenly there's a rumbling, requiring lighter ordinance be deployed rapidly to get any sort of shot. Points deducted for lopping off the back of the train.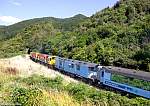 Then suddenly it's train 804 time. The Kiwi Bridge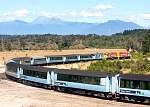 Departing Stillwater

Down the bank at a familiar locale. Speaking of which, I almost put the Mini down the bank at this spot while parking. Well its not as if there were Pay and Display spaces marked.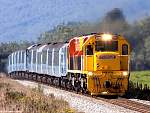 We head back to the road crossing near Inchbonnie. Note to self: if you're going to take Hubble-style nosy shots, ideally there should be some sun on the front. Heat haze doesn't help here either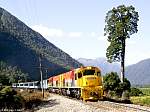 Ahhhh, that tree. DLA's tree in a strangely appealing shot that isn't something I'd normally take. That's the difference between proper train photographers and us train spotters.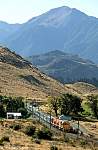 Meanwhile, on the other side of the hill, the train moves with impressive pace and some rapid hill ambling is required at Cass. All in all, not a bad day really...

Mmmmmm, Mauve. March the 9th is Dunedin day. That evening the Mini heads back north loaded to the gills with a Poppas Pizza (a Dunedin student institution!), ex-Rietvelds DG headlights, brake gauges, 6srkt engine panel gauges and switches, and a bag of goodies from the Ken Devlin Chocolate Factory. Train 925 south is snapped at Waitati post pizza. Alas a mixed shambles of colour schemes and the reflection had begun to dissipate with the tides but this was quite a long train offstage left. For once I'm breaking the rules forbidding onside lighting, but at least this is all sidelit so the poor fellow in the hotseat won't be seeing stars. Mega distortion from the 24 as well (check out the verticals on that last coal container) but this is a lot sharper than on previous outings. Perhaps the well documented Canon focusing issues extend to the 40D as well as I don't have this prob with the 1Ds. Nikonians reading this will no doubt be gloating from behind their AF-that-actually-works D700s and D3s with razor sharp 14-24 2.8 G zooms while us Canon losers hide our fuzzy L primes behind our backs in shame... To say nothing of the Zeissers' smuggery. No wonder the pros are jumping from the Canon ship in droves. Floating droves obviously.