One day I'll be smart and arrange for a ride in the sun... DC 4876's cab as the trail on 828 East. Shame you can't see its nice fruit salad paint from in here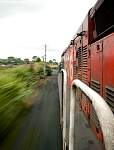 But you can if you stick your camera out the window. Shunting the Phoenix Meat Co siding.

DX 5500 skirts Lake Brunner as I pedal furiously alongside on my bicycle.
Moana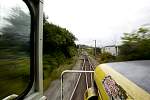 Moana Exit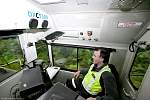 Driver Mike Kilsby makes it all look easy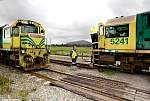 Rotomanu crew change - we leave 828 and take over 841 for a few minutes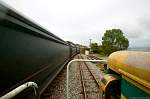 Back at Moana again as 841 heads away after another change. This is the yo-yo run.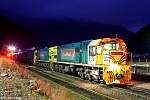 Train 846 resting at Otira while awaiting the return of the bankers - 12 March 2009. This was a bulb exposure with lots of wee flash pops down the side. I combined three RAW conversions at different colour temps in a feeble attempt to tame the dusk, yard-light and flash pop colour casts
---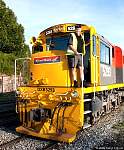 After a night spent "sleeping" in the Mini on a coal loading bank at Reefton (this is the high life, folks), I grab a few shots of Gary Martin's last run after many decades in the job. Bowing out running the best looking train on the network isn't a bad way to end it eh?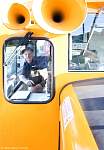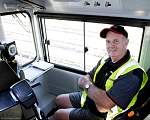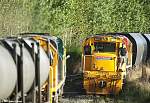 I heard the other train coming, popped the blunderbus on the 1Ds, found my way up a hillock, hoisted the monster-lens to my eye, clicked and hoped. Alas the camera was set completely wrong. Ah well, can't go back and ask them to do it again can we....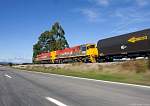 Gary riding off into the sunset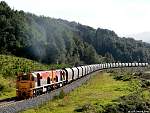 Romping up to the Tawhai tunnel. I came all this way to get this and a better-lit remotely fired shot which was set up several hundred metres further up the hill ...that failed to fire. Damn technology - don't believe the hype. It's a sequel. Or something. Here is the same thing through sepia coloured glasses. This is train 832R - the 'R' quite sensibly means that today 832 is loaded at 'R'eefton rather than the usual 'R'apahoe location... which under this system, would logically be called...hey... wait a minute...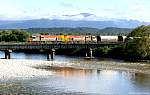 Crossing the river just out of Ikamatua. Not much one can do about the bridge handrails without a chainsaw, but there's no time for that now. Quite a nice scene nonetheless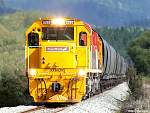 After a long chase while studying my Boys Own Book of Maps, I finally get the legally-required sun on the nose to facilitate a big honkin' tele shot near Kotuku. Finding focus here was easy as there was a Pukeko standing exactly where the train is until it darted off with seconds to spare. I prefer my Pukekos alive and my DXs free of feathered hood ornaments.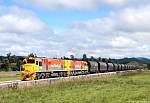 Just to prove that the technology is working... this shot was taken by a lone camera left sitting casually on top of an unmanned green Mini a few seconds later.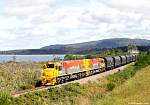 The last chance for a sunny nose shot, as opposed to a runny nose snot, is upon leaving Moana thanks to a convenient crossing of the Tranz - these shots all Black Friday - 13 May 09. I was a bit naughty and chopped down some poles here in Photoshop.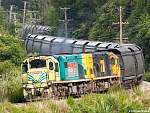 I figured there wasn't much point heading any further east into shadowland, and manage to amuse myself by procuring much needed petrol, eating Indian food, and attempting this shot for the Nth time. The train was timely, but has mixed locos and a sheet of thin cloud came over to upset the light a little. Need to have a word to Mr Ontrack about those weeds too. It never used to bother me, but I've grown tired of these mismatched locos - its a bit like sitting in a meeting and suddenly realising you have two odd socks on, or you forgot to put on pants.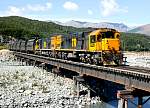 After a cheap night at the Moana hotel, I head to the Pass to find the KR locos have snuck north just before sunup. Drat. Here's a matched pair of northbound bumblebees that can be chased up to meet the precious ones.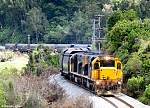 Bah, clouds.

Yet another of the things that can make trainchasing in NZ somewhat frustrating. That and all the drunken morons on their way to and from the Hokitika Wildfoods festival. I have no problem with them probing Darwin's hypotheses as long as while attempting to throw their stinky clapped-out Jap imports around all the corners at 110 they stay on their own damn side of the road. And those freakin Party Busses. Jeez. To the two young lasses who overtook me while I respectfully slowed for roadwork zones, I may have thought you were cute, but the Mini was quietly giving you the fingers while you showered us in stones. Where were the Police you might ask? Excellent question. Grumble. I think I'm getting what twenty years ago, I would have referred to as 'old'.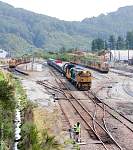 Stillwater. Still fascinating. The Reefton goods has just come in and just run around its train. After some shunting, it will rest for a while before making an early-evening departure for Christchurch.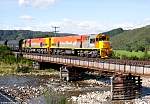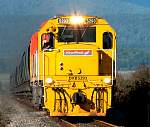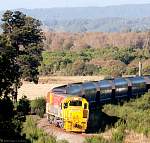 846 approaching Stillwater. I have a few more shots to add of this train which had 4 UKs carrying Holcim cement tanks on the back as well. ... Alas there was a painfully long crossing at Kaimata or somewhere that screwed up three more good shots.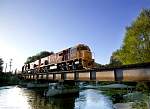 Including the Kotuku bridge, which had light on its piers...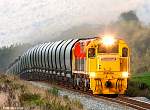 ...this last-lighter at Porewa which would have been a screamer...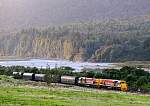 ...and Jacksons, again, merely minutes in shadow.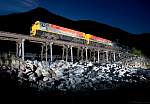 But doesn't this make it all worthwhile? Rocky Creek, Arthurs Pass.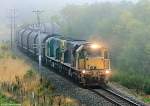 After another cheapish night at the Bealey Hotel with an expensive bottle of wine, a muffin and an apple for tea, it's back to more mundane shots the next morning. Exhibit A: another odd-socks combo in the fog at the Waimakariri bridge. Sun 15 March.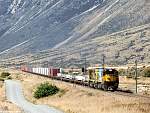 The Hoki train, 827 is next up after I pass on the grubby mixed-up Tranz. Above Cass the thick fog clears off completely within 10 minutes of my arrival. Probably because I didn't shower. Maybe it's going to be a good day after all. This impressive train, at just less than 600m, didn't fit in the loop at Springfield and required the bankers to descend through the Otira tunnel. It doesn't seem that long ago since that line could have been serviced by a jigger. The first loads are three more concrete Arahura bridge beams and their runner wagons.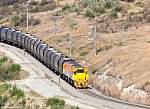 I let that one go after Mt White with the air clear and 849 not that far away. I did wonder what my chances might be of getting the KR locos again and then the jackpot was struck as they came around the top curve at Cass with dynamics burning off the grade. Woohoo! Why, hello, Mr Telephoto.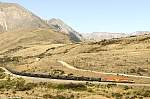 And from a more relaxed perspective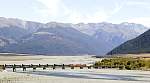 The mighty Waimak.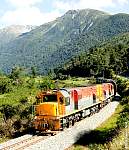 Bah, screwed this one up a bit - I seem to have slipped into an old habit of snapping the train too early.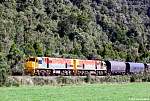 Ahhh, that's better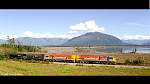 Finally! After 6 attempts in the last month (three obscured by cloud at literally the last minute), persistence is rewarded with some sun and a pair of pretty painted ladies at Moana. I do like this one.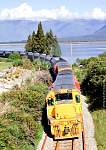 A bonus shot departing Moana after a crossing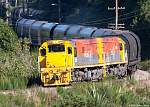 Oh - and finally some sun here as well after several years of trying. A few nasty shadows and weeds, but nothing that a little photoshop can't fix. And with that, even though nice weather is forecast for tomorrow, it's time to leave for the east on a high note.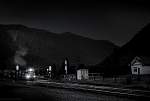 Getting underway at Otira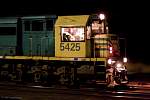 Departing Arthurs Pass