Romania Sept 2009
Home
1. Pre-tour
2. Up and back with Reşiţa
3. The Krauss
4. Mariuta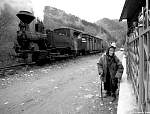 We have Mariuta again today as the Reşiţa is out of service. Shame - that grew to be my favourite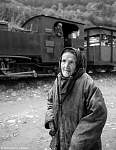 Rustling up some change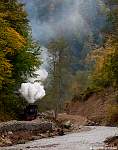 Storming around a curve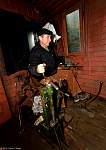 I'm traveling in the relative luxury of the railcar cab today. Screw handbrake is green, forward/reverse lever is behind it, left foot on clutch pedal, accelerator is in his left hand by the wall, and the gearlever is sticking out from the wall, behind which is a diesel engine. Not sure what the knobbed lever is far right of the picture. Turn signals perhaps.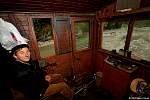 Its hokey, but it works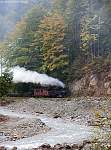 Hosing down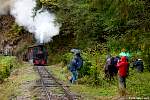 Well this is fun, isn't it?!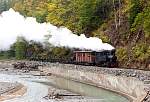 Dampness all around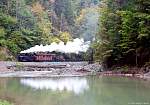 Secret shot taken from behind a wood pile in an attempt to keep out of the pictures of others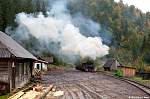 Storming through Bardau, as shot from a moving railcar...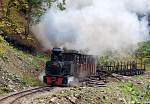 As are this and the following shots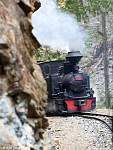 Looking for all the world like an LGB model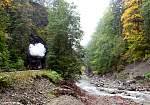 Tunnel #1 widey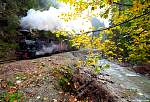 Approaching Tunnel #1 - Michael, Gerhardt and I snuck through the tunnel to get this nice Maple picture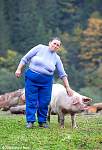 Suligu locals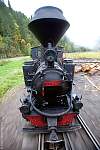 Mariuta departing Suligu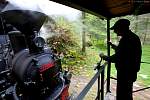 The brakeman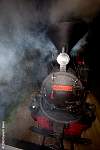 Consolation shot in Tunnel 1 for missing one that I'd planned earlier. We're all dying of smoke inhalation here...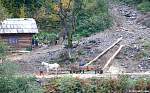 Horses and logs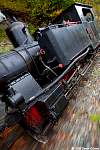 Final polecam shots ...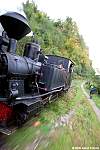 ...as we approach Vişeu for the last time. La revedere, Vişeu.
Home
1. Pre-tour
2. Up and back with Reşiţa
3. The Krauss
4. Mariuta