Welcome back to China! A bit of a rarity in a restaurant near Beijing Bei station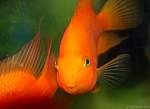 Hi. Please don't eat me.

After dinner, we boarded the overnight train for places northward.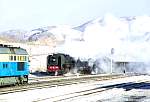 31 December. After leaving our overnight sleeper at Chifeng, we race up to Jingpeng in a minivan and just beat the westbound into the station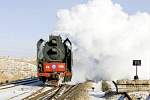 At Jingpeng, the locos left their wagons in the yard and headed light to Halokou for turning and servicing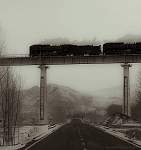 The locos returning to Jingpeng a few hours later. Yes, it would seem I've got a proper version of Photoshop to dick around with now. And it would seem I have a lot to learn...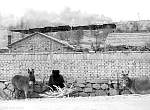 Puffing along above Xiakengzi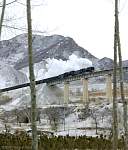 On the SiMingYi Viaduct
Leaving the cutting with the trees by the level crossing before Shangdian
And again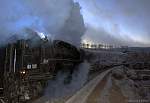 By the SanDi crossing, the light was fading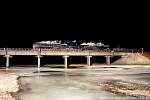 So we headed a few miles east of Reshui to attempt a night shot with the big honkers. The Darryl, Aaron and Mike show coming together nicely to produce this fine effort. The QJs crossed a light diesel at the previous station to the right but alas had just shut off steam after getting moving again. Still, not bad for the last shot of 2007.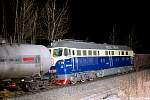 1 January 2008. Early next morning, we thought we'd try the same thing again, but the train was quite late, being held for crossings until the dawn light had arrived. Here we see DF4 9518 hitching a ride mid train - in hindsight this wouldn't have have been a great shot for the steamers anyway. Our guide, the ever helpful Mike Ma, was pressed into service as a Flash Test Dummy under 8 billion candlepower of flashes for testing purposes. From here on in he closed his eyes and faced the other way...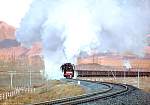 By the time our target had arrived, the sun was neither here nor there, but as we'd been freezing our nads off for the previous two hours it wasn't getting away without a few shots being taken. Birds scatter upon the QJs approach.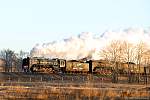 On the plus side, it's sunny! Apparently this was only day of sun in the entire week long steam festival.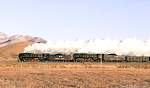 Approaching Galadesitai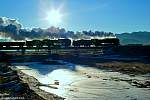 Not a bad way to start 2008! Approaching Reshui town.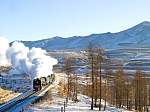 At Tunnel 5, we join the assembled group of Police, media, and Chinese and Japanese railfans, the latter armed to the teeth as always with the most spectacular camera gear. I felt quite inadequate with my two cameras.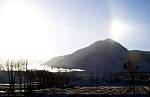 From the 'nothing ventured, nothing gained' department, a few grab shots from the van as the train passes Hadashan station, crossing a pair of diesels on a coal train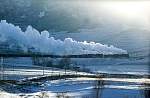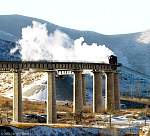 Another grab shot on SiMingYi taken from the village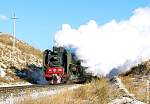 Light locos heading for Hadashan again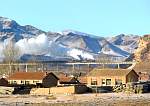 We had two plans scoped out for the afternoon. If it clouded up, we'd try one or two clever shots that would take time. If it stayed sunny, we'd do some classic train chasing, hitting as many spots as possible, hanging our cameras out the windows of the van and firing them like machine guns.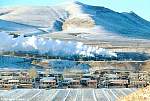 And as you can see...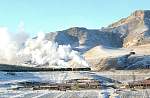 ...it stayed sunny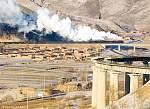 Our intrepid minivan driver scored bonus points by slithering almost all the way up Idiots Hill with some gusto, but the train had stopped at Xiakengzi for a crossing anyway, giving us plenty of time to stake out a nice spot.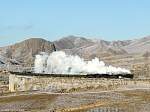 How's that for lazy?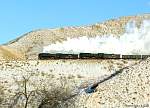 I took a few shots by holding my camera out the window and pointing it in the vague direction of the train. A couple even turned out ok. .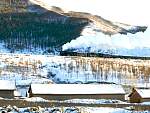 Over the rooftops - Xiaoyingzi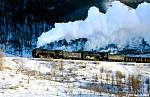 Near Tunnel 4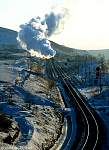 Shangdian - now 'new and improved' with colour light signals...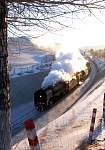 Rounding the curve and into Tunnel 5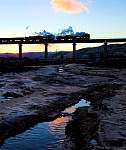 Sunset on the Reshui bridge. We tried a hasty night shot at the rocky cutting end of Galadesitai, but it was crap. And Darryl left his flash reflectors at the morning spot which didn't help. Dammit. Farewell Jingpeng Pass, lets hope we meet again!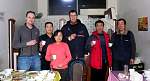 After a superb day of running around in bitterly cold wind taking pictures of steam trains, it would only be appropriate to toast the new year with a fine champagne dinner (said beverage carefully lugged up from Beijing) at Mr Li's restaurant in Jingpeng. Ok technically it wasn't Chinese New Year for quite a few weeks yet, but I needed to get rid of my bottles of booze and we all quite keen to drink it...