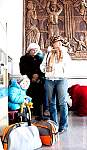 Oh, those Russians. Arriving at Manzhouli Airport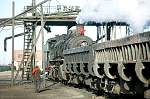 Then we're off to Jalainur, or Zhalainuoer if you prefer. First stop is the Nanzhan yard, where locos are serviced under a coaling stage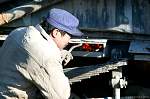 Raking the embers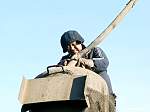 Enter Sandman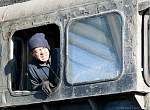 Are we done yet?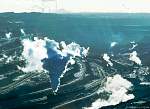 Ahhhh, the big pit. Quite the spectacle. All locos are SY class and smokeboxes point southwest/away from the camera from this spot. Short strings of wagons coupled to the tender are for coal, longer strings coupled to the smokebox are spoil trains, carting rock overburden up to spoil tips up on the 'surface'.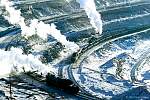 Two spoil trains, one loaded, one empty, wait their turn to navigate the zigzags up and own respectively. In the foreground is an SY with a runner wagon and a green steam crane. These are used mainly for relocating and laying track sections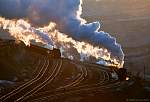 The Great Race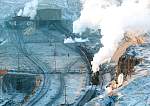 The trains loaded with coal unload here a few levels from the top. The coal is washed and taken via a conveyor in a tunnel up to the top, Dongfanghong. Top left is a steam crane and coaling stage used by the pit locos on coal duty to save them having to go all the way up to Nanzhan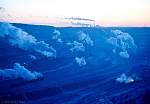 A different look after sunset. This must be why photographers call it the 'blue hour'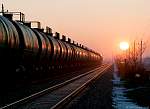 Early morning tank train (twin diesels)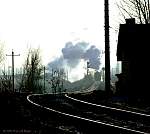 Up top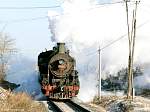 Don't remember the name of this place, but I know I've been there before...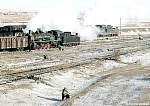 Dongfanghong, just above the pit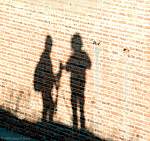 English photographers plan their next move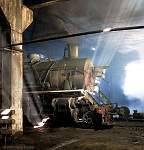 Then it's off to the always atmospheric little workshop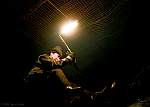 A man about to cut, break or fix something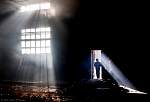 In from the cold
I will not stand in the pictures of others
I will not stand in the pictures of others
I will not stand in the pictures of others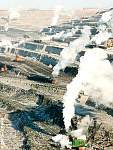 That afternoon, Bernd took us to the southwest end of the pit, which gave us a few different angles, and of course more chimney first, front-lit pictures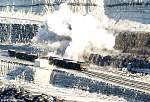 Click, click, BOOM! Advanced spoil loading techniques are being employed here, but I'm not sure how much is actually going in the wagons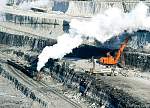 More and more trucks are slowly replacing the trains. The big orange shovels are electrically powered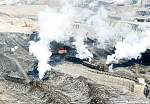 Check out those grades! There are 9 SYs (partially) visible in this full-size version of this pic, with two additional steam trails in the top left corner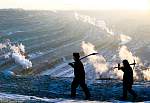 Time for home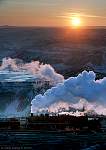 Sunset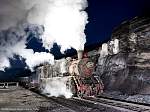 The Tombstones... Aaron and I grab the flash gear and head down again, but Bernd says we need to be back to the bus in 10 minutes. Cripes. Luckily this place is so busy there is time to stuff up one shot but snap this one successfully.