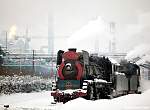 Aaron and bid the group farewell and flew into Baotou, settled into the hotel and went looking for something to eat. The recommended place didn't look so hot so on the way back we stumbled upon a Pizza Hut. Yes, I'm not ashamed to admit that after three weeks of eating local food that Pizza Hut was not only a welcome change, but was damn tasty to boot. Annnnd, it had started snowing. Things were looking up after the rotten train-picture-luck I'd endured over the previous three days. Next morning we're up before the birds.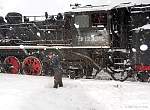 We take a few shots in the dark around and inside the depot, with limited success in fairly heavy snow. Here SY 1293 is being dug out as the day gets lighter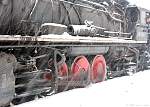 And it's stuck fast! Forward, backward. It just won't move...
After plenty of wheelspinning, it eventually becomes mobile so it can be coaled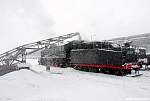 Fill 'er up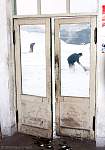 Gosh it's nice and warm in here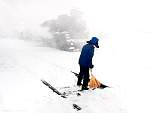 But outside, there's snow all over, so everyone is mobilized to begin the clean up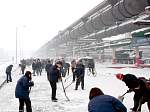 And I mean everyone...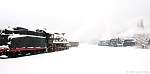 The quick and the dead. The quick on the right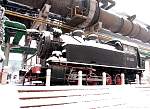 Shot of the day? :)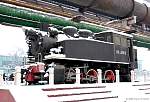 Stuffed and mounted tank engines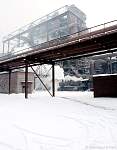 Our steelworks supplied "guide" takes us to watch some diesels, but I thanks to my previous visit I remember enough to point him to where the steam locos are. SY 1696 is doing most of the work at this end of the complex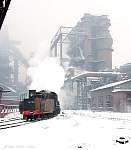 The snow gives everything a fairytale appearance. Not.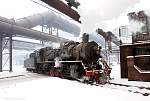 Well it does pretty things up a little.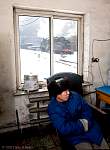 Its nice and warm in here too... We take a break to warm up bodies and batteries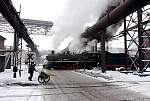 SY 1517 shuffling about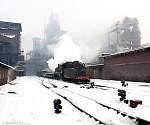 I do like that nice crisp snow.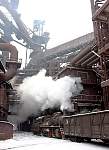 It makes everything look very tidy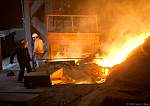 Meanwhile inside the blast furnace... You want me to stand where? And prod molten steel with what?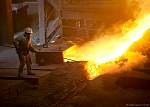 Little inclined channels are dammed with sand barriers and this diverts the molten slag off down particular pathways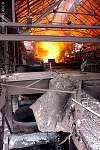 At the end of each channel is a chute and below the end of that lies a crucible wagon, ready to be filled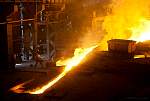 When a wagon is filled up, the dam is broken down, which allows the molten goop to run down the channel to the next wagon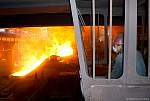 As seen from the safety of the overhead crane. Those face masks and hard hats are a good idea. Makes mental note...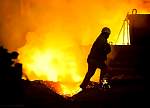 And seen here from closer to the action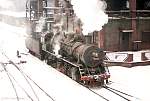 On the outside, although there are diesels at most other locations, a small fleet of SYs remains employed at this furnace to move cars about. Here SY 1696 arrives to pick up loaded crucible cars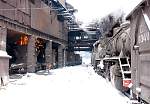 SY 1293 brings in coal as some mild slag pouring occurs at left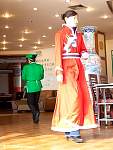 Lunch is a spectacular Mongolian Hotpot served by this elegant Dragoness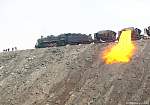 After lunch, it's time to visit the slag tip. The crucible cars are towed to the tipping area a few miles away from the furnaces and the loads of impurities are dumped down a bank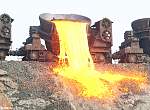 This is even cooler than it looks. Figuratively. Even though the air is freezing, you can feel the warmth from these things as you're clicking away from a distance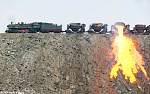 I could watch this for hours...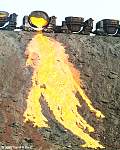 ...because...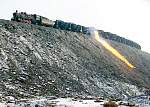 ...it's quite...
...spectacular.
A rare double-dipper. SY 1676 in charge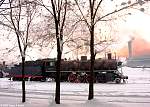 A quick visit back to the depot now that the snow has stopped. Decorated SY 1631 is all dressed up with no place to go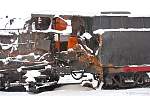 (Probably mortally) wounded SY 1521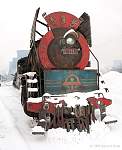 Another nicely deco'd SY - 1748 built 9/1993...
...sits out in the cold. That's some nice raised lettering on the cab side. The brass plate has a phone number at the bottom and a lot of Chinese characters above it that must read "If found please return to..." or perhaps "How's my driving? Call..."