From the garage of Ken Devlin
Batch 4 - Oct 2008
More: Batch 1 | Batch 2 | Batch 3 | Batch 5 | SI | NI | Home
This month's theme is DI hauled stone trains.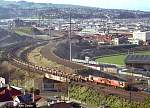 1808 1814 Head above Carisbrook with a loaded train. The new embankment, known for years as the "Scotsman's grandstand" because of those who used it to watch rugby and cricket without paying for entry to the grounds, is finally being prepared so that a single track main line can be moved over onto it to allow the new Southern Motorway to use the rail corridor through the old Cavsersham station which the DIs will pass in under a minute.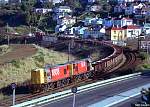 DIs 1808 and 1814 return past Carisbrook with empties shortly afterwards. The previous pic was taken from the hill top left of this one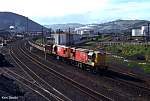 DIs 1814 and 1837 were the last two DIs in Dunedin as the other three moved north, and they ran almost all the stone trains until 1837 suffered a massive engine failure in 1985 and was written off Here they pass Pelichet bay and head under Anzac St and into Dunedin station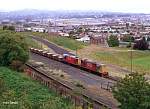 A rare shot of the island platform at Caversham. This is now the Southern Motorway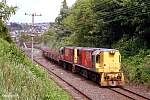 Departing Caversham with the platform in the background.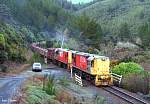 A lovely scene for me to model...
1814 and 1837 in front of Dunedin station on a mizzley day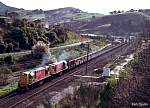 A less common viewpoint of Sawyers Bay. Here the train is about to head into the Roseneath Tunnel.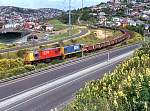 1814 and 3096 above Carisbrook on the old alignment with the former main road in the foreground.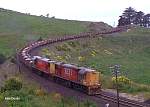 1837 and 1814 near Seacliff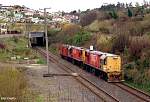 1837, 1814 and van approach Caversham - obviously no empties to be picked up today.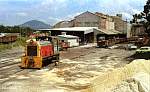 A rare shot of the Burnside works where the wagons were unloaded using a wagon tippler at the very far right. Hunslett DSA 632 and another blue Hunselett were owned by the works when it closed.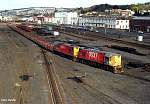 Empties arrive into the Dunedin yard. This scene is quite different now as the main lines have been moved closer to the camera and commercial developments have sprung up between it and Cumberland street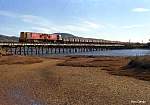 The tide is out at Merton
Skirting Blueskin Bay on the approach to Waitati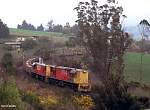 Stones in the mist
More: Batch 1 | Batch 2 | Batch 3 | Batch 5 | SI | NI | Home