Elsewhere on the Mainland
More: Batch 1 | Batch 2 | Batch 2 | Batch 3 | Batch 4 | Batch 5 | NI | Home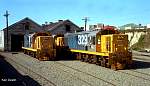 The gorgeous Timaru loco shed survived into the early 1908s before being demolished in a rearrangement that also saw the end of the yard's two signalboxes and the manned crossing keeper's hut.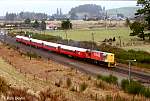 Hey, that's not Otago... DI 1843 at Springfield on an excursion to Arthurs Pass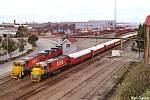 Two of them fancy-schmancy new DFs in Timaru, one at the head of the 'Blue and Gold Express' rugby special. The Batchelor and Bond boys used to travel up to Timaru in the school holidays on the Road Services bus and we spent some time on that overbridge, watching the signals, signalbox, wagon turntable and the passing parade of history.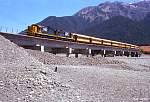 DJs 3482 3263 cross the Waimakariri river with the Otago Excursion Train Trust stock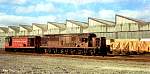 Grubbiness at Chch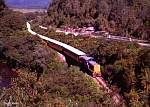 DSC 467 (2733) on a trainspotters excursion to Seddonville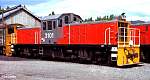 DSG 3101at Linwood not long after arriving from from Toshiba in Japan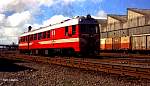 One of the last Vulcans at Christchurch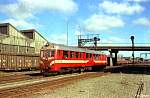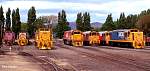 Linwood lineup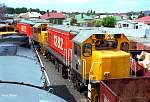 DBR 1282 at Linwood depot in Christchurch during its brief visit to the South Island with DBR 1295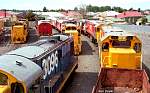 And again. The big red backside belongs to DG2376
A few scratch-ridden scans of the DG farewell trip to Arthurs Pass - 2468 and 2007. The Weka Pass Railway saved 2468 (and also 2232 which are preserved in their pre-TMS identities as 791 and 770)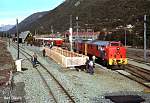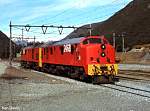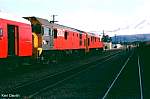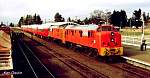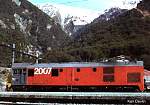 2007 at Arthurs Pass on the final DG excursion
More: Batch 1 | Batch 2 | Batch 3 | Batch 4 | Batch 5 | NI | Home