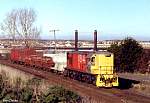 DI 1814 wheels a shunt above Hillside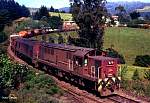 DJ 1204 and an old old DG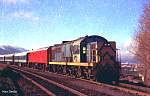 First pic I remember seeing of a DG on the Southerner - 1211 motors south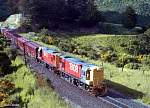 Another nice catch here with pure DI power on a goods - 1808 1843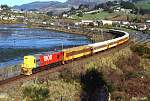 1808 withe the OETT above Sawyers Bay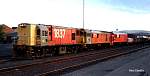 DI 1837 leads 2111 and 2255 at Dunedin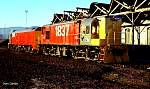 1837 and 2347 both fresh from the shops beside the last segment of the old Dn loco depot. 2347 still has its yellow rear, preceding the 1980 accident on the Otago Central line that resulted in a red repaint at the back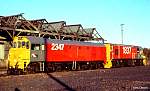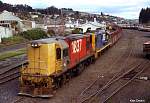 1837 and 3096 at Burnside with a stoner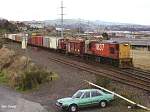 Ken's green accord basks in the diffused light above Carisbrook while 1837 pass by with a shunt which includes a Price TR (possibly 776) in the background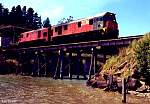 A nice shot of 2036 and an old cab DG at Waitati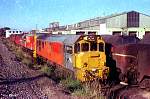 Blank DG 760 becomes 2111; with DI 1814 behind it on the back tracks. Now here's an interesting one - 1814 has serif "1"s rather than the "I"s it and 1820 carried for most of their fruit salad days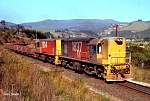 DI 1814 + 1837 on the stone train - still with serifs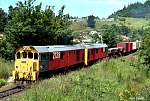 Recabs on a goods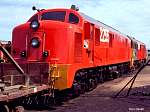 DTG DG 2255 and recab 2290 sit beside the Dunedin load bank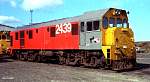 Recab 2439 at Dunedin Loco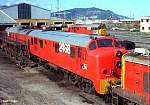 Clean slave DG 2468 at Dunedin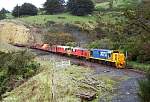 DJ 3073 heads two recabs (2140 and 2347) at the big cutting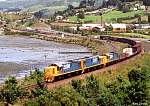 Triple DJs 3096, 3188 and 3234 above Sawyers Bay in Dec 85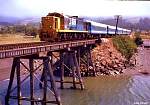 DJ 3476 brings the Southerner across the picturesque bridge at the south end of Waitati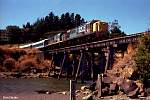 And black stripe 3205 plus a Southerner-liveried job head north at the same spot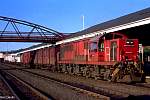 Red DJ 3326 at Dunedin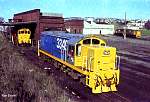 3499 and 2036 at Dunedin loco with 1215 and 1235 in the background
Triple DJs 3522, 3194 and 3211 at the big cutting
DF 6202 on a holiday Southerner in the mid 1980s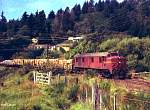 Solitary Dg 764on a goods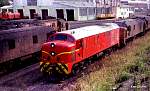 DG 765 and friends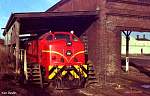 779 in the last bit of the old Dn loco shed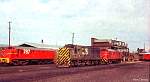 787 1215 779 at Dunedin loco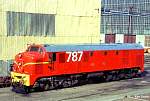 A scratchy scan of DG 787 at Hillside.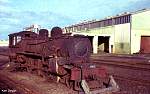 AB 663 at Dunedin Loco - amazing this little nugget survived in a corner at Hillside until the 90s to be restored to working condition today.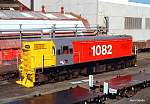 DB 1082 overhauled at Hillside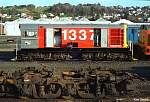 DE 1337 airs itself in the sun with a DG bogie in the foreground. Grab me that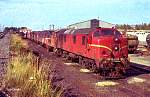 A mixture of live and dead DGs at Dunedin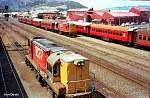 A nice view of DIs at Dunedin Station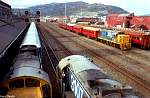 And a similar view with DJs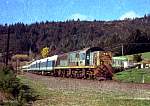 Southerner set

Recabs at Dunedin

Rotten row - nice weathering on that DG...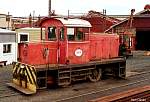 Hillside shops shunter TR 943 hasn't strayed far from its birthplace